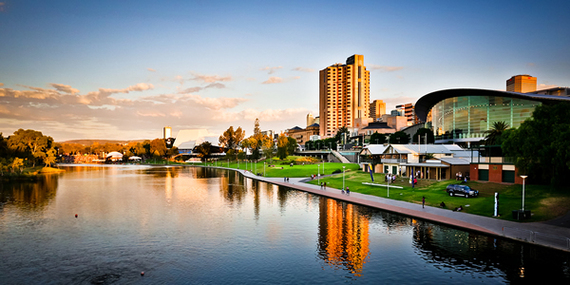 "I think we're not in Kansas..." leaps to mind during the descent into Adelaide, South Australia -- having left San Francisco more than 22 hours ago. I arrive during their winter/U.S. summer to attend the 7th International Urban Design Conference -- Designing Productive Cities, at which I am to present on the topic of International Design. I have eagerly awaited this opportunity since learning that my abstract was accepted -- an avid traveler, this was a part of the globe that I had yet to explore -- and the anticipation of getting my feet on the ground in Oz (as Australia is nicknamed) was immeasurable.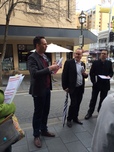 Throughout the flight, my mind wandered -- always coming back to a single concern: failure -- sometimes one wants something so badly, but fate has a different agenda. One doesn't consciously set oneself up for failure although it seems that way. I've been in business for a long time, and have experienced much success. Why, then, I ask myself, do I find the need to reflect on the times I've been denied the business opportunity that -- to my mind -- would provide a wonderful growth experience for myself and my staff? Fighting the feeling of failure is a struggle that consumes me and life inevitably becomes a battle ground.
Hope sustains me through each individual pursuit -- and I give so much -- fully expecting to be on the receiving end when a project is awarded. The times when my firm is selected for a particular architectural commission, my outlook could not be brighter and even the scent of the morning fog will invigorate my spirit.
On the other hand, when my firm has been defeated I am drawn (on occasion) to take this rejection out on my car (unintentionally, of course). Once, badly damaging the side of my car by a haphazard and misjudged turn in a parking lot, I openly shared with the manager of the auto body shop that I literally felt as crunched as the car as if in simpatico. A clumsy symphony of jangled intentions. And certainly not a solution to the distress at hand: the pain of another project that got away.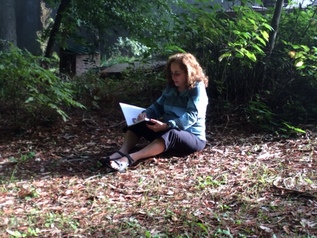 One walks through misery alone. Grappling for a way out of the deep, dark valley that threatens to destroy one's every fiber. In my deepest despair, I have learned to pick myself up and realize that there are constants in my life: my garden, my husband, my daughter and granddaughter -- who love me unconditionally and support me through whatever havoc unfolds. I hold on tight and their positivity simply astounds me. It's then that I begin again to notice the astonishingly vivid colors in nature and crave the creature comforts of home, but defeat is bruising and stays with me for a long time. So I lurch headlong certain that I can find just the right niche to make an enduring architectural contribution that will elicit strong positive feelings.

Like Alexander Hamilton I have my rivals -- but I hold feelings of jealousy at bay (these began as friendships, after all, and later became competitors in the same line of work). In the pursuit of what suits me best I am always striving to see the positive in every experience; I await every challenge. Mine is an active life, a passionate life that's ordered by what I love to do: travel / hike / garden / swim / surf and especially loving every aspect of the life that's possible due to the business I created. I have always had ambitions and equally high expectations for what's possible on both personal and professional fronts. I don't take "no" lightly.
The play "Hamilton" now playing at The Public Theater in New York City to much acclaim, will move to Broadway in mid-July. About Hamilton, David Brooks (in the New York Times on Feb. 24, 2015) wrote: "He [Hamilton] shows how the active life is inevitably an accumulation of battles, setbacks, bruises, scars, victories and humiliating defeats."

And so, perhaps this is why I looked upon my visit to Australia with such excitement. It must have been the shock of the new horizon matched with the introduction to some of the powerful ideas presented at the conference that became my focus. In particular a presentation titled "Towards a pro-urban architecture -- part 1 Object vs. Element" by Michael Jefferson of Demaine Partnership Architects & Designers (Richmond, Victoria, Australia) was so inspiring and stirred my imagination that I'm compelled to share several of the images from that presentation here:
One's perspective sometimes needs to view life from a new perspective: big ideas help immeasurably. So, whether it's the perspective of a new Chinese city as seen at the Urban Design conference in Australia or a treasured photograph of my beautiful granddaughter or even the flowering magnolia tree in my garden (the very blossoming of which lets me know it's happy and thriving), I push through the aggravation and dismay that lingers and smile.

I've been to Oz, after all is said and done. And no matter if you find yourself thriving in an urban or rural environment, I'm sure you'll agree: There's no place [in the world] like home.