I must say: A hui hou, Hawaii, and, Aloha, to the progress in Universal Design.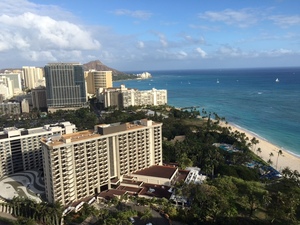 I was very excited about being accepted to present my Universal Design concepts at the 32nd Pacific Rim International Conference on Disability and Diversity in Honolulu. The conference theme was titled "From the Margins to the Center" and was to focus on a range of presentations discussing a variety of disabilities with presenters coming from many distant locations.
When one thinks of Hawaii one envisions the perfect blend of endless sunshine, the bluest ocean and nonstop fun. To my utter surprise and amazement, however, my experience in Waikiki, Honolulu would prove to be a challenging emotional experience.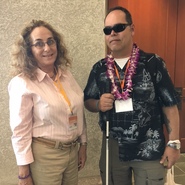 It all started on a positive note, with a new bathing suit a top priority. The vast Hilton hotel where the presenters stayed was teeming with people: It felt quite like downtown New York City in the 70s. Upon checking in, I shared with the Front Desk staff that I had tinnitus and needed a quiet room. And, my wish was granted. For me, this made a huge difference in my physical comfort.
But I guess one never really fully knows their inner fears and struggles. While I thought I stayed on top of mine, the illusion was shattered when an unintended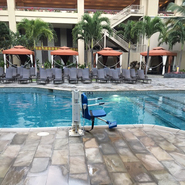 introspective moment challenged me, and I began to feel quite down.
The restaurants, bars and beaches were so full that it reminded me of Coney Island in Brooklyn New York where you, literally, had to walk over people to get to the beach. Cocktail hour started at 4:00 p.m. and loud music played into the wee hours. I was out of touch with the cacophony of the hotel energy which felt foreign and my mind went numb.
I guess I brought emotional baggage I wasn't counting on and I began to dwell on my personal upheavals in one continual swoop. My husband, Andy -- who did not join me on this adventure -- has been searching for career advancement and we don't know geographically where he will land. And, I didn't realize that being so far away from my granddaughter who now lives in Seattle would cause so much anguish. Everywhere I looked, grandmothers were having a wonderful time with their grandchildren and so all my buttons were being pushed at the same time.
How could I feel so unhappy in a land of exquisite beauty?
The highlight of Hawaii would prove to be the learning experience of the conference itself.
I dove headfirst into prepping for my conference presentation. Many topics were offered on various types of disabilities and I found myself drawn to cultivating an understanding about children with autism and how the environment and their particular culture impacted their behavior. I originally intended for my presentation to be solely on Universal Design, but I wanted my presentation to reflect the general emphasis of the Conference itself and that of my co-presenter, so I altered it to include the concepts of the Whole Child -- which was the dynamic emphasis for the J.O. Ford Elementary School, which I recently designed for the West Contra Costa Unified School District in Richmond, California.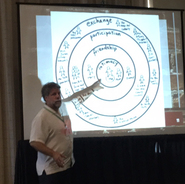 My co-presenter, Dr. France Beauregard, has a professional focus on family-school-community relationships which is more specifically refined to address parents' involvement, and inclusion and social participation of children with communication disabilities. I learned from Dr. Beauregard about the level of different perceptions to various stimuli and the trigger of noise; how those with autism often summon an inner strength through which they may channel their differences into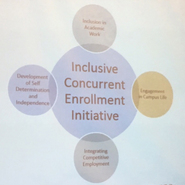 understanding intricate detail or be especially focused. Dr. Beauregard, a Canadian, related about the difficulty of bringing children with autism to shopping centers or large stores in Toronto, Canada. Families of children with autism often found that environments such as malls with their inherent noise, movement of people and lack of quiet spaces were inhospitable and therefore extremely stressful. One should always include quiet space when designing public places.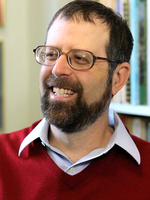 For certain the most moving presentation that I experienced, by far, was the three-hour presentation on autism and inclusionary strategies offered by Stephen Shore, Ed.D., a person with firsthand knowledge of the challenges of autism. With remarkable candor he shared that he was considered "normal" for the first 18 months of his life, and then, everything changed. His family was unprepared to deal with the behavioral changes that occurred so rather than make him meet their demands they learned how to meet his desires by indulging in the activities he seemed to enjoy. He loved bicycles, not the riding of them, but taking them apart and then putting them back together again. Dr. Shore was open about his thinking process and about the ways he reacted to noise and movement. He benefited from the support of his family who worked with him wholeheartedly to achieve at his highest capacity, and is now a Professor at Adelphi University. (Photo Source: https://www.bostonconservatory.edu. To read more about Dr. Shore and his work, please visit www.autismasperger.net)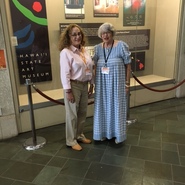 Through the words of Dr. Shore I became profoundly aware of what it means to be a person on the autism spectrum. He led us through a kinetic workshop in which we were challenged by multiple sources of sensory stimulation that simulated the overload one with autism might experience. For myself, I found it difficult and disorienting. Dr. Shore likened living with autism to swimming through a deep ocean blindfolded. Thrust into this new arena of awareness, I felt encouraged to expand my architectural expertise to include a focus on educational design that supports the curriculum for students with autism.
To say I experienced a shudder of human emotions over the course of my stay might be an understatement. We are all vulnerable in some way.
So, as the sun sets on my first day back home in San Francisco, I send a warm Mahalo, to Hawaii and those at the Center on Disability Studies and the University of Hawaii at Manoa who sponsored this vibrant and thought-provoking annual conference.
Related
Popular in the Community