For me, I never take for granted the blissful moments that come my way. Right now, I couldn't be happier. Family just about sums it up. Family is my focus and infuses my 24 hours with more positivity than one can imagine. It just seems that when one has experienced perhaps more than one's share of rough and tumble times that it's hard to break the habit of looking over one's shoulder for something to cause a seismic shift on the happiness meter. But with steely resolve, I cast my doubts aside as I board the plane to visit my granddaughter.
What keeps your life balanced when facing life's inevitable ups and downs?
At times I've wondered why I was drawn to an understanding of how individuals with disabilities function in our environment. Although my direction began in earnest and continues relentlessly to explore how one's environment can support and nourish one's outlook and daily perspective. This is a passion that has grown since I was very young.
I've written before about my life in the country, in Liberty, New York before my father died. That was when my perfect life in the shelter of a warm green oasis shifted dramatically to a stark fourth-floor walk-up in Brooklyn with the concrete sidewalk out front a pale substitute for a garden or playground. The yearning to run barefoot through the tall cool grass of summer was a constant.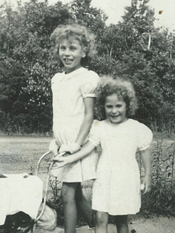 Back in Liberty, I pulled my sister around in a cart. Born a blue baby with holes in her heart, she could only walk short distances, so when she got tired she sat in the cart and I pulled. My father, who was dying from cancer, wanted my sister to be well and somehow arranged for her to be part of the first ten experimental operations at Johns Hopkins. The operation was a success although she has struggled with her health her entire life.
It was the '50s and society was confronted with the very real possibility of contracting polio. I even had friends who had gotten the disease [before the Salk vaccine] and the fear of becoming paralyzed and never walking again hit closer to home. I obsessed about this frightening concern of losing one's ability to move freely through one's environment.
Years passed and I moved on. I became Dean of the Architecture School at Antioch College West where the curriculum consisted of documenting your past work to gain credit for the experience. One of my students had an advisor in Berkeley, California and we scheduled a meeting to share this student's curriculum. Entering a period California Craftsman home, I discovered that the advisor was Ed Roberts who suffered from polio [since the age of 14] and was in an iron lung. As I sat there next to Ed Roberts I was overcome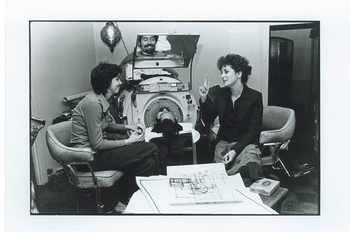 not only of past fears [of polio] but simultaneously feeling startled, inquisitive and overwhelmingly motivated. I believe in those first moments in the company of Ed Roberts that my passion for ADA accessibility and Universal Design took hold and the seeds were planted that I must form my own business.
Ed Roberts became my mentor and my friend and I soon came to realize that his strength far exceeded mine. Under his direction, I developed accessibility guidelines and codes, created accessible residential renovations for a number of clients, including Ed Roberts's later home in Sacramento when he headed the State of California Department of Rehabilitation having been appointed by then Governor Jerry Brown in 1975.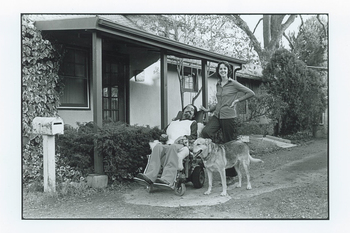 We were pioneers we two who in the late '70s created a new path towards what would make great strides towards an accessible environment for all. We didn't know it then, that issues of accessibility would come into the light enjoying even celebrity support and success. And needless to say, I'm thrilled to continue the work that Ed Roberts inspired. A legacy that demands and deserves attention from the playground to the world stage.
It was certainly music to my ears to hear the words spoken by Stevie Wonder at the 2016 Grammy Awards. As he fumbled with the envelope, jokingly pointing out [to the audience] that they didn't read Braille, he spoke words that spoke volumes: "We need to make every single thing accessible to every single person with a disability". Truer words were never spoken. And it uplifted me to recognize that Stevie Wonder had used his platform to state something that by now should be obvious to every single person on the planet. We need Universal Design now more than ever. This is my life's work and Stevie Wonder provided a powerful affirmation.
Sometimes one doubts that what they are doing has meaning or is powerful in and of itself. And, that is often the sinking feeling that gets me down. Am I the lone voice in a forest expressing what only I envision? Does anyone out there feel the same? Or, get me - and, what I'm saying? And then along comes Stevie Wonder who in his own majestic voice manages to get everyone paying attention, listening and getting the message. Accessibility brought into the light of day.
Support HuffPost
The Stakes Have Never Been Higher
Related
Popular in the Community