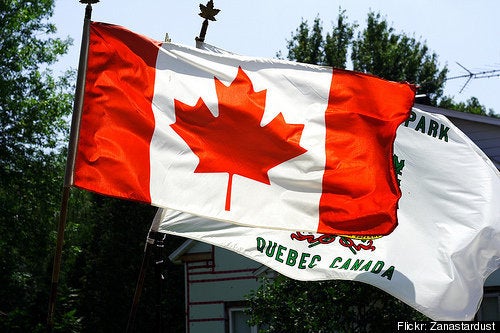 Hmm. It's July 1st! Somewhere, out in the recesses of memory, a strange, clarion call is sounding, reminding me of a hallowed Eat The Press tradition. But what can it be?
OMGZ, of course! It's CANADA DAY, and on this day, Eat The Press remembers and celebrates all things Canadian, in keeping with the rituals handed down by this blog's founder and blogmother, Rachel Sklar. She is Canadian and she walks among us, in plain sight, but do not be afraid! She probably has cookies for you!
As Rachel would remind you, the media is filled with Canadians, and no, not all of them are Conrad Black! My personal favorites include the Daily Show's Samantha Bee and Jason Jones, Slate's legal eagle Dahlia Lithwick, NY1's Zen-master Pat Kiernan, Rachel's platonic life-partner, Glynnis MacNicol, and Boing Boing's Cory Doctorow, who quaintly spells his name "C-O-R-Y," resisting the runaway-popular American variant, "C-H-O-I-R-E." Also, Catherine Collins, who has been offering spiritual advice to the Huffington Post's DC Office, is Canadian. She buys us beer on Fridays, in keeping with the traditions of a proud nation.
I would remind you that Canada has, for a long while, been a key source of fine rock music. Metric's new album, Fantasies, is likely to vie for my own personal Album of the Year this year. It's awesome and you should buy a million copies, for your friends. As always, I remind you that I think the best band in the world is an outfit from Montreal, called Stars. Here's their video for "Take Me To The Riot," off of their 2007 album In Our Bedroom After The War.
When Will Meghan McCain Hold An Encounter Group For Her Father's Advisers: And when will McCain campaign adviser Nicolle Wallace make s'mores with me? These are but a few of the questions raised by the aftermath of Todd Purdum's Sarah Palin profile, and answered by Megan Carpentier and I in a special Canada Day edition of Crappy Hour. (Did I mention that Crappy Hour is back? Because it is.)
REAL LIFE. REAL NEWS. REAL VOICES.
Help us tell more of the stories that matter from voices that too often remain unheard.