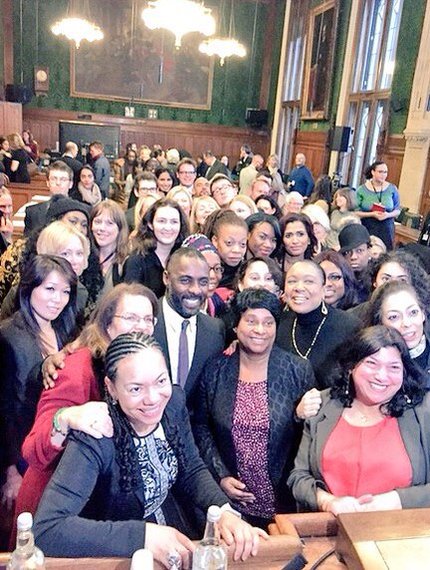 January through June is awards season for one sector of creative arts. It kicks off with the Golden Globes for film and television in early January and ends in early June with the Tony Awards for Broadway productions. In between there will be SAG, Spirit, DGA, WGA, People's Choice, Obies, Drama Desk Awards, and many more.
I take my voting privilege for the Screen Actors Guild (SAG) Awards and for the Tony Awards very seriously. This means that I am at the theater four to six nights a week and watching 4-6 hours of screeners a night. That's a full-time job.
I am not a voting member of the Academy of Arts and Sciences, which selects the Oscars. In 2013 the Academy elected Cheryl Boone Isaacs as its 35th president. She is the first Black -- and third female -- president in the Academy's 89-year history. As president, she increased membership by four hundred young people and people of color. However the six-thousand-member organization is still 90% White and 75% male. Thus, this year's host, Chris Rock, has dubbed this year's Oscars "The White BET awards."
The same pool of films is considered for the SAG and Academy Awards. Having screened many, I find it hard to believe that the nominators did not find any work worthy granting a nod in Straight Out Of Compton, Chi-Raq, or Dope.
Maybe they never saw the films. There is no policing of many of the awards voting. By that, I mean that the organizations have no way of knowing whether the voters actually see the shows they vote on. We self-police. This means you could see everything and vote fairly, or you could see some things and vote fairly for some (and/or for friends for others) and you could even see nothing and vote only for friends or according to what the word on the streets says is the right horse to pick.
My personal experience working in theater, film and television is that evolution and integration are happening, are ongoing. I experienced this on a greater level this past year in film and television than in theater.
I worked on 11/22/63, the Hulu mini-series of Stephen King's critically acclaimed novel starring James Franco as a man who goes back in time to stop the Kennedy assassination. Executive producer Bridget Carpenter (Friday Night Lights) told me she couldn't see an entire series with Blacks only in walk-on roles. So she asked King if she could turn a White character, Miz Mimi Corcoran, into a Black character. I was cast as Miz Mimi and Carpenter charged her writers to create scenes that were not in the novel but which would reflect the experience of a Black woman, in segregated Texas in 1963, encountering a white man from a future 30 years away.
Brian Shoaf, writer and director of Aardvaark, told me that he read an interview where I questioned why "homeless woman" in a breakdown always says "Black." When he saw that description is his own script, he changed the homeless woman to White and cast me as the "Patrician" book club leader.
Colin Trevorrow (Jurassic World) cast me in a pivotal role in The Book of Henry. I am accustomed to having to "look White" for these types of roles and wore a straight-hair wig for the audition. On set, Colin chose to have me wear my natural African American styled locks. And on Gotham, in the role of Ms. Peabody, I work with actors of every race. And I am teamed up with Asian Actor BD Wong (Mr. Robot).
On all of these sets, there were women crew members as well as African American, Latin and Asian crew members. I am seeing greater diversity on set in film and television than I see offstage in live theater.
From what I have seen, the majority of New York theaters have no non-white staff members in decision-making roles. So while there is a plethora of multiculturalism on stage in New York this season (Hamilton, Allegiance, On Your Feet, Eclipsed) the majority of the producing teams and staffs are exclusively white. Which means because the decision makers are all white, next theater season could easily be all white. And yet evolution is trying to make a crack. The New Group hired its first two African American staff members in its 22-year history as a company. Yet Classic Stage Company, which has been in operation for 49 years, has no non-white staff members.
Hamilton's multicultural off-stage and on-stage team is expected to sweep the Tony Awards this year. Off Broadway has a huge selection of multicultural productions which will also be awarded as well, and many have transferred to Broadway. Yet it is hit or miss whether next season will have the same wealth of riches.
Multiculturalism is riches. Hamilton's syncretism, or the amalgamation of different and even opposing cultures and views, yields high art and huge profit. Calligraphy harks back to Mayan civilization and gives Apple products their unique and highly profitable design. James W. Loewan, author of Lies My History Teacher Told Me, says syncretism is how cultures typically change and survive... "by blending elements of different cultures to make something new."
Civilizations survive by blending cultures to make something new. The arts can benefit from inviting other cultural perspectives into the decision-making process. A sharing of power is needed. Progress is slow but it's inevitable. Is it enough?