Co-Authored by Tracy Gregoire, Learning Disabilities Association of America

It's August. Each day now, the sun comes up a bit later and sets a little earlier. Summer is half over and that means it's time to start thinking about going Back to School.
This year, returning to the classroom includes a higher awareness of environmental factors that can impact children's ability to learn -- especially when it comes to the water they drink. Our collective awareness was shocked by the water crisis in Flint, Michigan. On the school front, that led some responsible school administrators to test drinking water quality in schools for lead. Unfortunately, in too many cases, high levels of the dangerous heavy metal were found in school drinking fountains and kitchen faucets at alarming levels.
But the main lesson, sadly learned every day, is that we still don't have good data on school environments, and worse, we ignore vulnerable children at risk or with exposures in schools. The environment of schools does affect children (and staff), and their ability to learn. So this year's Back to School theme is Reducing Risks to Children. That is the title of a new report just published by Healthy Schools Network and partners in the national Coalition for Healthier Schools. It documents both disturbing and encouraging facts about schools nationally. But what concerns us the most is that while public school enrollments are growing, including increasing numbers of poor children and children with special needs, teaching and support staffs are decreasing. And we still lack the fundamental information to properly evaluate what is going on.
Learning Disabilities Association of America shares these concerns. It seeks to reduce disabilities related to unnecessary toxic chemicals like lead and also decrease the associated special education and healthcare costs as the anguish and emotional stress associated with these disabilities. Tracy Gregoire, LDA's Healthy Children Project Coordinator noted, "The National Academy of Sciences states that toxic chemicals contribute to at least a quarter of all learning and developmental disabilities. We need to eliminate the preventable causes of learning disabilities, autism, ADHD and other challenges where children live, learn, and play. We have a duty to protect our children and their future by taking immediate action on dangerous chemicals like lead in drinking water."

Referring both to the new new Reducing Risks to Children, and this national crisis, Jerome Paulson, MD, FAAP, Professor Emeritus of Pediatrics and of Environmental & Occupational Health, George Washington University School of Medicine and Health Sciences and George Washington University Milken Institute School of Public Health
says: "This report gives a peek into the impact of environmental factors on the health of children in our nation's schools. It clearly shows the need for a comprehensive data collection system encompassing all children in all childcare centers and PK-12 schools. Without the data, it is impossible to adequately identify problems, implement preventive programs, create solutions to existing problems and track their implementation. We need answers to Who? What? Why? When? and Where? Absent a data system, we'll never have answers."
Paulson is echoed by Jeff Vincent, deputy director, Center for Cities + Schools, University of California, Berkeley. "In California," he says, "we know that we have widespread educational and environmental health deficiencies in many of our PK-12 school facilities. Unfortunately, we don't know the scale and scope of these problems statewide. As a result, inequities continue and we can't adequately target resources for effective remedies."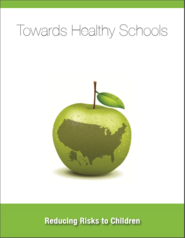 Because of Flint, lead in school drinking water has become a focus of concern for parents, educators and public health officials across the country. The lead comes from old pipes and solder, as well faucets, valves, and other plumbing fixtures, such as those made of brass. Exposure to very high blood lead levels can cause serious health effects including learning and behavioral disabilities, seizures, coma, and death. Although it is uncommon today to see blood lead levels that are high enough to be life threatening, any exposure to lead may have the potential to cause adverse health effects.
Because of the large number of children who are involved nationwide, lead poisoning is still a very important public health problem, and parents want answers and child-protective action, now.
Following national outrage and concern about the lead in drinking water situation, and less public but equally well-documented incidents like water contamination in Hoosick Falls, New York, some schools began testing for lead. The Los Angeles school system found it in school drinking water, including in relatively new schools. Even though old pipes had been replaced, lead used to solder new joints showed up in the tests. In Portland, Oregon, the community was shocked to discover lead in several public schools, leading to a ban on students drinking any water from school facilities. Carolyn Smith Evans, co-founder and Chair, National Education Association's Healthy Schools Caucus, noted, "The events in the Portland, Oregon public schools regarding lead in school water supplies and the untimely disclosure to parents and teachers seem to be reverberating around the state. The positive outcomes of this are the mobilization of Oregon's Governor and the Oregon Legislature to seek ways to address issues of lead and other environmental toxins in Oregon schools. As well, school districts in other parts of the state such as Eugene, Salem-Keizer, and other smaller districts are voluntarily announcing their plans for water testing and disclosure of the results to the public, parents and school employees."
What solution will be waiting for Portland, OR children when they return this fall is not clear, although it might echo Baltimore, MD which has used only bottled water in its schools for the past decade.
In New York, there was also progress, both in the area of data collection and remediation. When lead turned up in the drinking water in schools in Ithaca, Rochester and Amsterdam, local legislators introduced the New York School Safe Drinking Water Act, a bill to require testing at the tap of all drinking water in New York's PK-12 public schools. Although it came down to the final hours of a late legislative session, the bill passed. Governor Andrew Cuomo weighed in with some last minute amendments, so his signature is expected. Important features of the law include:
• transparency - all parents and staff are to be notified that testing is taking place, and the results are to be posted on state and county health department websites;
• remediation and reimbursement - state school building aid will reimburse schools for testing and remediation; and,
• reporting - the law requires the state Health Department to report to the governor on test results by December 2016, in time to impact the development of next year's state budget proposal, and bi-annually thereafter.
Nationally, states are stepping up, but not fast enough. In every state, there is plenty of work to do for parents and for schools to get ready for the coming school year. They can:
• write a blog or op-ed for their paper
• test at the tap for lead
• buy third party certified green cleaning products
• buy EPEAT-rated green computers that have fewer toxic chemicals and are energy efficient
• use third party certified green interior wall and ceiling paints
• and they can encourage staff and parents to avoid disinfecting wipes
• practice safer pest control.
To illustrate the depth of the environmental problems all children face, Towards Healthy Schools: Reducing Risks to Children includes state-by-state examples of problems over the past year. In a series of interviews with public health officials across the country, the report adds evidence to the concern about the lack of systematic data collection needed to document and address environmental health concerns affecting children in all schools.
When you add in the emerging public health threats like lead in school drinking water, PCBs and asbestos in classrooms, schools within a mile of hazardous facilities, and the growing climate crisis, it becomes clear why this report concludes that "all children are at risk for additional health and learning problems due to the unaddressed and unexamined threats in their schools and the absence of public health services for children".
The report also adds that the nation will not reduce risks to children in schools unless and until public health and environment agencies rise to meet this too-long-ignored environmental health challenge. Learning how to address this fundamental problem should be high on the agenda for parents, children's advocates and public health and environment officials at every level as the new school year begins.
.
REAL LIFE. REAL NEWS. REAL VOICES.
Help us tell more of the stories that matter from voices that too often remain unheard.