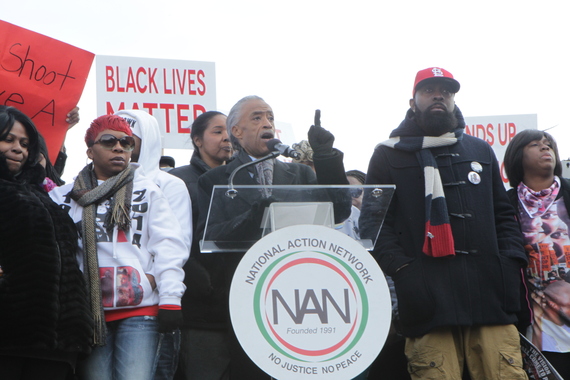 On Saturday, the entire world watched. They watched as tens of thousands marched peacefully in the nation's capital. They watched as both old and young, Black and White, and Americans from all stripes joined the families of Eric Garner, Michael Brown Jr., Tamir Rice, Akai Gurley, John Crawford III, Amadou Diallo and Trayvon Martin. People around the world watched as similar demonstrations were held in New York, Boston and elsewhere to demand reform. It is clear, that despite distortions and distractions, there is a strong determination among many diverse Americans that policing must be dealt with in this country. And it appears the international community agrees. Justice cannot be reserved merely for the privileged; justice for all is what we want and we want it now. Thankfully, we are closer than perhaps ever before.
About three and a half months ago, I stood over the casket of Michael Brown Jr. and delivered a eulogy as his parents and loved ones prepared to bury the 18-year-old. A few weeks prior to that, I eulogized police chokehold victim Eric Garner as his wife, six children and grandchildren prepared to do the same. At the time, possible federal intervention and legislative action were a wish and dream of the activists involved. Today, it is within our grasp. If we do not get distracted or deterred, substantive change and police accountability will prevail. It is our job to remain focused and firm in our resolve. In the words of the late great Sam Cooke, it's been a long time coming, but a change is gonna come.
Congressman Emanuel Cleaver introduced a House bill last week that would require police officers to wear body cameras. The Senate recently passed the 'Death in Custody Reporting Act' -- bipartisan legislation which requires states to report to the Department of Justice how many individuals die each year while in police custody or during the course of an arrest. While these and other actions are being implemented on the federal level, we will continue to monitor the Justice Department's investigation of the Eric Garner and Michael Brown Jr. cases. Make no mistake: we will continue to keep the pressure on to push towards what is right. But we can take a moment to acknowledge the fact that today, police reform is within reach.
As I often state, progress never happens overnight. It takes the unified dedication of many through consistent, organized and peaceful work. Many years went by before the Civil Rights Act was passed, but folks did not give up. Today, we must remain as determined as ever, and we cannot succumb to desperate attempts to demonize and divide us. Those who wish to see us fail and keep the status quo will do anything to stop the movement -- that is expected. As Raw Story highlighted in a piece, Fox News deceptively edited my anti-violence speech to include a chant for 'dead cops'. It is disgusting, outrageous, despicable and pathetic. But it is not surprising. To me, it simply reaffirms the notion that we are on the right side of this equation and we are making a real impact. We must continue together.
In 10 or 25 years from now, it won't matter who got the most publicity or the most applause at a rally. All that will matter is the fact that police across the country will know that if they use deadly force, they cannot depend on local friendly prosecutors to walk them through a grand jury with no risk of a fair investigation. All that will matter will be the implementation of a process where state attorney generals handle police-involved shooting deaths of unarmed civilians, rather than local prosecutors and grand juries. All that will matter will be the idea that young men and women of color can walk down the street or drive in their car without fearing for their lives from those hired to protect them.
Let us not give in to pettiness and emotion, for true change is at our doorstep. You could see on the faces of those marching and chanting on Saturday, and you can see it in Washington as our elected officials are taking steps to reform a system that has failed far too many for too long. We've seen support around the world as peaceful protests have been held in as far away places as Japan and India. You can literally feel it in the air -- permanent change is on the horizon. Now we must seize it, and this moment, as we record history together.
For it's been a long time coming.
Popular in the Community