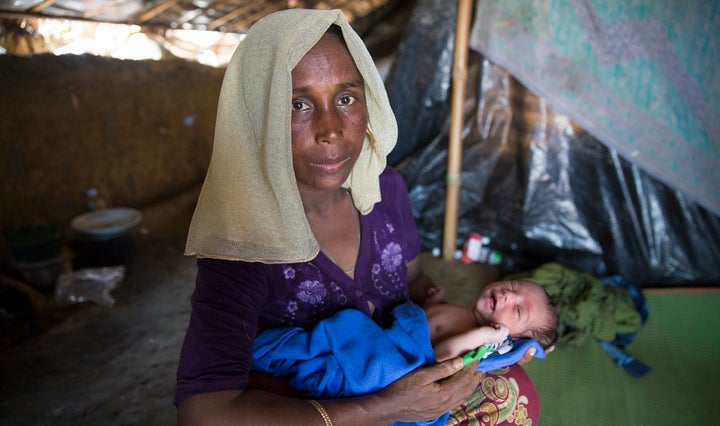 Survivors of this crisis escape with what they can hold in their hands.
They're not so different from hurricane evacuees in Puerto Rico, Texas and Florida. But their crisis is man-made.
Their stories are almost always the same. Men in military uniforms arrive unannounced. Then, it begins. People are forced to watch as their loved ones are killed or raped. Crops and homes are set afire.
More than 500,000 Rohingya people have fled their homes in western Myanmar since August, and these are a few of the horrendous themes that emerge again and again in their stories. With next to nothing, the vast majority of these refugees have crossed the border into southeast Bangladesh seeking asylum and safety.
What they find upon arrival are already overcrowded refugee camps and informal settlements formed of tarps and bamboo. The settlements are home to another 300,000 to 500,000 Rohingya refugees who fled to Bangladesh in years prior because of persecution at the hands of the Myanmar government. In the camps, access to medical attention and care is severely limited and basic necessities, including food and safe drinking water, are extremely scarce.
From every corner of the humanitarian sector, alarm bells are being sounded as loudly as possible.
So, how you can help? Here are my top three recommendations:
1. Support locally driven relief efforts.
GlobalGiving, where I serve as Chief Program Officer, wasn't always known as a go-to solution in times of crisis. But in 2004, when a deadly tsunami formed in the Indian Ocean and hit land, our phones lit up. Donors were relying on us to connect them to trustworthy, local organizations on the ground.
Since then, we've seen the same issue arise again and again: There's not enough support for missions that disaster-affected communities deem most important. Worldwide, less than 1.6 percent of international aid reaches local nonprofits. GlobalGiving, which has longstanding relationships with thousands of local nonprofits in 170 countries, including the United States, is uniquely positioned to help. In times of crisis, we coordinate closely with our network of vetted, locally driven nonprofit partners who are deeply aware of urgent needs on the ground.
Right now, in Myanmar and Bangladesh, our local partners are trying to meet dire needs in crowded refugee camps and settlements in the Cox's Bazar area of southeastern Bangladesh. Because they're already part of these communities, they'll be there for the long haul. Their work and dedication is a testament to the power of humanity to push back against the darkest consequences of violence and persecution.
2. Donate cash not stuff.
Donated things often cost more to ship to disaster survivors than the items are worth. Many things go to waste. I recently visited a Syrian refugee camp in Greece where I saw rooms filled with donated items from thousands of miles away—high heels, Spanish-language calculus books, and other discarded items—that only served to divert resources and attention from the urgent needs of refugees.
3. Share your outrage about the Rohingya refugee crisis with your friends and family—and your government representatives.
Your voice matters. The U.S. foreign aid budget amounts to just 1 percent of the total federal budget, and even this level of funding isn't guaranteed.
Now more than ever, the success of local heroes—who refuse to turn their backs on the Rohingya refugees and other vulnerable populations around the world—hinges on you.
The Nowabenki Gonomukhi Foundation will use your donation to set up mobile clinics to meet the urgent medical needs of Rohingya refugees. ActionAid will use your donation to provide food, clean water, hygiene kits, and emergency shelters to Rohingya families in need. The Hope Foundation for Women & Children of Bangladesh will provide urgent medical care to pregnant mothers and children caught in the crossfire of Rohingya refugee crisis. With just $15, you can provide critical vitamins to a pregnant mother for up to three months!
Please don't let this crisis fade into the background. Instead, focus on the tangible difference you can make in the life of one mother or one child. Learn more.
Support HuffPost
The Stakes Have Never Been Higher
Related
Popular in the Community