Like most gay couples in America, Annie Sprinkle and Elizabeth Stephens have fought hard to have their union recognized by the courts. When that didn't happen earlier this decade in California, where the couple live, they decided to lure all of their passions into one creative bed and frolic with a curious enterprise.
What if they partook in a seven-year art project that found them getting married each year? What if each wedding, each year, reflected a certain artistic theme? What if the weddings were performance art?
It didn't take long before all those "what ifs?" became a reality. Their wedding/art project was dubbed Love Art Lab -- and based on artist Linda Montano's work -- and soon, Sprinkle and Stephens, who live in San Francisco, truly began living a life of art and devotion. Most of it, they say, was spawned in a response to the ongoing war in Iraq, the onslaught of fear-based Bush policies and LGBT civil rights causes.
Now in Year Five of their project (learn more here), the couple--and their creative posse--have descended on Venice, Italy. More specifically, at the Biannale, where the duo will partake in an inventive Blue Wedding that has already generated buzz and international visitors.
The wedding takes place around 4pm (Venice time) Friday, Aug. 28. Building upon last year's intention to become more eco-conscious, the ladies vow to get "married to the sea," hoping to raise the level of awareness around the health of the planet's oceans.
Here's a brief stroll down the aisle from weddings past: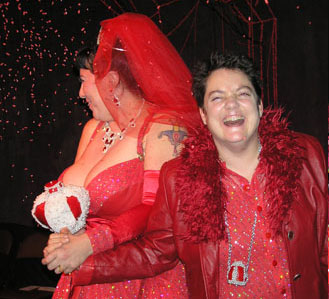 The Red Wedding
When: December, 2004, San Francisco
Theme: Security (First Chakra)
Bouquet Tidbit: Seven years of "art as love" begins. (Pictured above, from left, Sprinkles and Stephens.)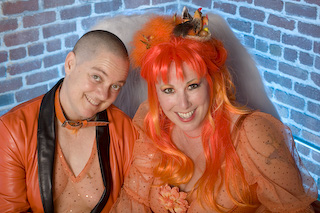 The Orange Wedding
When: July 2006, San Francisco
Theme: Creativity/Sexuality (Second Chakra)
Bouquet Tidbit: After Sprinkle survives a bout with cancer, the couple commits to living a full year living creatively, pouring their passion into their art, performance art and sexuality.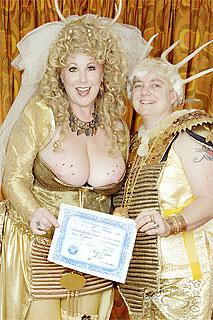 The Yellow Wedding
When: January 2007, Alberta Canada
Theme: Power/Courage (Third Chakra)
Bouquet Tidbit: The couple is "legally" married; first time the performance art weddings become open to the public; the duo ventures forth, vow to take personal risks during the year and become politically active.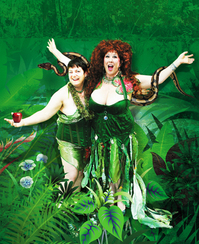 The Green Wedding
When: May 2008, UC Santa Cruz
Theme: Love/Earth (Fourth Chakra)
Bouquet Tidbit: In one of their biggest gatherings, more than 350 people attend in the Forest Glen of UC Santa Cruz; couple vows to be eco-patriots and marry themselves to "Lover Earth."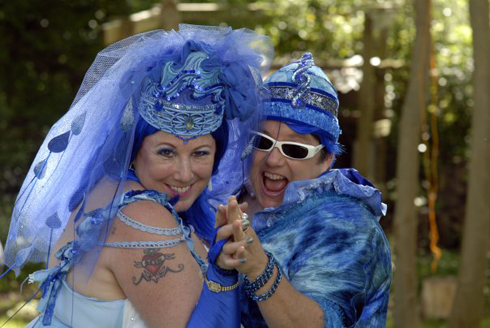 The Blue Wedding
When: Summer 2009, Oxford
Theme: Sexecology/Communication (Fifth Chakra)
Bouquet Tidbit: Small gathering in Oxford becomes the appetizer for a bigger wedding feast in Venice, Italy, Friday, Aug. 28, 2009 at the Biennale.
Calling all HuffPost superfans!
Sign up for membership to become a founding member and help shape HuffPost's next chapter