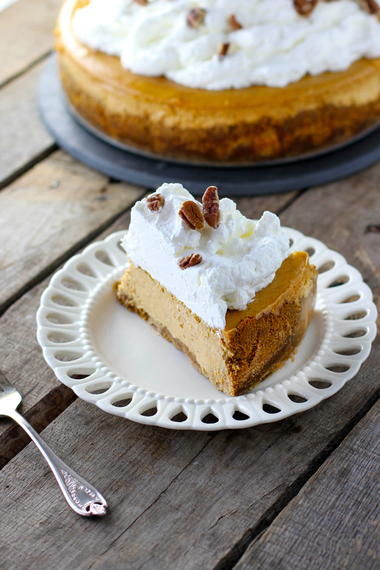 It's official. "Pumpkin everything" season is finally upon us! I feel like there are two camps to this autumn favorite. Either you love it and dive head first into every pumpkin recipe you can get your hands on, or you loathe it with every fiber in your body, vehemently rebelling against this gourd. I personally am firmly planted on the Team Pumpkin side of the fence.
I appreciate the classic pumpkin pie, but I also love finding new ways to enjoy pumpkin. One of my all-time favorite recipes is this Cream Cheese Pumpkin Bundt, a light, airy pumpkin chiffon cake baked in a bundt pan hides a sweetened cream cheese filling running through the middle. Pumpkin and sweet cream cheese are flavors that I love together probably because I love cheesecake so much.
My favorite place to enjoy cheesecake is always The Cheesecake Factory. They have the most decadent cakes and they always have so many interesting varieties to choose from. I love trying to recreate them at home. My copycat of the Cheesecake Factory Red Velvet Cheesecake Recipe comes pretty darn close to the original.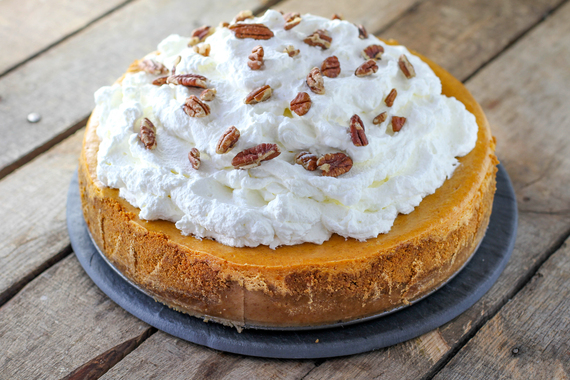 The Cheesecake Factory red velvet cheesecake has always been my favorite because really, what's not to love about a vanilla bean cheesecake INSIDE a red velvet cake with cream cheese icing? That's just crazy goodness happening right there on so many levels.
The red velvet cheesecake gets dethroned annually though once autumn rolls around because that is when Cheesecake Factory Pumpkin Cheesecake makes its yearly appearance. Dense, creamy, warmly spiced cheesecake in a graham cracker crust topped with billows of fluffy whipped cream and a hearty sprinkling of buttery pecans.
This cheesecake is thick and decadent. You'll only need a small slice to satisfy even the most demanding sweet tooth so this is one cheesecake that is made to feed a crowd. Perfect for gracing any holiday table, this Cheesecake Factory Pumpkin Cheesecake recipe is the epitome of autumn indulgence.
Kate babbles about all things food on her own blog,
, and about feeding her girls the best way. Here on Food Fanatic, she wows us with her commitment to homemade, fresh
, week after week.
Popular in the Community