As I peruse my week's shopping list and note items like almond milk (a staple pairing with my morning coffee), bananas for freezing and later alchemizing into dairy-free 'ice cream'), canned coconut milk, and a bag of kale for juicing, it seems hard to believe that I was once enthralled with tubs of non-dairy whipped topping. Oh, but I was. I lived for the moments when my mother would be distracted from the kitchen, giving me temporary domain over this magical kingdom. Knowing there were only precious moments to spare, I'd race to the refrigerator with a spoon, tear the plastic lid off the whipped topping and plunge into the white terrain to extract a cloud of creamy sweetness that sent me into sensory orbit.
Somewhere in my late teens I realized that the original version for this concoction actually turned out to be....heavy cream! Who knew? It tasted a little odd at first but soon I acclimated my palate to heaping amounts of real whipped cream: in coffee drinks, on pies, accenting pancakes were just a few of the methods for utilizing whipped cream. It even, during one of my more destructive binges, made a righteous dip for chocolate chip cookies. It was choices such as these, coupled with lots of couch-dwelling, that got me to 300 pounds and kept me there for two decades.
When I turned my habits and life around six years ago, my nutritionist strongly recommended that I give up cow dairy. I bristled at the suggestion. Whipped cream was only the beginning of my passion. Cheeses from every nation, of every shape and texture, were my go-to security blanket. But I was more tired of carrying 180 extra pounds around than I coveted the taste of cheese so I opted for an overhaul. To my astonishment, I didn't descend into a sinkhole of misery. Turns out I had exponentially more energy and began experimenting with viable substitutes for cow dairy. Enter whipped cream made from coconut milk.
Strawberry season was the single reason I sought out a dairy-free version of whipped cream that I could make at home. Six years ago, I unconsciously sequestered Strawberry Shortcake to the underground recesses of my memory. No point in dwelling on it since two of the three ingredients involve white flour and heavy cream. Since writing my cookbook/memoir "Clean Comfort," I've become much more creative in my endeavors to enjoy comfort foods that aren't followed by a hangover. So it was a joyous day when I realized I could indeed eat Strawberry Shortcake again.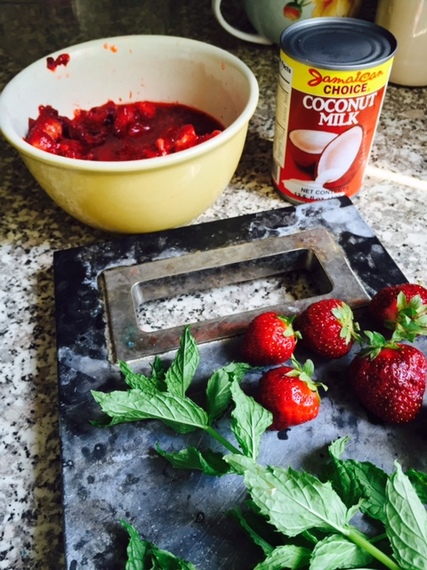 The procedure would be the same as with any other recipe I made over: tastes and textures are mimicked and approximated, ingredients are swapped, and because I want to maintain a 180-pound weight loss more than I want the taste of X,Y, or Z, I agree to eat something that is hardly an exact replica of the original, but is close enough. If that's my cross to bear in life, I got off easy.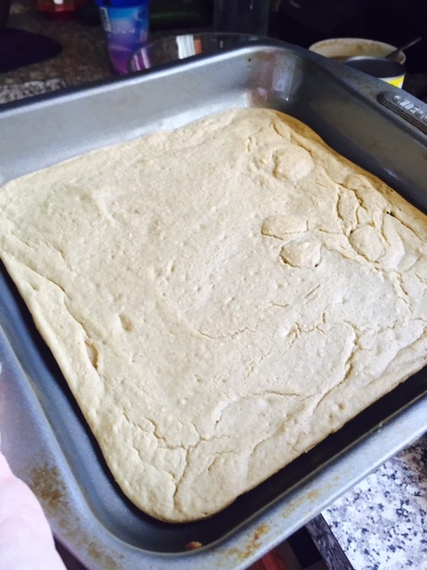 The biscuits in this recipe are made from garbanzo beans; the whipped cream from coconut milk; the strawberries are the fresh off the farm. If you're craving this outside of strawberry season, the frozen unsweetened kind will do.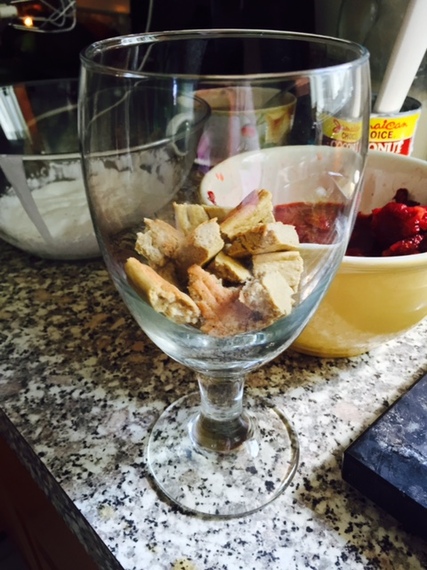 Sure, I could make a pan of biscuits out of gluten-free flour. And you're free to do that. I'm simply determined to squeeze as much nutrition out of food as I can. And beans have a lower glycemic index than flour, they're ounce-for-ounce less expensive than flour, and lentils are fiber- and nutrient-rich, so there's no contest for me. I Hope you try this clean version of Strawberry Shortcake, but more than that, I hope you enjoy it:
3 cups fresh strawberries, washed and hulled
For the biscuits:
1 can Garbanzo beans, drained
2 eggs, room temperature
1/2 teaspoon salt
1 teaspoon vanilla
1/4 cup sugar or 20 drops of Stevia
2 tablespoons coconut oil
1/3 cup shredded unsweetened coconut
Almond milk or coconut milk as needed for thinning
For whipped cream:
1 can coconut milk, chilled in the refrigerator several hours or overnight
Instructions:
With a fork or potato masher, macerate the strawberries until they're chunky and a little liquidy. Set aside. Preheat oven to 350. Combine all biscuit ingredients in a food processor or Vitamix and blend until smooth. The consistency should be slightly thinner than cake batter, so add almond milk if needed. Spray a square brownie pan with cooking spray and pour batter into pan. Bake 25 minutes and do a toothpick test in the center. If it comes out clean, remove from oven. Otherwise bake another five to 10 minutes.
While biscuits are cooling, open coconut milk. The fat will have risen to the top. Scoop it out into a small mixing bowl and set water aside. Whip with an electric beater until fluffy (about 2 minutes). Cut biscuits into squares and top with strawberries and cream.