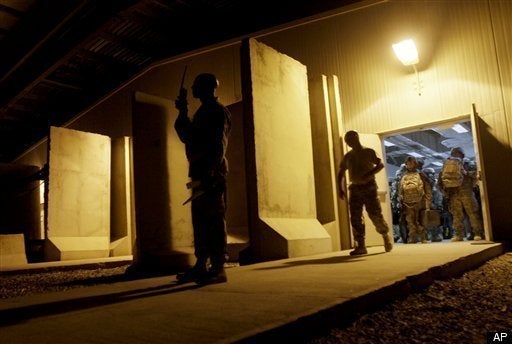 Over the past two days, we have been treated to new evidence about the ever-mounting costs of "don't ask, don't tell." Yesterday, as reported in the Washington Post, the Palm Center released new Pentagon data which demonstrated the heavy burden that "don't ask, don't tell" places on women. What does this mean? It means a failed policy continues to fail us.
Although women comprise only 14% of the Army, the new data show that lesbians received 48% of the Army's "don't ask, don't tell" discharges last year. In the Marines, women comprise just 6% of the force, but received 23% of discharges under the policy. In the Air Force, women comprise 20% of the service but received 51% of "don't ask, don't tell" discharges last year. Women comprise 14% of the Navy but received 27% of the discharges.
The new data also show that the military continued to fire mission-critical specialists for being gay last year, including 8 linguists, 20 infantrymen, 16 medical aides, 7 combat engineers, 6 missile artillery operating crew members, and one member of the Special Forces, among others. This pattern is consistent with a long-term trend of firing badly-needed talent. A 2005 GAO Report found that the military fired 757 mission-critical specialists, including 322 linguists, in the first decade of "don't ask, don't tell."
As if that were not enough, a new study released today finds that "don't ask, don't tell" imposes no fewer than twelve different types of costs on the military, including financial waste and undermining morale and unit cohesion. The eloquent study, written by Dr. Nathaniel Frank, should be required reading for anyone who cares about military readiness.
So, to recap, we continue without reason to fire good troops who do a good job during a time of war.
The broader context here is that this season is do-or-die for "don't ask, don't tell." If this policy is to be put out of its misery, three things must happen over the next few months. First, the Senate must vote in September, over the objections of Senator John McCain, to pass the defense authorization bill which includes repeal language.
Second, the Pentagon Working Group now studying the issue must deliver a report to Secretary Gates on December 1 which recommends new regulations based on non-discrimination. This is not a negotiable point. As our NATO allies have demonstrated, writing non-discrimination regulations is quite simple. I have every reason to expect the Working Group to do a good job. But red-herring issues such as marriage and partnership benefits (which the Pentagon has no business addressing at this time) should not be allowed to delay an otherwise straightforward process. The Group must get back to business and focus on the (very simple) task at hand.
Finally, the President will have to resist the inevitable demand from Service Chiefs to delay the implementation of non-discrimination so that they can study, study, study beyond the year that they have been given already.
As a professor, I'm all for research. But "don't ask, don't tell" is making our troops less safe. JD Smith said of the new data that, "These discharges put our lives at risk...[I]t is the troops on the ground who will pay with their personal safety." Smith should know. He is Co-Director of OutServe, the first-ever organization of active duty gay troops.
When you consider the ongoing hemorrhage of talent and other burdens that follow from "don't ask, don't tell," you have to wonder if it isn't time for action.

Calling all HuffPost superfans!
Sign up for membership to become a founding member and help shape HuffPost's next chapter