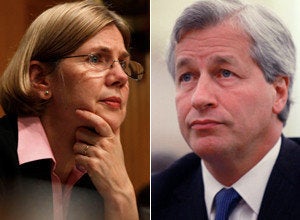 WASHINGTON (By Kevin Drawbaugh) - Elizabeth Warren, the Obama administration's defender of financial consumers, will venture into the corporate lion's den this week, along with Jamie Dimon, CEO of banking giant JPMorgan Chase & Co.
The two will be speakers at an event set for Wednesday at the U.S. Chamber of Commerce, the country's largest business lobbying group, in its Corinthian-columned headquarters situated within view of the White House.
Warren, 61, is an earnest Harvard Law School professor brought up in Oklahoma, while Dimon, 55, is a consummate New York City insider and one of Wall Street's richest CEOs.
He was once a close adviser to President Barack Obama on financial regulation policy, but has become a vocal critic of the administration's efforts, especially since passage in 2010 of the Dodd-Frank Wall Street reforms.
She is helping the administration set up the Consumer Financial Protection Bureau (CFPB), a watchdog called for by Dodd-Frank to shield consumers from abusive practices in the mortgage and credit card businesses.
The remarks by Warren and Dimon will generate headlines, although analysts said other financial regulation news this week will have more impact on banks and the markets.
"The big event next week in Washington is the long-anticipated release of the rules implementing the Dodd-Frank risk retention requirement," said Brian Gardner, a senior policy analyst at investment firm Keefe Bruyette & Woods.
Under Dodd-Frank, mortgage lenders that sell loans as securities -- a practice known as securitization -- must keep at least 5 percent of the credit risk on their books.
The measure, requiring lenders to have "skin in the game", is meant to help restore lending discipline that went out the window during the securitization-fueled real estate boom at the root of the 2007-2009 financial crisis.
The Federal Deposit Insurance Corp will hold a meeting on Tuesday to consider a risk-retention rule proposal, as well as a related measure to allow some exemptions.
The FDIC will also consider a proposal on living wills for large banks and financial firms, another Dodd-Frank measure. Such wills are meant to tell regulators how to shut down an institution on the brink of collapse in an orderly way, averting the need for bailouts or bankruptcies.
Less than three years after taxpayers rescued Wall Street and the big banks from their worst crisis since the Great Depression, bank executives, the chamber and many Republicans in Congress are on the attack against Dodd-Frank.
Another committee hearing on Wednesday in the House of Representatives will give Republicans a platform to question Dodd-Frank and the costs of complying with it. The reforms were pushed through Congress last year by Democrats over the opposition of Republicans and bank lobbyists.
The same lobbyists are now trying to weaken Dodd-Frank at the agency implementation level, while Republicans seek to cut the budgets of agencies putting the reforms into practice, and offer bills to repeal or amend parts of it.
In another area, House Republicans were expected to advance plans in a hearing on Thursday to overhaul mortgage titans Fannie Mae and Freddie Mac, although final action on this is not expected for many more months.
The Commodity Futures Trading Commission's efforts to impose regulation for the first time on the $600 trillion swaps market will come under scrutiny at another hearing on Thursday before the House Agriculture Committee.
The CFTC's deadline for accepting comments from the public on curbing commodity market speculation will arrive on Monday, along with a flood of industry comments.
(Additional reporting by Jonathan Stempel in New York, Joe Rauch in Charlotte, N.C. and Dave Clarke in Washington; Editing by Dale Hudson)

Calling all HuffPost superfans!
Sign up for membership to become a founding member and help shape HuffPost's next chapter