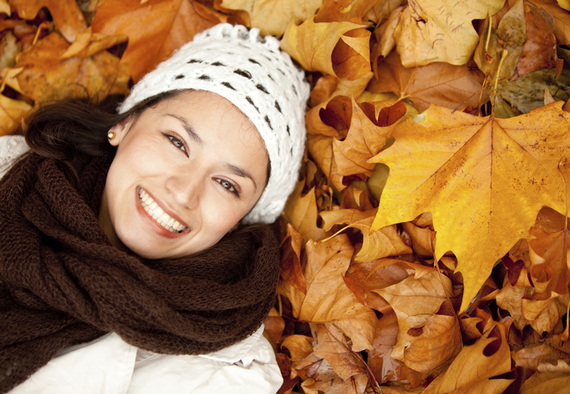 What do heirloom tomatoes and skincare have in common? As I am relishing the last tomatoes of the summer season and getting myself into a fall frame of mind, I am reminded that skincare should be seasonal, too. While safe and effective skincare is a year-round pursuit, certain times of year require extra effort. Fall is a case in point. After the ravages of summer sun and increased opportunities for free radical damage (aka aging), your skin needs a bit of extra help to recover its glow.
I ran this idea by two of the most respected skincare experts I know. Angelina Umansky, fourth generation esthetician and Bay Area beauty expert, agreed wholeheartedly. "Throughout the summer, the skin builds up a layer of dead skin. And residue from all that sunscreen acts as a barrier, preventing skincare products from penetrating the skin. So, an important first step in the process of repairing summer sun damage is to exfoliate." To make sure you exfoliate wisely, check out these exfoliation do's and don'ts.
In addition, Angelina recommends including Topical Vitamin C in your fall routine to brighten your skin and prevent further free radical damage. Finally, to increase cell turnover rate and increase collagen production, she reminds us not to forget retinol.

Dr. Eric Alden Lewis, respected Beverly Hills Dermatologist, agrees that exfoliation, Vitamin C and retinol are key components for your fall skin care routine. Importantly, he reminds us that "a critical component of fall skin care is lubrication, lubrication, lubrication. With fall, skin dryness becomes a major concern. Skin dryness ages the skin and increases damage from sun exposure."
With this in mind, I recommend face oils and serums for the fall season. As always, choose products that work from the inside out, penetrating all the way to the lipid barrier. The reason is simple: the older you get, the fewer lipids you produce and that makes your lipid barrier way less effective at holding moisture in and keeping the elements like sun and wind out. Effective face oils and serums can replenish the lipid barrier to create softer, smoother, more hydrated skin. If you're still on the fence about using face oil in your daily skin care routine, please read my earlier post: "The Great Debate: Face Oils vs Creams." Everyone I know who has made the switch to face oils would never turn back.