Every year people wait with great anticipation for Memorial Day weekend, the unofficial start of the summer season.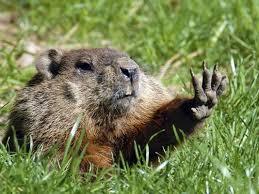 Others count the days until Christmas or look forward to seeing the fireworks on Independence Day or watching the ball drop on New Year's Eve. However, for me, and perhaps oddly enough, I look forward to the inconsequential holiday of Groundhog Day. A holiday that arrives every year on Feb. 2 and which stands in the shadow of the romantic and heartwarming holiday of Valentine's Day. A holiday, which falls during a somewhat gloomy time of the year, when the nights are longer, and the days are colder.
I have no fond childhood memories of running off to see the groundhog emerge from his burrow. My family never gathered for groundhog diners, nor did my mom bake special groundhog cookies. What kind of a real holiday is it anyway; we don't even get a day off from work or school? The notion that a bunch of people would stand outside in the cold during the early morning hours to watch a groundhog predict the weather seems a little bizarre if not ludicrous. If intelligent and well-trained meteorologists struggle with predicting something as uncertain as the weather, what makes us think that a giant squirrel can do better?
Therefore, it's no surprise that my fondness for the holiday isn't a consequence of the tongue and cheek prognostication that occurs each year in Punxsutawney, Pennsylvania. No, my affection for the holiday is purely a consequence of the 1993 movie, which bears the same name. Each year, my kids knew when it was Groundhog Day... again, because their slightly strange father would be popping popcorn and loading the DVD player with the same well-worn copy of the movie Groundhog Day. Certainly, the entire family enjoyed the movie's delightful and comedic storyline of the self-centered and unhappy weatherman Phil Connors reliving the same day -- Groundhog Day -- over and over again.
The movie Groundhog Day poignantly expresses life's important truisms in the vein of the great holiday movie classics such as It's a Wonderful Life. Common themes like the value of giving to others, appreciating the people around us, and enjoying the beautiful things in life are brilliantly meshed within the humor of a groundhog at the wheel of a truck being chased by police. However, what makes this movie special is not just the expression of these universally drawn upon topics that have been covered innumerable times in countless movies. What makes Groundhog Day unique is how it subtly depicts a topic so rarely covered in most films.
Groundhog Day portrays eloquently the message that it is only when we live in the present moment that we can truly be at peace. Throughout the movie, Phil plans and plots in order to make the one day that he is reliving perfect. He tries in vain to woo the girl, to find happiness in wealth, and to thwart death but to no avail. For it is only when Phil lets go of his need to make life perfect and embraces the present moment for what it is that he is freed from his nightmare and begins to live a new day. Almost inconspicuously and without fanfare, Phil states, "Whatever happens tomorrow, or for the rest of my life, I'm happy now..." A line that breaks him from the chains of living the same day over and over. In our fast-paced technology-driven world of instant communication, it is more important than ever for us to remember to be present and enjoy the only moment that ever exists -- the present moment. Let us all take this moment during this season of cold weather when New Year's resolutions have faded and the memories of the holiday spirit are perhaps forgotten to find a renewed determination to begin to appreciate and enjoy the present moment. I invite you all to sit down with my family and me and with a bowl of popcorn to enjoy and savor my favorite holiday movie, Groundhog Day... again.
REAL LIFE. REAL NEWS. REAL VOICES.
Help us tell more of the stories that matter from voices that too often remain unheard.