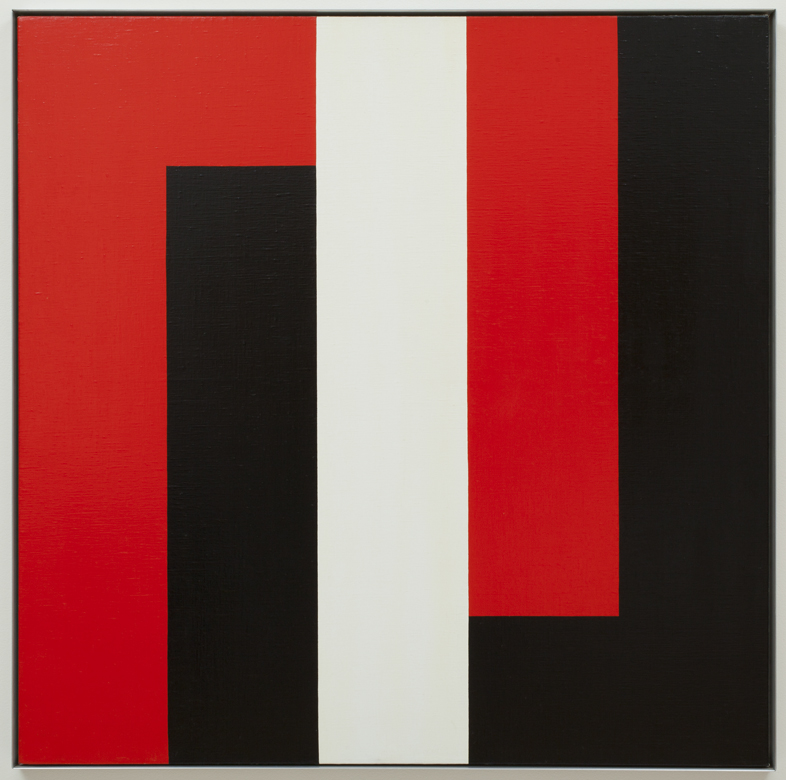 Frederick Hammersley, Betwain, #1 1973 oil on linen, 44 x 44 in. (111.8 x 111.8 cm). Courtesy of L.A. Louver, Venice, CA
Frederick Hammersley | Hammersley's paintings are abstract, richly colored and possess a quietly resolute determination. They do not represent anything in the traditional sense; rather they suggest complex emotional states and patterns of thought. Their seemingly clear and simple compositions belie their pictorial richness.
Hammersley's abstractions came out of drawing. While teaching at Jepson Art School in Los Angeles, he found "a delicious stone" to create intimate lithographic prints (each 3 x 3 inches) based on a grid structure of 16 squares. He introduced compositional elements one by one, altering line, form, color, etc. to discover how each would react to the other. These small prints held the seeds for his later geometric paintings. After leaving Jepson in 1951, Hammersely recalled that he "bumped into hunch painting by accident," inspired by the shapes that he saw in the figure and in still-life, reducing them to elemental form. These were intuitively derived compositions that gained the attention of curator, Jules Langsner, who included Hammersley in the landmark 1959 exhibition, Four Abstract Classicists, at the Los Angeles County Museum of Art.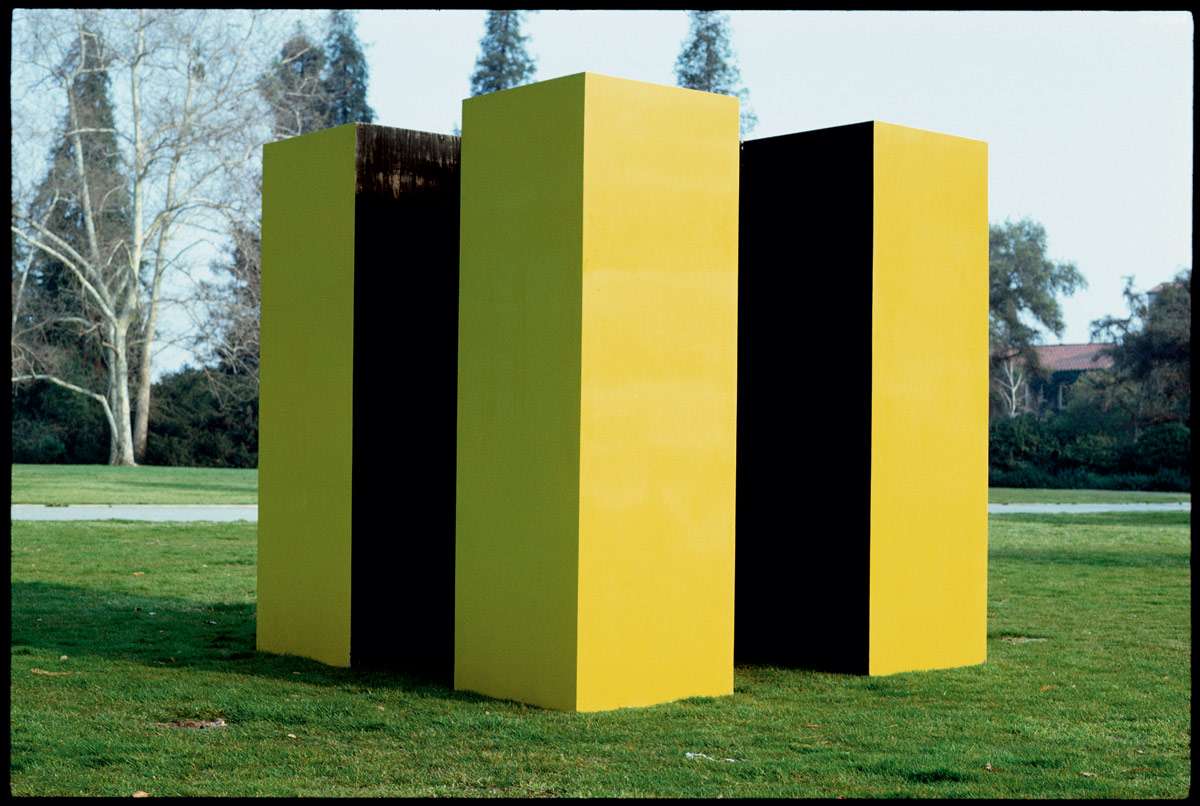 Part 3: At Pomona | The final of three exhibitions associated with "It Happened at Pomona: Art at the Edge of Los Angeles 1969-1973"--"Part 3: At Pomona," demonstrates how Pomona College's extraordinary community of arts faculty and students, inspired by the atmosphere created by curators Hal Glicksman and Helene Winer, developed some of the most important aesthetic currents of the late 20th century. Allied to the innovative exhibition programming, the art department thrived under a unique group of faculty members: Mowry Baden ('58), Lewis Baltz, David Gray, James Turrell ('65), and Guy Williams. Outstanding students at the time included Michael Brewster ('68), Chris Burden ('69), Judy Fiskin ('66), Peter Shelton ('73), and Hap Tivey ('69).
These artists, both faculty and students, engaged the developing legacies of Conceptualism and Minimalism and forged transformations of these ideas that became prototypes for future generations. This exhibition chronicles the experimental art that emerged in the late 1960s and the role played by Pomona College in advancing these practices.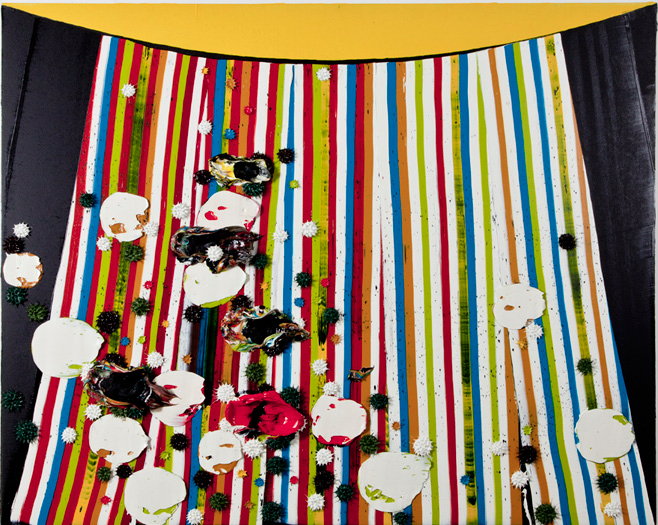 Dennis Hollingsworth: Terrestrial | At the heart of Hollingsworth's practice is a rigorous fidelity to the dichotomous nature of painting. Simultaneously materialist and conceptual, abstract and figurative, textual and painterly, Hollingsworth makes us question the étre of painting in the way Donald Judd did with the object.
Structure plays an integral role in these luxuriously rich, dense works, allowing the painting to take on a sculptural identity. Paint is dropped, both marbled and monochrome, and scraped up with scrapers and drywall knives. Tools are invented in order to achieve intended effects, such as daubers made of balled up knit fabric (which delivers flower-like forms which he then rocks into a bed of paint) or origami-like pincers that he uses to pull the spines off the monads. Spatulas and various knives are used in abundance. Brushes are cut and thinned into specific shapes and rarely does he rely on them as they are sold in stores.
Re-working the identity of painting, Hollingsworth presents the viewer with an existential conundrum that demands an awareness and a re-shaping of our own process of seeing.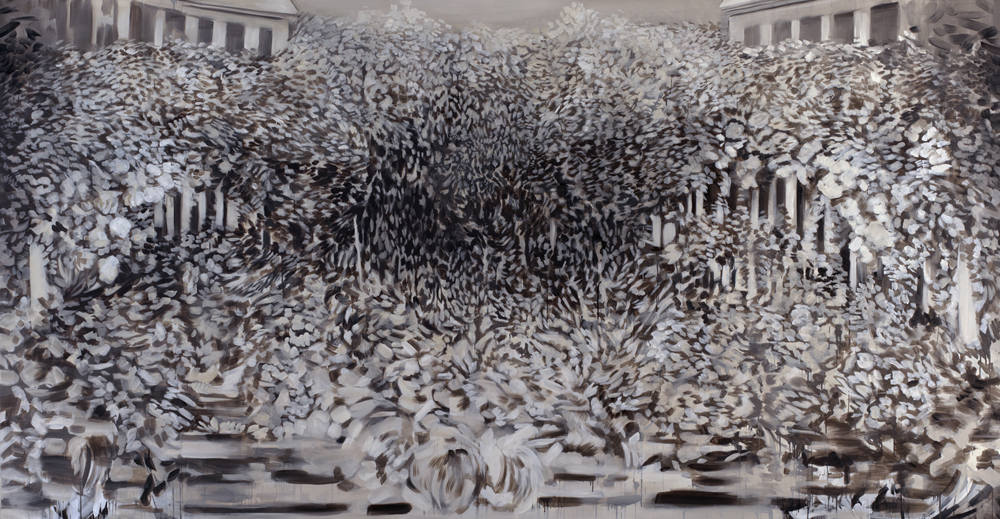 Rosson Crow: Ballyhoo Hullabaloo Haboob | Exploring the intimate psychological and emotional dimensions of nationalistic collective memory, Crow creates a series of works that take as a point of departure the exuberance and sobering aspects of past and recent gilded eras.
Known for her theatrical and lush paintings that often feature decadent interiors, this new investigation marks a shift in the artist's artistic process, tensely negotiating representational depictions and mnemonic interplay in painting. Rather than reproducing imagery associated with particular temporal and locational circumstances, the artist taps into mythologizing narratives, personal memories, and familial anecdotes to execute a psychoanalytic excavation of historical periods.
From bleak Dust Bowl towns to celebratory tickertape parades, Crow's paintings are emblematic of American growth and decline. The exhibition's title in part implies the pitfalls of such self-congratulatory excitement. Working with a much darker palette, these paintings chart the quiet forlorn mood that accompanies economic obsolescence.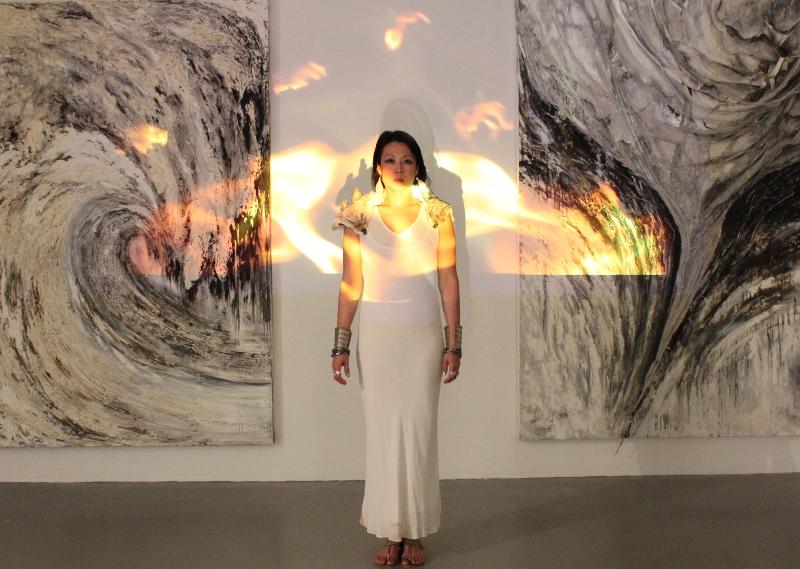 Angel Chen: Return to the Shadowlands | Dauntingly tall canvases set out to harness the energy of the natural world using the once-worn and now-discarded as 'raw materials.' Chen describes her work as "inspired by nature and all its fragile and harsh beauty; painting represents the sensuous over the intellectual, process over concept, the act over the idea." With these works, Chen creates a new personal reality based on ancient forms. The conceptual realm of philosophy and the materialism of high fashion are blended into these violent interior landscapes, merging into a whole.
Elemental forces are articulated onto rough wood canvases through remnants of suede, silk chiffon, fur, and gauze. The duality evokes the eternal oppositions of masculine and feminine, visible and invisible, and life and death. The pale alchemy of aged grays, blacks, and whites (snow rushing down a steep slope in "Avalanche;" the opaque gray air in "Tornado;" the dissolving curve of "Big Wave") conjures an existential reverence for a wilderness suffused with a hidden spiritual gravity. Leaned and not hung, these works defy the planar surface of the canvas and occupy space as both painting and sculptural object. Ultimately they reveal hidden geometries and metaphysical forces within the subtext of the beautiful and sublime.
For the most comprehensive calendar of art events throughout Los Angeles go to Artweek.LA.

Related
Popular in the Community