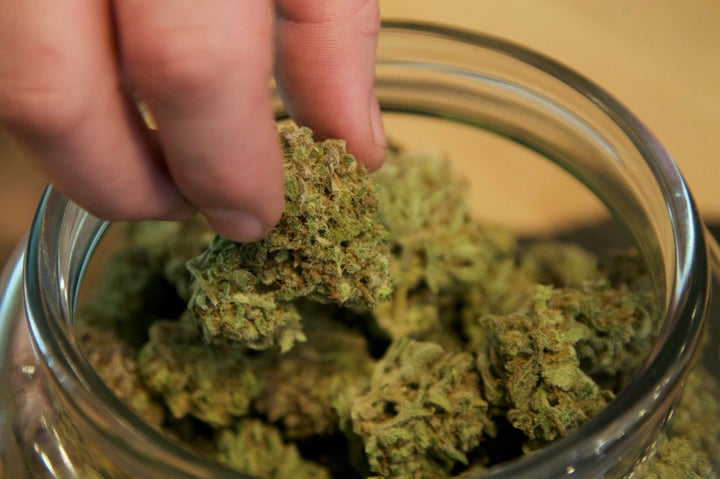 Throughout my public service, I have worked to shine a light on the need for innovative treatments to help those who suffer from debilitating illness and rare disease. In that same spirit, I introduced a bill with Senator Schatz (D-HI) last month to encourage more research into the potential benefits of medical marijuana. This proposal could help millions of Americans suffering from a wide-range of conditions, including cancer, epilepsy, post-traumatic stress disorder, residual effects after a stroke, and chronic pain.
As I said last month on the Senate floor, it's high time we give stone-cold serious consideration to medical marijuana research. For twenty years, states have delved into the weeds of potential uses, but research has often been stymied by a puffed-up regulatory bureaucracy. As doctors strain to find effective alternatives to addictive opioids, they need more than token gestures from Congress; they need potent solutions. That's why the bill we have rolled out is not a half-baked policy proposal but an earnest effort to address a chronic problem in the system. With growing support from Democrats and Republicans alike, this joint effort represents a unique hash of ideas from members of both parties, and a budding opportunity for real bipartisan reform. We need to blaze a trail for a new era of medical research, and this legislation will light the way.
Now all pot puns aside, it will surprise no one that I am strongly against the use of recreational marijuana. I worry, however, that in our zeal to enforce the law, we too often blind ourselves to the medicinal benefits of natural substances like cannabis. While I certainly do not support the use of marijuana for recreational purposes, the evidence shows that cannabis possesses medicinal properties that can truly change people's lives for the better. And I believe that we would be remiss if we threw out the baby with the bathwater.
In many cases, the compounds found in cannabis are the only hope for Americans who suffer from chronic medical conditions, such as severe epilepsy. Take the difficult case of a young man from my home state of Utah who suffers from a number of different epileptic disorders and developmental ailments. My friend takes 17 pills each day yet continues to have seizures regularly. The current treatment for his condition, with no guarantee of success, would be invasive brain surgery.
This young man is searching desperately for a treatment that could help him lead a safe and healthy life. Even though compounds found in marijuana could significantly mitigate the severity of his seizures, current regulations prevent the development of any such treatment from going forward ― so my friend is left to suffer.
My bill seeks to relieve the suffering. It updates the law for the 21st century, allowing for groundbreaking research on the potentially life-saving benefits of medical marijuana. And it upends the status quo by tearing down the bureaucratic barriers that keep so many Americans from finding the medical treatment they so desperately need.
Right now, we lack the science to support use of medical marijuana products not because researchers are unwilling to do the work but because of red tape and overregulation. Under existing law, those who want to complete research on the benefits of medical cannabis must engage in a complex application process that requires weigh-in from multiple federal agencies. These regulatory acrobatics can take researchers over a year, if not more, to complete. And the longer researchers have to wait, the longer patients have to suffer.
That's why my proposal significantly reduces federal interference, expediting the approval process so that much-needed treatments can get to patients sooner. By cutting red tape ― and by expanding sources of research-grade marijuana with the assurance of a quality-controlled product ― the MEDS Act ensures that patients have readier access to medical treatments that can dramatically improve quality of life. And by eventually allowing for commercial production, my bill aims to keep these treatments both safe and affordable.
Beyond alleviating the physical and emotional burden of a life-altering medical diagnosis, my bill could also stem the tide of opioid abuse that has swept the nation. As Americans watch their family members, friends, and neighbors grapple with opioid addiction, many are seeking non-narcotic alternatives that can help with pain. Medical marijuana is just one such alternative. And after careful, deliberative thought, I've concluded that it's an alternative worth pursuing.
Highlighting the potential of medical marijuana as a substitute for opioids was just one of the reasons I visited the American Cancer Society's Hope Lodge in Salt Lake City this week. The Hope Lodge is dedicated to providing high-quality palliative care to patients suffering from debilitating pain, and I believe medical marijuana could play a critical role in that effort.
We must do more to help the millions of Americans suffering from debilitating seizures, serious illness, and persistent pain who desperately want help but don't know where to find it. Passing the MEDS Act is the first step in giving these men and women the reprieve they need. I hope my colleagues will join me in supporting this commonsense proposal.
Popular in the Community