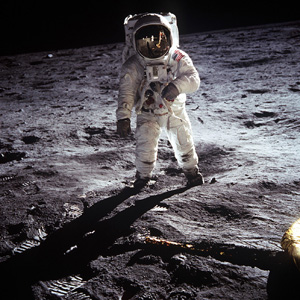 HERE MEN FROM THE PLANET EARTH
FIRST SET FOOT UPON THE MOON
JULY 1969 A.D.
WE CAME IN PEACE FOR ALL MANKIND
-- Plaque on Lunar Module Eagle, Tranquility Base
It happened 40 years ago next month. It was a moment that changed us. A moment that began a new chapter in the book of the human race. It was an achievement shared by all the peoples of the world ... and in that moment -- our differences were overwhelmed by the common bond of our humanity. And hear ye future generations -- it was a testament to what we are collectively capable of achieving when we aim beyond the horizon.
Many of you reading this lived through it and were powerfully moved. Many of you were not yet born -- but yearn to know what it was like.
In a recent blog post, I shared my own very personal experience as an 11-year old watching it on a black and white TV in Uniondale, Long Island, and later working as an astrophysicist for 8 years at the Smithsonian's National Air and Space Museum, in Washington, DC -- home of Apollo 11's command module Columbia.
When I pointed to the earlier HuffPost article on a number of LinkedIn groups, folks started leaving moving and poignant comments about where they were in July 1969, and what the flight of Apollo 11 meant to them.
So I just created a special post on Blog on the Universe as a place where those that lived it could share the experience with those that did not. At the post I have assembled an extensive list of resources and links to help you celebrate with friends and family, and follow the flight -- in real time -- as it happened 40 years ago courtesy of an online simulation from the JFK Presidential Library and Museum, and powered by AOL. I'll be adding more resources to the list every few days.
If you were moved 40 years ago next month, consider leaving a comment at Blog on the Universe. Think about where you were, what it meant to you, and what it meant to the world. I warmly invite you to put your thoughts to 'paper'. And tune in to the Blog over the next few weeks to read with your children and your children's children the comments left on the site, and to get updates on new resources. Just reading these comments will give you a chance to relive it -- and remember.
Help spread the word about the 40th anniversary.
With best wishes for great memories and wonderful sharing time.
Photo: Buzz Aldrin, the second human to walk on the Moon
Photo credit: Neil Armstrong, the first human to walk on the Moon (and NASA)
Related