In college, I thought I was so sassy walking around in my red ΔΓ sweatpants (go Delta Gamma!)
Years went by and I managed to bypass the luxury-slash-slutty allure of JUICY sweatpants, the word splashed across the buttocks of women old and young alike in a declaration of the delectable buns encased within.
Every time I stop into Victoria's Secret to redeem my "Free panty" card (only in whisper pink, ivory, heather gray or black), I resist the urge to bury my face in an armful of PINK bottoms. The word manages to evoke images of both girly youthful innocence and overt sexuality (a la Hard Rock Hotel's Pink Taco (surprisingly SFW!) at once. I have thus far avoided the allure of a PINK bottom, but only because I'm too tall to sport a pair without looking like a flood is a comin'.
Now....now, we have hit near-rock bottom in the "splashed across your ass" pants category: "TRUE LOVE WAITS."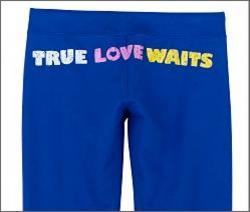 Currently on sale at K-Mart in look-at-me hues like Snapdragon Yellow and Surf Blue, parents can buy their precious little girls a fashion-y treat with the ultimate in biblical commitments splayed across their prepubescent hips.
Wearing these is like a 36DD woman wearing a snug tee-shirt that reads, "Don't look at my chest." It reminds me of a sparkly, bloinged-out, pink and purple bumper sticker I used to have plastered to my corkboard in high school that said "Stop Staring At Me!!"
Says K-Mart, "Whether she is lounging around the house, going to practice, or doing her chores, these soft athletic style crop pants will keep her comfy. Perfect for wearing with her favorite sweatshirt or tee. These athletic pants boldly proclaim just where she stands by pointing out that 'True Love Waits' in a large screen print on the front and back of these pants."
Oh, irony, thy name is "True Love Waits" sweatpants.
- A drawstring waist (for not-too-easy access)
- Bold abstinence screen print (draws boys' eyes away from the crotch...except that the slogan is printed on the front, too, right smack dab next to the Stay Away zone)
- Machine washable (I just can't bring myself to make the joke but this feature would be especially helpful with the blue sweats)
PS. These would be perfect to wear while attending the LifeWay (aka TLW creator) Kids Conference 2008 in October - your virgin will be the hit of the Orlando meeting, sashaying from childhood ministry meeting to childhood ministry meeting in Can't Touch This style.