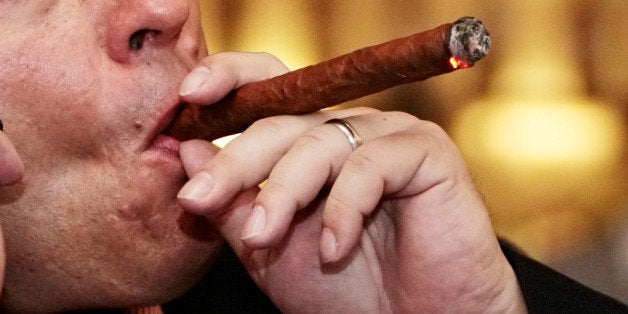 Chip Roame, Managing Partner of Tiburon Strategic Advisors is one of the famous names in market research and strategic consulting in financial services. He has worked with over 360 top financial services' firms, and has been engaged for over 1500 assignments. He has become a trusted advisor to a large number of financial services' CEOs. As you might expect, this is not easy to do. He has personal and business relationships which traverse firms, years, sectors, etc. This year, I was invited as press, to attend his storied Tiburon CEO Summit, a semi-annual event, now in its 11th year. While most of the press wrote and reported on Chip's annual predictive industry trends, economic report, and other opinion backed research, I remained fascinated with the Summit's back story. Within the industry, the Tiburon CEO Summit has a certain "mystique" about it. This was what I wanted to know more about: the attendees, their reasons for religiously returning year after year, and about what makes the Tiburon experience so valuable? After 22 summits, this year's CEO Summit reported record attendance. Why?
Let's start with the attendees. The list is of "who's who" in financial services. It's by invitation only and the majority of attendees are current/former clients of Tiburon. These are CEOs and senior level executives representing the largest and newest financial services' firms. As compared with many other conferences, this one draws a wide variety of financial services sectors including banking, brokerage, insurance, investments and wealth management. While almost entirely comprised of men, there is an unmistakable "leave your ego at the door" attitude at Tiburon. It's no wonder that so many business deals happen here. While most of the conference is made of structured meetings, you know that most of the real conversations are happening in hallways, break rooms, restaurant, bar, ect. I can see the appeal for these high-level executives. They need a place to find wisdom and friendship. It's lonely at the top -- where can a CEO turn for unbiased advice and camaraderie? Other top-shelf execs!
I would say that many of these industry titans see the value of Tiburon as a place of comfort and kinship. It's an opportunity for a true peer-to-peer networking experience like no other. For these guys, financial services has been under tremendous scrutiny of late: post-Madoff issues, housing crisis, bank failures and more which are creating even more pressure on financial services' firms. There is new technology and globalism that must be understood and leveraged. It's no wonder that this year's Tiburon CEO Summit had record attendance.
To learn more about Tiburon itself, I spoke to Matt Lynch who recently joined the firm as a principal. Matt described Tiburon as producing "fact-based research with opinion." For Matt, the Summit is a place of intellectual honesty, where attendees each bring deep knowledge and leave with friendships, wisdom and actionable ideas. It's all about the attendees who can come together and let their guard down," says Matt. Here they can have unparalleled access to top subject matter experts and discuss some of their own management challenges in a group setting or more commonly, in the hallway. CEOs may feel isolated at times and "silo-ed" in their roles and/or industries. They must make decisions on deploying resources, most of which are far-reaching. I can see the value of a place of where friendship and wisdom can happen simultaneously. I think it's a place of healthy debate at the highest levels. I am positive that the opinion and interpretation offered by this forum have been particularly valuable during the past few years.
Being "one of the guys" is probably one of the best parts of the Tiburon Summit for most CEOs. They can find friendship amongst their peers and that's the draw that brings them back year after year. Chip maintains close, personal relationships that are essential to his ability to provide the strategic consulting that this firm is known for. He is able to create honest, trusting relationships with CEOs. According to Chip, his "secret sauce" is really not a secret. He credits his training at McKinsey for teaching him how to be a consultant and to be a partner with his clients.
In an industry largely populated by quants, Chip's right-brained enthusiasm and presentation style sets him apart. His data/research is presented, explained and supported through the use of a variety of interesting real-life examples. In my opinion, he makes the information accessible and actionable instead of just numbers and graphs. In full disclosure, as press, I received a pre-release of Chip's 165 page PowerPoint presentation. I opened the file and quickly closed it. Oh, no, I thought! Two hours of Powerpoint slides? I can't sit through that! In fact, the opposite was true. I was taken with Chip's ability to carry the entire two-hour presentation effortlessly. His presentation strategy was simple: present data, interpret it, and make it actionable. Of particular note to me was Chip's ability to explain using real-life business examples to make his research numbers come to life. To engage a room full of CEO's for two straight hours, you must be quick, knowledgeable and easy on the ears and eyes. This audience is smart, analytical and has heard and seen a myriad of presentations. Believe me, this "testosterone-powered" audience is also not afraid to question data, information or opinion that they don't agree with or understand.
Attendees say that they come to Tiburon for two things: to listen to the new research/hear the trends/predictions from Chip, and to glean knowledge from their peers in a truly unparalleled peer-to-peer network. This trust among leaders is impressive. They each face management challenges and obstacles. Tiburon has become the place where the "unstructured" time is of the same or even greater value than that of the "structured" time. Of equal or perhaps greater importance, is the peer-to-peer networking which takes place at the Tiburon CEO Summit. The environment and access to industry leaders has led to innumerable business deals which were initiated at a Tiburon CEO Summit.
I wanted to hear what the attendees had to say about what the Tiburon CEO Summit. First, I spoke with Skip Schweiss, who was open and eager to talk about Tiburon and what it meant to him. While Skip spends most days as CEO and president of Ameritrade Trust Company, I was impressed with Skip's immediate response to acknowledge the value of this type of platform as well as the value of the peer relationships and the deals made based on Tiburon meetings. Skip was quite strong in his opinion as to the "value" of a "place" and an organization such as Tiburon. Skip said plainly, "Tiburon is a reality check." I asked Skip to explain and he went on to say, "There is huge value in listening to peers breakdown their business challenges, opportunities, and also, how they fixed, implemented and addressed organizational change." He appreciated the opportunity to listen and learn from independent research information presented by Tiburon and other sources.
Chuck Lewis, CEO of MyVest Corporation, told me about the early days of the Tiburon CEO Summit. He said that it was first held in the conference room of a law firm in San Francisco. After attending Tiburon for many years, Chuck still says, "Tiburon is always stimulating. It takes you out of your own world. It's like a time-out." As we talked, Chuck and I agreed that the reason it worked was that everyone was on a level playing field in terms of responsibilities. As MyVest is a technology firm in the financial services field, Chuck must stay up to date on each of the financial services' sector. And that's not easy. Attending Tiburon's CEO Summit twice a year helps!
"It's the only financial services conference that I attend, " says Frank Trotter, president of Everbank Direct. He went on to say, "I come back with pages of 'nuggets' which may be a series of refinements to what we are doing, re-affirmation of trends or something new. I look at Tiburon as a chance to come out of the 'gopher' hole and take a look around and talk to lots of smart people," Frank remarked.
How about the women of Tiburon? Who are they? I was able to catch-up with Cheryl Nash, president of Fiserv, a financial services' industry technology firm. She remarked, "Tiburon is a place where I can catch-up with the same people twice a year. Moreover, as a vendor to many of these firms, I am able to speak with my own clients at the most senior level." When I asked Cheryl about the male vs. female ratio, she laughed and said that its' no different here. I joked with her about the short line at the ladies room at financial services conferences and meetings!
What did I learn at the Tiburon CEO Summit? While it was terrific to listen to the "state of financial services" as reported by Chip and meet some interesting and influential people, I learned something really much more valuable. I learned that everyone needs a safety net and a strong, supportive peer network to go to for advice and conversation. Learning never stops no matter what level you achieve. While counterintuitive, it's probably more important as you rise up the corporate ladder and your responsibilities grow. That is "mystique" revealed -- Tiburon CEO Summit has grown to become a place of learning and support for financial services' A-listers.