Filmmaker Matt Wolf says it was a bathroom texting session with pal Lena Dunham that sparked the idea for his new documentary short.
Dunham famously has a tattoo of Eloise, Kay Thompson's famed character and fictional resident of New York's Plaza Hotel, on her lower back. This caught the attention of Eloise series illustrator Hilary Knight, now 88, who promptly invited the "Girls" star to dinner at his home.
"When she was having dinner with him, she took a picture in his bathroom, which is underwater-themed," Wolf recalled in an interview with The Huffington Post. "She texted me the photo, saying, 'I'm peeing in Hilary Knight's bathroom, it's amazing!" Thus began a series of discussions on how Dunham and Wolf would tell Knight's story: "She really made the potential of Hilary as a subject for a film clear to me."
The result is "It's Me, Hilary: The Man Who Drew Eloise," which debuted on HBO March 23 and is executive produced by Dunham and Jenni Konner. The film pairs new interviews with Dunham and Knight with the artist's own archival video footage; also featured are candid chats with Knight's family members, friends and writers who have been inspired by his work as seen in 1957's Eloise in Paris, 1958's Eloise at Christmastime and other projects.
Check out the poster for "It's Me, Hilary: The Man Who Drew Eloise" below, then scroll down to keep reading: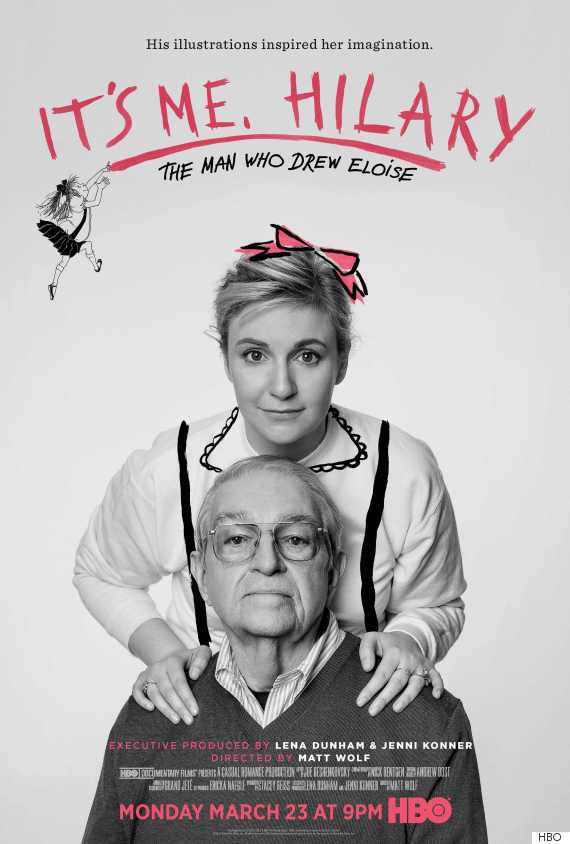 Dunham, who said she has always been drawn to Eloise for her "impish charm, her charmed yet tragic life, her disdain for authority and also for hairbrushes," told The Huffington Post in a statement that "the complex, whimsical yet distinctly adult illustrations" by Knight were a "deciding factor in my passion for her, before I could even read."
The movie delves into Knight's fractured relationship with Thompson, who is said to have based Eloise on either herself or goddaughter Liza Minnelli. Although Knight is openly gay, he was less interested in exploring his sexuality in the film, which came as a bit of a surprise to Wolf.
"Hilary doesn't define himself in those terms and was resistant to categorize himself as a gay artist," Wolf, who is gay, said. "It's been interesting to talk to him about gay culture and his experiences as a gay man, but he definitely was resistant to defining himself artistically by that."
Still, Wolf thinks gay audiences will find plenty to admire about Knight: "They'll recognize certain gay sensibilities in Knight's work and its aesthetic -- his affection for larger-than-life women, as well as unruly or sassy female archetypes, for example."
The timing of the film's release ahead of the 60th anniversary of 1955's Eloise (the first book in the series) this year couldn't be better. Meanwhile, Wolk says he hopes to team up with Dunham for another project again soon, although he says the pair have yet to firm up another concept.
"We'll have to have a few strange bathroom texting sessions first," he quipped.
For more details on "It's Me, Hilary: The Man Who Drew Eloise," head here.
Calling all HuffPost superfans!
Sign up for membership to become a founding member and help shape HuffPost's next chapter
BEFORE YOU GO
PHOTO GALLERY
12 Illustrators You Should Know Right Now