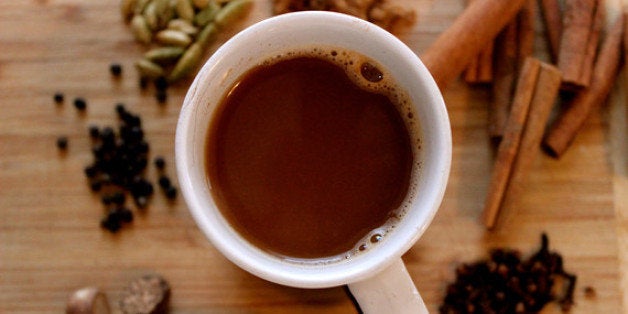 If you're thinking about serving a round of cocktails as guests arrive this Thanksgiving, once you consider the logistics of such an undertaking - "do I really want to be making cocktails while I put the finishing touches on dinner?" - you might be tempted to just hand out wine glasses. However, being the cocktail advocate that I am, allow me to make you a proposition. What if I told you you could serve a drink everyone would love, could be made a few days ahead and all it required was putting some things in a pot and turning on the stove? I thought so.
The drink I'm talking about is actually two, hot mulled cider and hot mulled wine - the perfect holiday cocktail offerings. There is nothing that sets a festive mood like ladling out warm mugs of cheer from a simmering pot on the stove as it fills the room with a bouquet of sweet baking spices.
In the non-cocktail realm, to "mull" something is to ponder it over a period of time to obtain wisdom. The cocktail definition is actually not far off; mulling means to slowly heat a beverage with a variety of spices - typically cinnamon, nutmeg, allspice and clove - to infuse their flavors, which they impart in lieu of wisdom.
As with all things alcoholic, the history of mulled beverages is steeped in centuries of tradition. In old England they drank a kind of mulled cider called wassail - which you may have heard referenced in various Christmas Carols. It was an element of "wassailing," a chanting ritual meant to conjure good vibes that would foster a fruitful apple harvest the following year. Wassailing eventually grew to also refer to caroling. It's easy to see how the lines between the two are blurred.
Mulled wine was more widespread. The Romans were drinking it as early as second century AD and introduced it everywhere they conquered and whoever they traded with, so pretty much everywhere and everyone. Now just about each European country has their own take on mulled wine. One of the most notable hails from the Nordic countries where they call it glögg. It features the usual baking spices, is spiked with aquavit and served with slivered almonds and raisins.
These are my favorite recipes for mulled cider and wine. They were developed by Clover Club's proprietor and my partner Julie Reiner, who knows her way around cocktails for a group. I've served both of these at family gatherings to much acclaim.
A couple of notes of execution. If you happen to be missing an ingredient here or there it's not necessarily a deal breaker (I couldn't find cardamom pods last year), except for cinnamon; that is a must. Whole spices really are best. They have much more intense flavor than powdered spices, which tend to be a bit flat and have a silty texture. The longer it simmers the more intense it will be, which really is a matter of personal taste. I use a ladle to check the spices and when the cinnamon sticks start to unroll, I know it's ready.
Mulled Cider
1 gallon apple cider
15-20 cinnamon sticks
1/4 cup cardamom pods
1 1/2 tablespoon whole allspice
1 1/2 tablespoon whole cloves
4 whole nutmeg
Zest of 2 oranges
1/2 cup dark brown sugar
Method:
Combine all ingredients, the spices can be bundled in a cheesecloth bag for easy removal later. Bring to a boil then take down to a simmer and let sit for 30-45 minutes.
Remove from heat and strain out the spices, or remove the cheesecloth bag. It can be served immediately or chilled for later use.
Serving Suggestions:
The beauty of mulled cider is that once you've made it, you can do lots of different things with it. It's delicious on its own and/or spiked with a spirit, so it can be enjoyed by everyone. For booze, go with anything brown, my favorites are bourbon, aged rum, cognac or apple brandy. Generally a good ratio is one ounce of spirit to four or five ounces of cider, depending on how strong you want it. You can either make two batches, one non-alcoholic and one spiked. Or have the booze on the side for guests to help themselves.
Mulled cider is also delicious cold, which may seem counter-intuitive, but try it over ice with a jigger of bourbon or apple brandy and maybe a dash or two of angostura bitters. You can thank me later.
Mulled Wine
As you can see mulled wine is made in a very similar way to mulled cider. The main difference is the wine already has alcohol in it, so you need to be mindful of not letting it boil. Alcohol vaporizes at a lower temperature than water so even if the mixture isn't boiling you could lose some of the booze. You don't want to cook off all the fun.
4 bottles Red Wine
2 cups aquavit, cognac, aged rum, apple brandy, bourbon, anejo tequila (optional, but recommended)
2 cups sugar
10-15 cinnamon sticks
2 tablespoons whole cloves
1 tablespoon cardamom pods
zest of 1 orange
2 whole nutmeg
Method:
Combine all ingredients, excluding the spirit if you're using one, cheesecloth can be used for the spices here as well, cover and heat to a simmer over medium heat. Simmer for 45 minutes, or until the cinnamon sticks begin to unravel. Remove from heat and let it sit over night for maximum flavor. Strain out solids, or remove bag of cheesecloth.

Serving:
When you're ready to serve, gently reheat, and ladle into punch cups, tea cups work nicely too. Garnish with grated nutmeg, a cinnamon stick or slivered almonds and raisins, if you're going the Nordic route.
Enjoy the holiday and happy mulling! Cheers.