"Rape is not a new thing," says Lauren Rayner, a New York and Los Angeles based producer, director, and playwright and mastermind of Mendacity, a multi-media performance in this year's FRIGID New York Festival. "But the definition of what it is and means has changed and is changing." For instance, earlier this month, House Republicans broke news by trying to redefine rape in their legislation plans. Gawker reporter Jim Newell explains, "Under their plan, only abortions from forcible rape would be eligible for government funding, instead of the much simpler rape."
A one-woman show about rape might seem like a downer. Not so with Rayner's Mendacity, where "an iron-lunged Ali Kresch" (Village Voice) delivers a multi-faceted performance, making this harsh material digestible by the audience.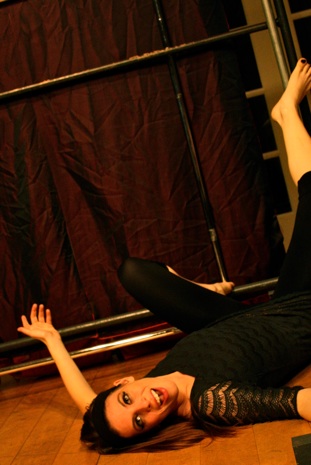 When we think about the internal angst, trauma and triumph women experience by virtue of their sex, and well, their sex-lives, Eve Ensler's The Vagina Monologues, which celebrated its 10th anniversary in 2009, comes to mind. Ensler's generation-defining work takes something private, tucked away, and dramatizes it, makes it theatrical. Because the vagina is still taboo (last year, an ad for Kotex brand tampons got banned from U.S. television for using the v-word) Ensler's work continues to reverberate by creating tension by saying the unsayable. This tension is exactly what Rayner, who met Ensler while studying theatre at USC, taps into with Mendacity.
Central to Ensler's work is the idea that the tension between the sayable and the unsayable is created by the powers that be, a.k.a. patriarchy, hell-bent on suppressing what Ensler dubs the "girl cell."
The girl cell is essential to balance and to wisdom and to actually the future of all of us ... Imagine that this girl cell is compassion and it's empathy and it's passion itself and it's vulnerability and it's openness and it's intensity .... Remember that compassion informs wisdom, and that vulnerability is our greatest strength and that emotions have inherent logic, which lead to radical, appropriate saving action. And then let's remember that we've been taught the exact opposite. - Eve Ensler
Compassion, passion, vulnerability, openness, and intensity: here, Mendacity takes its cue. A multi-media performance includes rear-view projections from the set, a literal cage that any/no woman (how Rayner refers to Kresch's character) has theoretically built around herself. Projected images function as the wallpaper to any/no woman's consciousness. "I didn't want there to be a screen hanging in the theatre. I wanted to go more cutting-edge. So by multi-media I created a set," Rayner explains, "that is a character. With the cage, there are so many open spaces for her to get out - it's important that the audience sees that," says Rayner. "She has the physical ability to free herself, but she keeps herself in."
For nearly an hour, Kresch performs the solo word-collage that past audience member Joan Wiest of ICM calls "riveting" and her husband Johnny Riney describes as"disturbing yet entertaining. The writing has captured it all in this lascivious hipster that causes us mental anguish. It's off-putting, it's strange, it's the unknowable."
Rayner echoes Ensler's notion that emotions are to be trusted, which we can see in her writing. "The words are raw. There is no subtext. Subtext is hiding in the movement."
Kresch describes the splintering personality that's compelled by self-loathing. "For her self-loathing comes from her inability to accept the rapes, so she makes herself into a monster because she didn't say no, or because she was wet, because she likes sex so much." And, as binge drinking is on the rise for young women, because she was too drunk. "I went on a first date," begins one rape survivor. "He was older and friends with my boss. He took me to an expensive restaurant and then a couple bars. I ended up blacking out that night. We dated for months before I found out that we'd had sex on our first date. I felt so betrayed and used but how could I call my new boyfriend a rapist? So I blamed myself."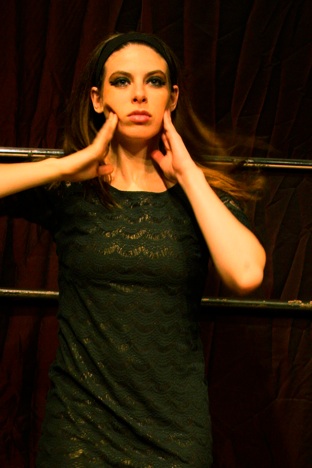 Rayner, who spoke with rape survivors while writing Mendacity explains the urge to turn the blame inwards. "In a way, self-loathing is a form of protest: It's much easier to define your misery as self-hatred rather than accept that something horrible has happened to you."
In Mendacity, self-loathing is defined by a particular movement. "She does the itch," Kresch explains. "The way she talks and the way she moves lets the audience know that other characters are manifesting through her. At first I wanted the easy tricks to show a splintering personality - literal props like different hats I'd pull out of a suitcase when my character gets haunted or visited by the multiple characters that she's internalized. But that was not what Lauren wanted at all." Rayner needed the right choreographer to collaborate.
Enter Shiloh Goodin. "Coming into this project, I had no idea what to expect ... a one-woman show about rape? And they want to add dance? I knew right away that it couldn't be dance in any conventional sense."
Rayner elaborates, "Movement is the opposite of the abstract. The movement makes the play accessible."
I knew that I had to create a way that our audience wouldn't feel like the show was stopping for a dance solo. I knew it had to be fully integrated, and I was determined to stay away from creating one dimension "stances" for each character that are used in bad one person shows to bang the audience over the head with the fact that you are now someone else. Also because the words are so intense and often so sexual, I knew that we would never need traditionally or overtly sexual movement. Our audiences are smarter than that, and we can show them something deeper. - Shiloh Goodin
Goodin calls the movement gestural choreography. "There is not a specific methodology in the dance world of gestural choreography besides the meaning that can be inferred from those two words. Classic dance styles are based on specific dance steps and techniques that don't resemble anything we would do in everyday life. Modern choreographers were the first to use their hands in a way that resembles a real life movement, such as tossing up an imaginary object and catching it. Once the modern world opened to real life motions, a lot of choreographers began doing it."
Rayner reiterates that because the words of the piece are so blunt, in order to create texture for the audience to unravel, the subtext is in the movement. Goodin's notion of gestural choreography appealed to Rayner right away, and Rayner knew she'd found the right choreographer for Mendacity.
I based each character's vocabulary of movement off of what they would do when they walked in a room, or what their body's motto is," says Goodin. "Our bodies often show more than we want - a tick or the nervous way our finger moves. Take a nervous guy who feels sort of horny ... I take that pelvis centric barely visible twitchy tension and expand it - take it beyond the point of what he would really do if he was there. The movement is highlighted and tells us something very deep about him that he if he were real, wouldn't want us to know."
Maxie Solters, actress and coordinator of V-Day Studio City says of Mendacity, "One of the things is it deals with issues people don't want to talk about, which is why it's important - you don't want to talk about uncomfortable stuff - but you have to find a way, and through performance, you can do that."
So how is that mendacious? "The piece approaches lies in the same way we lie to ourselves in everyday life. If we tell these cheap, darkly romantic lies to ourselves, they become a part of our reality," Rayner explains. But the other part of our reality is the hope that comes from struggle and survival - which is exactly where Mendacity leaves us.
MENDACITY plays at the THE KRAINE THEATER, 85 East 4th Street (between Bowery & 2nd Avenue) through March 5, 2011. Performances are Thursday, February 24th @ 9:00pm, Saturday, February 26th @ 8:30pm, Monday, February 28th @ 9:00pm, Thursday, March 3rd @ 6:00pm, and Saturday, March 5th @ 5:30pm. General admission tickets are $15 or $10 for students. Show contains harsh language. For tickets or more information visit laurenrayner.com or smarttix.com or call 212.868.4444

Popular in the Community