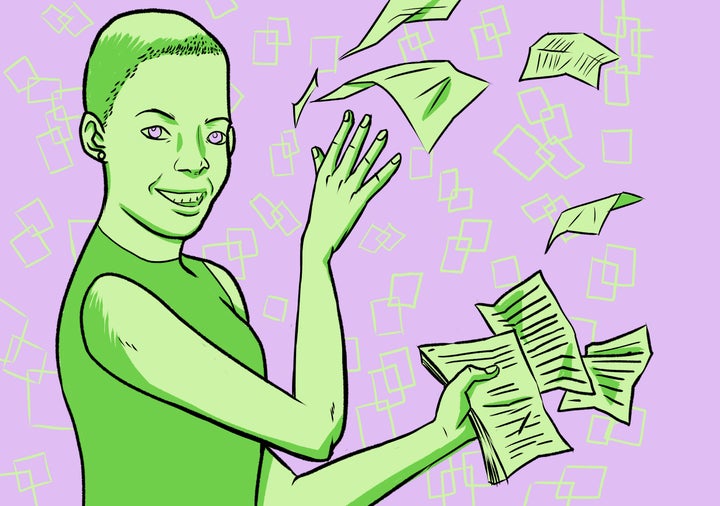 Name: Khensani Ruth Mahwayi
Dream job: Filmmaker (producing, directing, scriptwriting)
City, Country: Johannesburg, South Africa
Current job/school: Not working or studying
Challenge: Can't afford university
I have a raw passion for storytelling. I have always been a writer, but I fell in love with scriptwriting when I was 17, in grade 11 in 2010. I was part of a drama club called "Mzansi slash" at school. At first, I joined as an actor, but as time went by, I applied and volunteered to do the writing. I wasn't really cutting it as an actor, and I was more interested in the behind-the-scenes and technical part of it.
I didn't know much about scriptwriting, but the producer and the rest of the team were wonderful ― they took me through the whole process and I loved it. Sadly, the club fell apart when most of the leaders graduated that year. The following year, I also passed my matric (the exams required to graduate) and left school. But I never stopped writing.
I hoped to pursue a career in film and television after matric. My family wouldn't hear any of it. For three years, I tried to please my family. They wanted me in the health sciences, my father especially. It was one regret letter after the next. Any acceptance letter came with a regret letter from the financial assistance people. My family couldn't afford to pay my fees – both of my parents are unemployed – and the NSFAS (National Student Financial Aid Scheme) always rejected me. It was one emotional rollercoaster.
It was only in 2015 that I decided to actually follow my dreams and move away from the dreams of my family. I applied to the Tshwane University of Technology to study for a diploma in film and television production. I was excited when I was invited for an interview in August. I believed I aced it, but I was rejected without an explanation. That hurt a lot, but I never gave up. In January, I tried again with Boston Media House, and I applied for a Mo Flava bursary (scholarship). Yet again, another disappointment.
I came to terms with the fact that I wasn't going to be studying this year. It's my fourth year at home, unemployed. I promised myself I would try again next year and I intend on keeping that promise. In the meantime, I am writing, writing and writing. I am going to do whatever it takes to achieve my goals and pursue a career in film and TV, because I honestly cannot imagine myself doing anything else.
This story was originally submitted to YouthVoices, a platform powered by The GroundTruth Project that encourages young people to share stories about the issues affecting their generation. Submit your own essays and answer new questions here, or learn more about global youth unemployment with this interactive map.
Calling all HuffPost superfans!
Sign up for membership to become a founding member and help shape HuffPost's next chapter