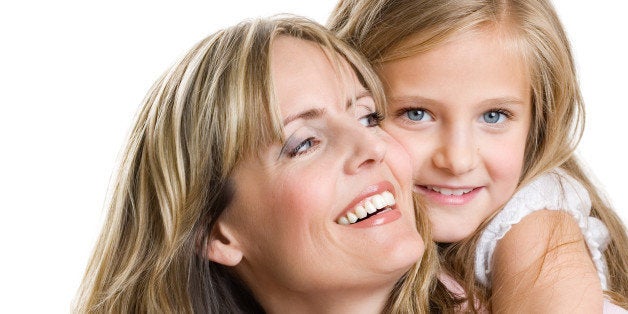 My wife and I recently began a regular weekend overnight schedule with my young daughter from a past relationship. This was after years of not being allowed to have her stay over. My wife turned our home office into a pink palace and my daughter literally cooed and sang once it was complete. We've had her with us on and off, but this was different somehow: Now she has a room and a place to go just like my two older kids who also spend time with their other parents.
So, our first evening truly together went something like this: had a blast at an extended family birthday celebration at Japanese steakhouse, back home to jump on the trampoline, then bath, and get ready for bed -- easy.
Now, I have never been this child's "primary" mother -- that's my ex. And, obviously, I'm not biologically related to her. I'm the "other mother." And my ex and I split up when our daughter was so young that I've only had a few bedtimes with her. But during the ritual of bedtime, the heart of this Other Mother came to light once again. I loved nestling in bed with her reading books about froggy learning to swim and bad kitty. We cuddled and watched Hello Kitty lights dance across the ceiling and sang songs until she drifted off to sleep.
All night I slept with one eye open, waiting for her to call out for me if she became scared or frightened in her "new" bed. At one point, I was convinced that she called out "Mom, come!" and so I did -- I came running. Alas, she was fast sleep, snoring like a sailor.
But blended families don't go from heartbreaking to simple with the flick of the switch on a pink princess bedroom. I had to be gone when my ex came to pick her up as planned the next day. My wife tells me leaving was particularly hard; the neighborhood kids had just arrived for an impromptu play date and my daughter had to leave just as a little girl near her age walked in the door. The other kids? They got to stay.
So, Other Mothers, keep your hearts open. Your job is a tough one and filled with pain. But continuing to open your heart to your children -- no matter how you define "your" -- is well worth the risk. But for those of you who haven't settled into "primary" and "other" roles, it may be worth some forethought to avoid some of this pain. No one likes to look at their partner or spouse and imagine this person as an angry ex who happens to have biological primacy, or a court that does not understand the importance of the Other Mother. But if I had taken this difficult step before my ex and I had this youngest child, we could have put a custody agreement in place that would have avoided years of uncertainty and jockeying for position.
Even if you split and things are rocky, it's not too late: Keep working, keep asking, keep challenging yourselves to get to a better place so that you can create a smooth experiences for your kids. They deserve fairness and certainty, for sure. But I'm here to tell you that so do you. No matter the role you are in now, mothering is unique and magical. Fight for it in the way water erodes the rocks or flows around them, massaging the obstacles or finding another way.
REAL LIFE. REAL NEWS. REAL VOICES.
Help us tell more of the stories that matter from voices that too often remain unheard.