My ninth grade daughter came to me last night right before bed heavy with an important decision, "I have to figure out if I'm going to take calculus when I'm a senior." In order to help her decide, her advisor encouraged her to think about what she may want to do in life.
In the classroom we are challenging our children's educators not to teach to the test. We want our children to move beyond getting the right answer, to learn to use their "What If" muscles and feel comfortable with a formula that is more than A + B = C.
Yet outside the classroom we are still expecting our children to have a neat and tidy formula for their future. They need to know what they want to be so that they can pick their major, their college, their first job, and fill their resume with the right credentials so that hopefully more doors will open than close.
With this conditioning, no wonder we as adults still struggle with, "What do I want to do in life?" I watch myself expending great effort, believing that the harder I work, the sooner the answer will arrive. And when I can't seem to land on an answer, I go back to the classroom model I grew up with: practice, repeat and regurgitate... life.
I heard poet David Whyte once share that we humans spend too much time looking for answers which are not ready to reveal themselves. He suggested that our premature attempts to control life give us narrow footing upon which to stand.
The more distant we cast our gaze, the more unsettled we can become. This week I heard NPR's Terry Gross interview Mad Men creator Matthew Weiner about the last two episodes of the show. They played a scene from a recent episode where Peggy asks Don for a performance review. It's a great dialogue with one question, "What do you want for the future?" Peggy's answer is strong and clear until Don asks, "What's next?" repeatedly. The answers get more defensive and unsure.
So if it's not about the answer, then what is our journey? Regardless of who said the quote, the new Maya Angelou stamp holds beautiful wisdom, "A bird doesn't sing because it has an answer, it sings because it has a song."
This morning I unexpectedly turned on music before I even put on my slippers. My daughter entered the dark song-filled kitchen and commented, "Wow, it's so calm in here." We both welcomed this moment of not seeking.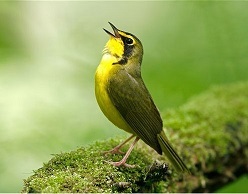 I can feel a new song within me. It may mean less writing, or more. It may be a chapter of laser sharp focus or knowing me, it may be one of learning how to ride the unknown with more grace and contentment. Learning to find possibility and delight in every note of ambiguity.

Can you tune into your own song? Is one already composed if you feel into your vibrations? Where is there harmony that doesn't need fine tuning or an answer? This Mother's Day weekend is a perfect time to call off the search and instead gather your loved ones, create a trusting playful space, and rest with ease in the melody of now.
Happy Mother's Day!
REAL LIFE. REAL NEWS. REAL VOICES.
Help us tell more of the stories that matter from voices that too often remain unheard.