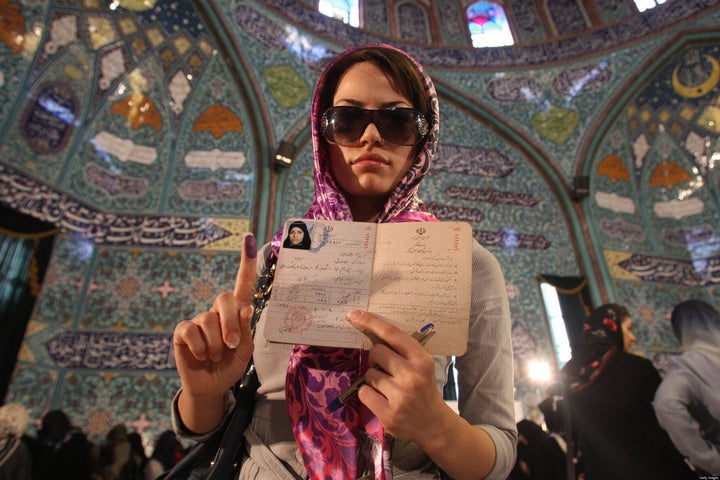 With ever-tightening restrictions on international press organizations in Iran, social networking sites have continued to play a critical role in imparting news from and about Iran. The other day, one of my Facebook friends, who posts YouTube and Twitter updates around the clock, wrote, "Mentally, physically and emotionally exhausted. And I'm not even in Iran!"
I completely understood. It is not easy being green. Green -- the color of the opposition candidate Mir Hossein Mousavi disputing the reelection of President Mahmoud Ahmadinejad -- has come to represent something more, a plea for greater freedom.
Even though I am a cultural mutt -- English by birth, Iranian by parentage, American by choice -- I feel completely drained, sometimes weeping, as I sift through what is unfolding in Iran. I cannot begin to fathom what the people there, the Iranian citizens, are feeling.
When I post stories about Iran on Facebook, I try to be selective. I have less interest in a specific outcome, more interest in sharing information. I am sure some of my Facebook friends have hit the hide button on my news feed -- I pass no judgment -- but many of them read my posts, comment, share, and log off with an improved understanding of Iran.
Lately, in the Web traffic, the real attention-getters for me have been the Iran-inspired music posts. Music for a political cause is nothing new. To list a smattering: Alabama by Neil Young, Invisible Sun by Sting and Revolution by The Beatles. Please add more to my comment box.
The simplest music-related posts have been a compilation of Iranian images, either set to a famous song, such as Michael Jackson's Man in the Mirror, or to a makeshift melody by an anonymous person.
American singer Joan Baez recently released a YouTube version of We Shall Overcome that swept the Internet. She strums her guitar and vocalizes parts of the song in Farsi in what appears to be her kitchen. "This is amazing," wrote another of my Facebook friends. "The least the recent unrest in Iran has done is to change the outlook of the people of the world about Iran and Iranians, and to bring them global support in their quest."
Today, I scroll my Facebook pages and stop at a YouTube posting produced by professional music producers Don Was and John Shanks in Los Angeles. Iranian pop star Andy Madadian sings a version of Stand by Me with Jon Bon Jovi and Richie Sambora to show solidarity with Iranians.
To which, I humbly add from The Muppets...
"When green is all there is to be It could make you wonder why, but why wonder why Wonder, I am green and it'll do fine, it's beautiful And I think it's what I want to be."
Calling all HuffPost superfans!
Sign up for membership to become a founding member and help shape HuffPost's next chapter