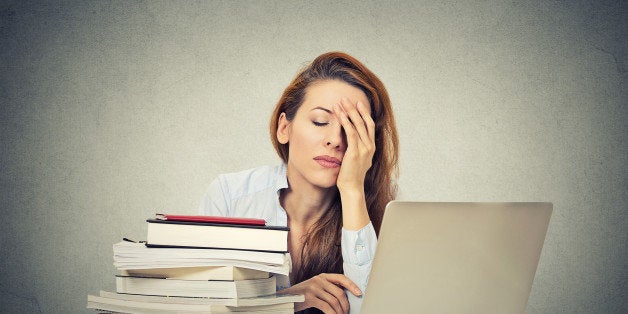 Of course we're thinking about Paris. Do we really -- each and, it seemed, every single one of us -- need to repeat the same trite words or post the same stock photos to prove as much? Is it not enough to just feel anymore, without taking to social media to put those feelings on display?
For many people, if it's not on social media, it hasn't happened -- that's the new normal and how we process events and memories and feelings. But some of us also think they need to post about a tragedy in order to feel okay about carrying on with the regularly scheduled programming -- the kids and the cats and the food porn.
There's nothing wrong with being happy, or posting scenes from that happiness, while some part of the world is suffering some tragedy. Life goes on, and that's what gives us hope. But there was something a little unsettling about those social media posts that appeared as if Paris wasn't bleeding. At a grinning selfie of a friend taken two nights ago at a party, I stopped to wonder if maybe she somehow hadn't heard the news.
The most acceptable posts in the wake of the Paris massacre seem to be the ones offering original content: new information or insight or new images. Like Jean Jullien's cartoon take of an Eiffel tower peace symbol hybrid, which appeared on feeds from comedian Amy Schumer to the Instagram for New York magazine, or florist Bridget Beth Collins's rose-petal depiction of the Parisian landmark.Impact also came from: recognition of the event in a way that felt genuine and fitting to the person posting, like that of the humor account "Texts from Your Ex," which ran a text-only box that was uncharacteristically sincere along with the caption: "taking the day off of joking around to send our love to Paris."
The collective show of support for Paris -- no matter how well-worn the messages start to become -- can help create a feeling of unity.
Not everyone's an artist. Not everyone has a way with words. There's nothing wrong with wanting to participate in the conversation even if you don't have something monumentally original to add. Social media is about giving people voice, and sparking conversation--and if what's on there troubles you, it's easy enough to turn off.
Carrying on with business as usual, despite the horrific events that have happened, is okay. And not just because it's unavoidable, but also because doing so is a critical part in starting to recover. The collective show of support for Paris -- no matter how well-worn the messages start to become is an important step towards healing. It helps to convey the sense that, if something similar happens to us, there will be a world out there thinking of us, even if we aren't able to access it. That's what the people of Paris are feeling at this moment. We can only hope.
REAL LIFE. REAL NEWS. REAL VOICES.
Help us tell more of the stories that matter from voices that too often remain unheard.