When my business partner and I launched Alert & Oriented Medical Transcription Services more than two decades ago, one of our early clients was a San Francisco plastic surgeon with a unique specialty. He had a steady supply of healthy, young women who were referred to him for an East Asian blepharoplasty.
Julie Chen's recent admission that she had undergone plastic surgery to correct what was often diagnosed as "Asian eye syndrome" has opened up a huge cultural can of worms regarding employment discrimination and self esteem.
When the American Repertory Theater's production of The Gershwins' Porgy and Bess: The Broadway Musical launched its national tour at the Golden Gate Theatre in San Francisco last fall, I knew that my reaction to the production was coming from a distinctly minority perspective. The opening night audience gave the cast a standing ovation (loudly booing the villains and cheering the lovers) while I felt as if I had just witnessed the rape of an American classic.
Since "rape" is such a loaded word in today's vernacular and the creative team for this production is led by three women (director Diane Paulus, playwright Suzan-Lori Parks, and composer Diedre Murray), let me rephrase that. I felt like I was visiting a beloved relative of limited means who, for years, had wanted to get a facelift so she could look younger and feel more attractive. Although she had recently undergone plastic surgery, the procedure had obviously been done by a hack. The botched results were undeniable.
One of the basic rules of the medical field is "First, do no harm." While the denizens of Catfish Row kept praying to Jesus from the stage of the Golden Gate Theatre, none of their prayers could undo the artistic damage wrought by Paulus and her creative team. At one point during the second act, I even found myself thinking of Joseph Welch's famous June 9, 1954 challenge to Senator Joseph McCarthy: "You've done enough. At long last, have you no sense of decency?"
When this production (conspicuously named The Gershwins' Porgy and Bess: The Broadway Musical to distinguish it from the 1935 original) was entering the rehearsal stage in Boston last year, a huge controversy arose over the artistic decisions to eliminate Porgy's goat and make Porgy a more visually acceptable cripple with a physical deformity that would at least allow him to walk. Stephen Sondheim wrote a scathing letter defending the right of an author to have his work respected by those who might attempt to bend it to their own artistic vision. While Sondheim's remarks sparked a shitstorm of gossip, trust me on this: There's so much more to lament in this execrable production than the loss of a goat.
My first encounter with Porgy and Bess was the 1961 revival that Jean Dalrymple produced at the New York City Center. Since then, I've been fortunate enough to see George Gershwin's masterpiece on multiple stages and with multiple casts. In its full operatic version (undiluted to fit Broadway tastes), the power and breadth of Gershwin's score is overwhelming. One becomes increasingly aware that the chorus -- and Gershwin's choral writing -- dominate major parts of the evening. The storm scene at the end of Act II is a mammoth piece of composition which makes me wonder how anyone could have possibly doubted that Gershwin had created a full-scale opera. Musical cameos sung by the Strawberry Woman, Peter the Honey Man, and the crab seller are like palate cleansers between the more dramatic confrontations involving Porgy, Bess, Crown, and Mariah. As the Strawberry Woman sings, "It's so fresh and fine."
Shortly after I began my opera column for San Francisco's Bay Area Reporter, I reviewed the Houston Grand Opera's touring production of what was then touted as the "opera house version" of Porgy and Bess. In that review I noted that:
"Tuesday, June 21, 1978, was a very special night for American opera. For the first time in its history, George and Ira Gershwin's Porgy and Bess was performed complete in a major American opera house. The gold fringes of the San Francisco War Memorial Opera House's curtain hanging over Catfish Row was a sight that brought tears of joy to many in the audience. Up until then, Porgy had been cut, butchered, and scaled down to Broadway houses and audiences. In that version it had even been mounted at some German opera houses, but never in the United States, where it was written. Last year, the Houston Grand Opera mounted a stunning production the way Gershwin wrote the opera, and it has since been playing to capacity audiences in New York, Boston, Cleveland, and other cities. Only when it reached San Francisco did it finally end up where it belongs: on the stage of an opera house in Gershwin's native country."
For those who have never experienced a traditional version of Porgy and Bess onstage, seen the Metropolitan Opera's telecast, the 1959 movie (starring Sidney Poitier, Dorothy Dandridge, Brock Peters, Pearl Bailey, Diahann Carroll, and Sammy Davis, Jr.) or the DVD of the Glyndebourne Festival Opera's 1993 production (starring Willard White, Cynthia Haymon, and Gregg Baker), the Paulus production may well be their first experience with Porgy and Bess -- in which case one could easily assume that ignorance is bliss. However, when one examines some of the truly boneheaded artistic decisions that went into this production, one can only regret how much new audiences are missing.
Catfish Row is a courtyard community which functions as a social microcosm. By contrast, Riccardo Hernandez's scenery for The Gershwins' Porgy and Bess: The Broadway Musical looks more like a series of flats purchased from a bus-and-truck touring production of Bizet's Carmen. There is no sense of physical community any more than a group of people who happen to keep bumping into each other on the street. In a program note written for the American Repertory Theater's production in Boston, Suzan-Lori Parks stated:
"In DuBose and Dorothy Heyward and the Gershwins' original, there's a lot of love and a lot of effort made to understand the people of Catfish Row. In turn, I've got love and respect for their work, but in some ways I feel it falls short in the creation of fully realized characters. Now, one could see their depiction of African-American culture as racist, or one could see it as I see it: as a problem of dramaturgy."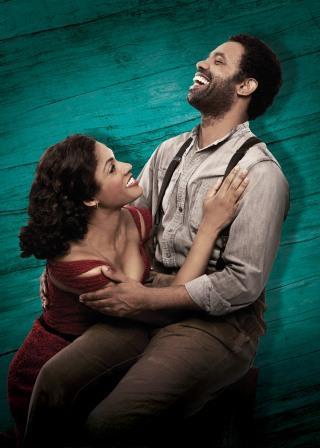 Alicia Hall Moran and Nathaniel Stampley star in
The Gershwins' Porgy and Bess: The Broadway Musical
(Photo by: Jeremy Daniel)
If Parks is so worried about dramaturgy, she has a mighty strange way of showing it:
Porgy's paraplegia has left him dependent on a goat that could take him around the neighborhood in a cart. The role is usually performed with the actor playing Porgy on his knees for the entire evening. Not only does his diminished stature stereotype Porgy as a weakling, it disguises the strength he has built up in his arms over a lifetime of dragging his body across the ground. This is of key importance in Crown's murder, where (in most productions) Porgy reaches through a window to choke the villain to death. By having Maria hand Porgy a kitchen knife to stick in his new leg brace (presumably so that the audience can witness a knife fight between a cripple and a bully), this production utterly sabotages the irony of someone like Bess becoming dependent on Porgy.
Why in the world would Parks cut Porgy's poignant question: "What if there was no Crown -- what if there was only Porgy?" Not only is this the opera's dramatic lead-in to Bess's plea for protection ("I Loves You Porgy"), it gives Porgy the motivation to kill his rival.
Late in the opera, when Bess finally succumbs to the lure of Sportin' Life's "happy dust," Paulus sets up the scene as a confrontation between Maria and Bess over who should take care of Clara's baby. Bess pretty much crawls into Porgy's room (to take a nap?) and that's the last we see of her. In most productions, Bess re-emerges from Porgy's room in her red dress (high as a kite and ripped to the tits) and is seen leaving with Sportin' Life as the orchestra triumphantly vamps the music for "There's a Boat Dat's Leavin' Soon for New York."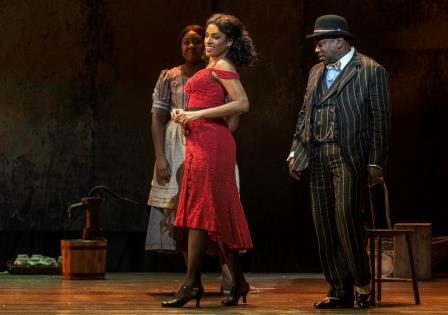 Alicia Hall Moran is Bess and Kingsley Leggs is Sportin' Life
in The Gershwins' Porgy and Bess: The Broadway Musical
(Photo by: Michael J. Lutch)
As the old saying goes, "Other than that, Mrs. Lincoln, how did you like the play?" So let's talk about the music. One of the basic tenets of the opera world is to always try to respect the composer's intentions. If you can't do that -- and what you're trying to accomplish does not improve upon the original -- at least have the humility to leave it the fuck alone.
Over the past 75 years, Gershwin's score has received plenty of abuse in order to shorten it, reduce the number of musicians in the pit, and eliminate the need for extra chorus people in the cast. However, Diedre Murray's hatchet job goes beyond embarrassment, occasionally eliminating what should be a lush string section and replacing it with something that sounds as pathetic as a concertina.
Some of Murray's efforts to stomp out lyricism (or some of Gershwin's signature touches) border on the perverse. Her toying with the vocal line in "I Got Plenty o' Nuttin" is totally gratuitous. Her elimination of key musical phrases from Gershwin's score has the unintended effect of demonstrating just how much smaller a talent she is (by all rights, some of the blame for the diminished orchestrations must go to William David Brohn and Christopher Jahnke).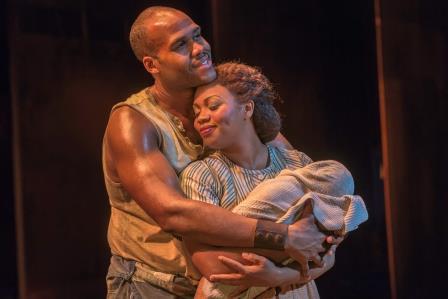 David Hughey (Jake) and Sumayya Ali (Clara) in the national cast
of The Gershwins' Porgy and Bess: The Broadway Musical
(Photo by: Michael J. Lutch)
With all that being said, I have nothing but praise for the cast of the national tour, which gave their all on opening night in San Francisco. Kudos to Sumayya Ali (Clara), David Hughey (Jake), Danielle Lee Greaves (Mariah), Kingsley Leggs (Sportin' Life), Denisha Ballew (Serena), and James Earl Jones II (Robbins). Extra credit for going the distance in this production is owed to Nathaniel Stampley (Porgy), Alvin Crawford (Crown), and Alicia Hall Moran (Bess).
When push comes to shove, one really must wonder if there is a more pernicious commercial force at play. When in doubt, it's always best to follow the money. The year 2010 marked the 75th anniversary of the world premiere of Porgy and Bess (which, for those who have conveniently forgotten, took place in the very same Alvin Theatre where the Gershwins premiered Girl Crazy on October 14, 1930). So, if you want to get all pissy and technical about it, there already is a "Broadway version" of Porgy and Bess.
However, the passage of 75 years essentially means that the intellectual property rights to the original version of Porgy and Bess have expired and the work is now considered part of the public domain. As a note in the program states: "The worldwide copyrights in the words of George and Ira Gershwin for this presentation are licensed by the Gershwin Family." Thus, this new performance version has a lot less to do with introducing Porgy and Bess to new audiences than it does with creating a new revenue stream.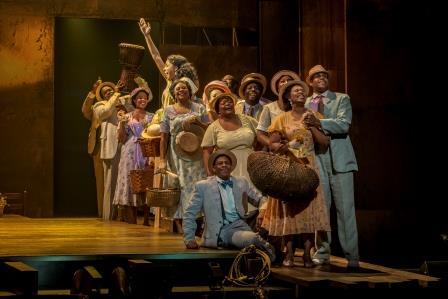 The denizens of Catfish Row head for a picnic on Kittiwah Island in
The Gershwins' Porgy and Bess: The Broadway Musical
(Photo by: Michael J. Lutch)
For the sake of clarity, The Gershwins' Porgy and Bess: The Broadway Musical should be renamed The Gershwin Estate's Porgy and Bess: The Broadway Musical and quickly relegated to the dustbin of musical history where it belongs -- right next to Beethoven's Ninth for Dummies.
REAL LIFE. REAL NEWS. REAL VOICES.
Help us tell more of the stories that matter from voices that too often remain unheard.