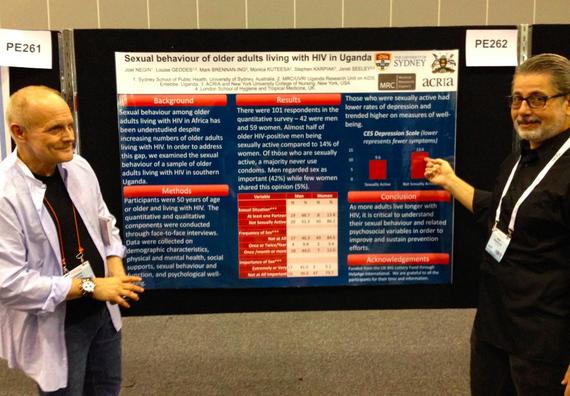 ACRIA researchers Dr. Stephen Karpiak (left) and Dr. Mark Brennan-Ing at the International AIDS Conference in Melbourne
ACRIA, founded in 1991 in response to the slow pace of government and academic research on HIV, is no newcomer to either research on HIV treatments, community education efforts, testing initiatives, HIV treatment adherence or steps forward and painful steps back. Our groundbreaking Research on Older Adults with HIV (ROAH) study placed the spotlight on the emerging HIV epidemic in adults age 50 and over, who will make up 50 percent of the HIV population by 2015. This study, which received considerable attention worldwide, brought to light the unique issues affecting this population. Today, ACRIA is the global authority on HIV and aging, and we have expanded our work to countries like Uganda, where we have been reminded once again of the multifaceted nature of the HIV epidemic.
It's not just about the medications... and it never has been.
"We need again to shout out loud that we will not stand idly by when governments, in violation of all human rights principles, are enforcing monstrous laws," said the President of the International AIDS Society (IAS), Professor Francoise Barre-Sinoussi, at the opening ceremony of the 20th International AIDS Conference at Melbourne in Australia this week. Could she be referring to the more than 80 countries around the world that have laws which criminalize LGBT communities -- groups UNAIDS has recently identified as parts of the 12 populations at highest risk of HIV infection being left behind?
37 of these countries are in Africa, where the AIDS epidemic is still raging. Uganda's Anti-Homosexuality Act (previously called the Kill the Gays Bill), signed off on by President Museveni in February of this year, is especially troubling -- calling for penalties ranging from imprisonment for engaging in homosexual behavior to life imprisonment for "aggravated homosexuality." ACRIAs Uganda study is occurring in the midst of this. Stella Nyanzi, an anthropologist, social science researcher and resident of Uganda said the following on Facebook, "To heal a homosexual and cure the homosexuality out of the system would be like curing me of my blackness or healing me from my womanhood." Institutionalized homophobia's weapons, like discrimination, stigma and violence, are familiar adversaries to the LGBT and HIV/AIDS communities.
In January, Nigeria imposed a controversial law banning same-sex marriage and civil unions with violators facing up to 14 years in prison. The new rule, approved by President Goodluck Jonathan, prohibits gays from public displays of affection, from gathering in groups or "aiding and abetting" homosexuality.
But problems like these don't just reside in Africa. The International Lesbian, Gay, Bisexual, Trans and Intersex Association reminds us that 12 U.S. states with some of the highest HIV incidence rates in the country still have not repealed their anti-sodomy laws, including Alabama, Florida, Louisiana, Mississippi, North and South Carolina, Utah, Kansas, Texas, Oklahoma, Michigan and Idaho. That's despite a 2003 ruling by the U.S. Supreme Court declaring such laws unconstitutional.
Homophobia, racism, sexism, ageism, stigma and violence clearly contribute to the spread of HIV around the globe. Why get tested for HIV if you will be harmed because of your status? Why link to healthcare that may give you inadequate care or cause you harm? Why stay in care in a place that is hostile? How can you possibly remain 90 percent adherent to HIV meds if you have no place to live or store your medications, or a safe and confidential pharmacy to get them from? Why indeed. The HIV epidemic, no matter how close it comes to becoming a medicalized, chronic and manageable illness through the intervention of science will never come to an end unless these parallel social diseases are also defeated.