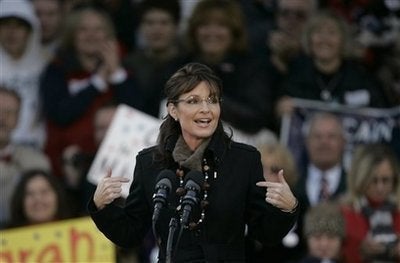 "I would have to wear sable underwear," fashion plate Jackie Kennedy pooh-poohed when the good 'ol liberal media accused her of spending $30,000 on clothes a year, most of them made by those nimble fingered frogs across the pond.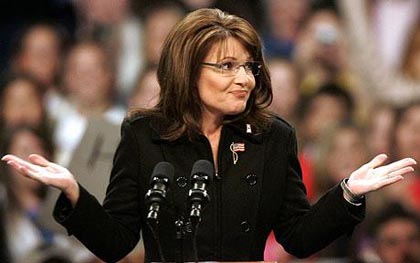 After Palin's wardrobegate '08, it's easy to bark, "I betcha the RNC did put that winkin' witch woman in sable underwear. Todd's probably got mink pyjamas too." We then turn to a video of Michelle Obama praising the wonders of the GAP and all is well with the world.
Yes, it was hypocritical of Sarah Palin to pretend that she likes to gussy herself up at thrift stores and make shoes out of moose remains then rollick around in the empress's new clothes. But should Michelle Obama really be singing odes to H&M when she also wears Azzedine Alaia, Thakoon, Isabel Toledo, Narciso Rodriguez and Maria Pinto, the Chicago designer whose clothes are sold at the towers of frugality known as Saks and Barneys? Should we be excited that Obama has holes in the soles of his shoes if he is also wearing Hartmarx custom suits that cost $1500? Probably not. But Michelle and Barack look darn good in designer and why shouldn't we want our candidate to look swish and promote American industry?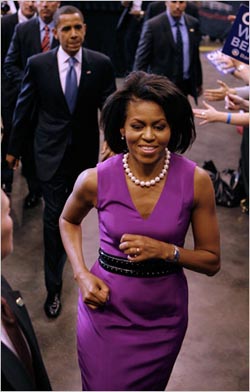 If you do a dance that resembles a modern version of the mashed potato every time your new issue of Vogue arrives, then you know that Naomi "anger management" Campbell, Victoria "food?" Beckham and Stephanie "underpants" Seymour are Alaia fans, and that Thakoon is short for Thakoon Panichgul a designer who moved from Thailand to Omaha as a child. But most Americans probably scratch their heads at the name Thakoon. What is a thakoon? Some hybrid raccoon? No, no, he is a talented dressmaker. And the floral number that Michelle wore so well? It retails at around $1,250. That's right. Just a cold thousand dollars more than the J.Crew ensemble she wore on Leno.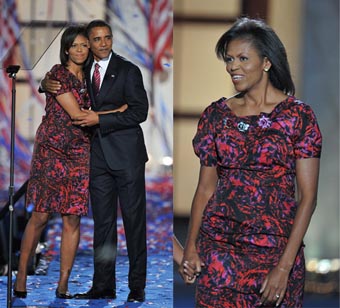 But she looked great in Thakoon. The fashion blogs went bananas. Vanity Fair and People put her on their Best Dressed lists.
All the modern day presidents and first ladies, while running for office and in office, wore designer duds. Except, of course, for the notoriously frugal Carter. Starting with Kennedy, every President has worn Oxxford suits, retailing between $2,000 to $14,000, except for Mr. Peanut who took his oath of office in a $175 suit. Lucky Rosalynn Carter got to wear the same off-the-rack dress she wore for Jimmy's gubernatorial celebrations. He probably tried to have her throw on a moth eaten cardigan instead of the sleeveless coat she paired it with. But that was the frugal farmers way.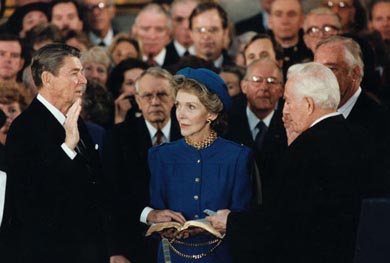 When the glitz loving Reagans came into the White House they decided that, "hey! money really does grow on trees!" For Reagan's second inaugural Nancy's wardrobe was estimated at $46,000. His inaugural morning suit went for $1500 and he kept up those spending habits in office.
Reagan's glen plaid suit/picnic blanket that had the media gawking, plaid? on a President? on purpose? was made by Illingworth, Morris & Co. Ltd., a British company that also makes the Pope's garb and the plush interiors of Rolls Royces.
But those money-burning Reagans were not the only ones to wear designer. Laura Bush loves de la Renta, the Clintons dig Donna Karan, and yes, the Obamas also wear very expensive, if you make an average American salary don't even think about breathing on this, clothing.
Before the g.l.a.m.o.r.o.u.s Reagan Inaugural, Barry Goldwater said, "When you've got to pay $2,000 for a limo, $7 to park and $2.50 to check your coat, at a time when most Americans can't hack it, that's ostentatious."
Yes it is. But during a downturn, people beg for Gatsby, not Grapes of Wrath. Just watch those Hollywood movies made during the Depression years. As Wall Street tanked, the silver screen raised the ante on luxurious living, showing riches not rags.
I don't want to see the Obamas in burlap. I want to see the American dream.
Support HuffPost
A No-B.S. Guide To Life
Related
Popular in the Community