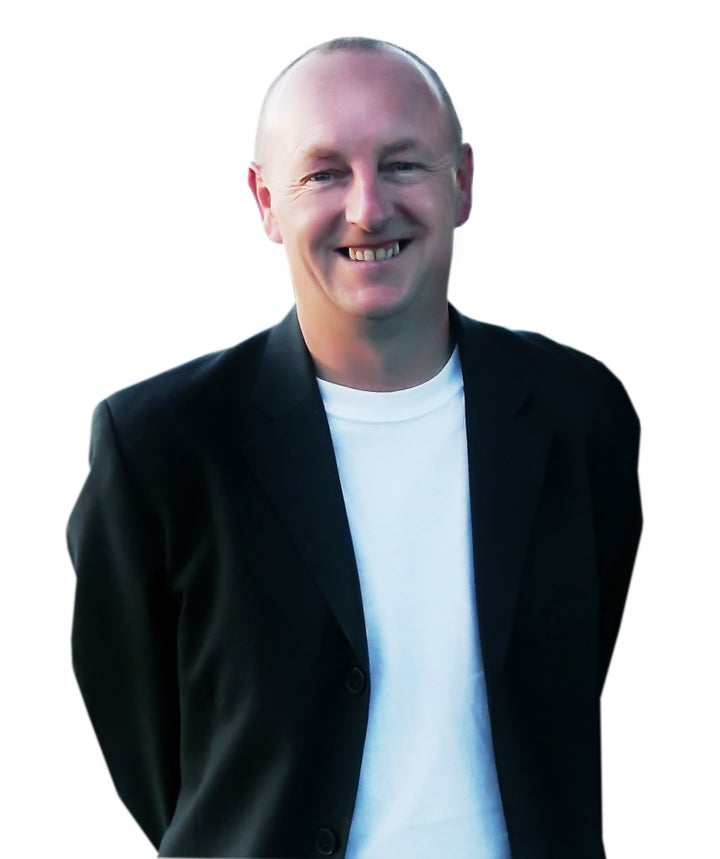 Philip Hunt is a domestic violence advocate, whose work primarily focuses on men.
One in three men are victims of sexual assault, family violence and abuse with 94% of perpetrators of partner violence against males being female.
A 2012 survey reveals that both men and women experience substantial levels of violence. Males make up a large portion of victims yet are excluded from anti-violence programs.
Hunt's journey into advocacy began after surviving domestic violence at the hands of his estranged wife and being turned away from bodies who supposedly offer support, such as Bethany Geelong, Safe Steps Victoria, Minerva Community Services and Barwon CASA.
Considering more than 30% of domestic violence victims are men, Hunt was shocked to find the only assistance available to him was via phone counselling hotlines and none of these could offer further assistance as he wasn't a perpetrator.
"After being someone who survived family domestic violence, I feel that my basic rights as a human being have been further violated and I have been discriminated against, purely because of my gender. Not only did I lose my wife -- I lost my career, my life savings, my self-worth and for some time, I lived in a world of isolation that was plagued by mental and emotional scars from PTSD". Hunt said.
Dissatisfied with how he was treated, Hunt penned a letter to the State Minister For Family Violence, Fiona Richardson. Richardson responded by referring Hunt to the Men's Referral Service (which is for perpetrators who want to change their behaviour). Hunt was in disbelief that the Minister for the Prevention of Family Violence was unaware of the services provided in her portfolio.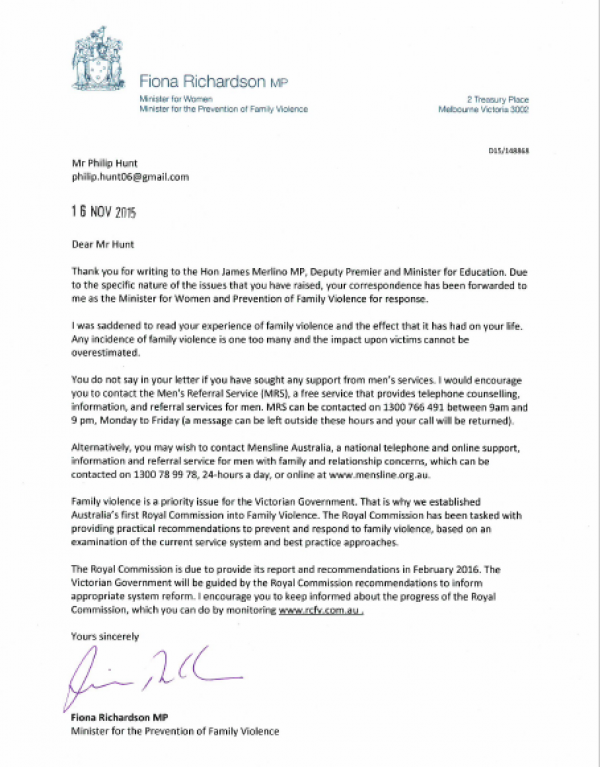 Unable to access any support services based solely on his gender, Hunt made official complaints to the Victorian Equal Opportunity and Human Rights Commission along with the Australian Equal Opportunity and Human Rights Commission on claims of gender discrimination. Both have been closed without further action, due to clauses in the Victorian Equal Opportunity Act, and a case for discrimination is currently before VCAT.
In March 2015, the National Awareness Campaign to Reduce Violence Against Women and their Children was launched. With the campaign to receive 30 million over three years. The campaign will 'drive nation-wide change in the culture, attitudes and behaviours that underpin violence against women and their children'.
This campaign is a great initiative to prevent violence against women but where is the funding and support for male victims of domestic violence?
When speaking with Philip Hunt, he concluded:
"The harsh reality of being a male victim of domestic violence is the reason why many males commit suicide. There is minimal support offered, which you're told there is nothing we can do for you. My mission is to see every survivor of family violence be treated with the loving support they require. Saying "statistically" women & children require support doesn't help the thousands of male victims. 100% of domestic violence victims require assistance to recover from this debilitating societal problem, regardless of gender, sexual orientation, race or religion."
Vanessa de Largie is an actress, author, journalist and sex-columnist based in London.