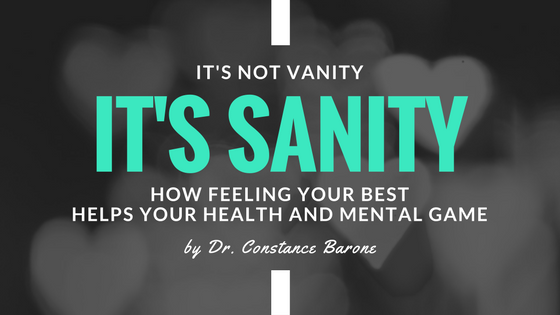 As a cosmetic surgeon, I get to see the extraordinary positive impact improved self-confidence can have on someone's life. Unfortunately, all too often taking time to improve one's appearance and well-being gets labeled "vanity" when in fact, it's sanity.
Here are some reasons why prioritizing your physical well-being can often be one of the most logical and pro-active things you can do when it comes to improving your life, work and relationships.
Improving your Self Image Improves your Health
When you're feeling unhealthy, everything seems harder. You can get sick easily, and feel tired all the time. Sadly, when it comes to health, many people are struggling. More than one-third (35.7 percent) of American adults today live with obesity. Many of us struggle with heart problems, cancer and other medical conditions. What a relief to discover, when you take time to focus on your health and self-esteem, you can see dramatic improvements on your health and wellness: by simply putting focus on self-care, we make healthier choices for ourselves with nutrition and exercise. When we take steps towards enhancing our physical appearance, we're more likely to be mindful of fitness and exercise more. This is an overall win: there is substantial evidence that higher levels of physical activity are linked to lower risks of thirteen kinds of cancers. Physical activity also has beneficial effects on overall health-related quality of life issues, including body image/self-esteem, emotional well-being, sexuality, sleep disturbance, social functioning, anxiety, fatigue, and pain. Fortunately, you don't have to stretch your wallet to enjoy physical fitness and exercise, and signing up for that fun, 70's music spin class or taking a daily morning walk doesn't have to bust your budget… it might even prevent costly health problems later down the road.
Improving your Self Image Improves your Mental Outlook
George Bernard Shaw once said, "Better keep yourself clean and bright, you are the window through which you see must the world." When you're feeling burnt out, or disconnected from your body, it can have negative effects on your world view. Reversely, when you take steps towards improving your self-image and self-esteem, your whole world view can improve. People who come to experiences with a positive outlook and confidence statistically have more opportunities and success in their relationships and careers. Whether it's a relaxing massage, a group class, or a "me day," when you do things for yourself to nurture and cultivate your self-esteem and self-image, your mental outlook improves. And this improves your relationship with the world.
Improving your Self Image Helps Manage Stress
When we nurture ourselves and prioritize our well-being, our cortisol, the "stress hormone" lowers. Stress is the number one cause of many health problems, from cancer to high blood pressure. The mind is connected with the body, and when you take pride in your appearance and personality, your mental game improves: you're able to manage stress better, and feel more capable of overcoming challenges in your life. Activities that focus on self-esteem and well-being activate the "reward" part of our brain, which is associated with brain chemicals like dopamine and serotonin. Being conscious of our bodies and esteem necessitates mindfulness throughout the day, which in turn improves overall well-being: it's a positive circuit. Mindfulness slashes stress and depression, and improves working memory. If you want to manage stress even better, try meditation as part of your daily routine. If meditation isn't for you, aromatherapy, yoga, or listening to music quietly can reap similar effects.
Ultimately, honoring yourself is essential. While some call putting focus on your self-esteem and improving your body-image vanity, I think it's one of the most sane things you can do. Taking time to look and feel your best improves your health, your mental outlook and can help manage stress. Ultimately, feeling your best improves your health and mental game, and helps you be of better service to others around you.
Popular in the Community