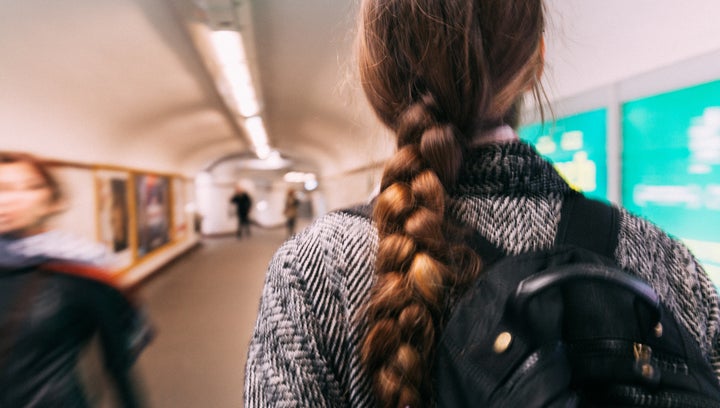 I was 18, on a crowded commuter train the first time it happened. He sat next to me, muttering comments. He might have described them as compliments. Then he kissed me. I didn't react. I couldn't believe it was happening. It was my first day traveling alone, out in a new locale, fresh from my rural youth. Only later would I come to understand that I was lucky — if you can conceive of such a perspective — because nothing like this or more serious had happened to me earlier.
It wasn't that the specter of assault had been far away. 
I grew up in a small town. The high school bus dropped me a quarter of a mile from the house.  More than once as I walked home, a car stopped, the driver, a man, leaned over, "Want a ride?" My breath would stop, never sure my "no" would be accepted as a no.
There was my next summer. The cook in the camp where I worked doing food prep. The pats on my butt.
The next year at school. The man who grabbed me between the legs as I approached my dorm, saying, "Whatever you do, don't scream." 
My first year out of college, living in Washington, D.C. I was walking on a busy street at rush hour. A man passing by, reaching behind and grabbing my ass.
Later there was the client who tried to kiss me after we finished discussing work.
It was all part of a broader climate of intimidation. 
There was the man standing over me as I sat on the crowded subway muttering about my appearance. I continued reading, "Bitch. You think you're too good for me. I'll show you," he said.  
There was the man on the street. "Hey, beautiful." I lower my head and walk.   "You should try smiling." Next, "Bitch." 
The street comments of this nature are too many to count or even remember.
This isn't atypical. In fact, I've had it so much better than most of the women I know. 
It all flashes up as I listen to today's national discourse sparked by the conversation between Billy Bush and Donald Trump that was caught on tape. On display now are the ways in which we are assessed, rated, touched, and assaulted, and the many ways we are threatened and belittled if we reject the alleged compliments. Now, women are speaking out about our experiences and putting on full display the world we have long endured.
It's a culture of assaults and threats, many of them criminal. It's a culture that can all too often leave us reacting with relief after the hands travel on our bodies because it could have been worse. It's a culture where we too often react with shame, not fury, walking with our heads down, as if we can render ourselves less visible and thus safer. 
But now that culture is on display. Now, at last, there is a conversation, long overdue, about the one of the obstacles standing in the way of equality.
These conversations are hard. They, like the realities they describe, hurt.  But these are the conversations that can create change. A piece by my colleague, Lenora Lapidus, in the ACLU's Women's Rights Project reminds us that it was all too recent that our laws and culture about rape and about sexual harassment in the workplace changed. Conversations helped drive that change.  Conversations about discrimination and love and family drove changes in our law and culture about LGBT people and marriage.
Now, if our hearts are open, we hear conversations about the ways implicit bias eats at the soul — the clutched purses, trailing shopkeepers, and insults. We are called on to reckon with government killings of African Americans. We hear the pleas of Gavin Grimm and other transgender youth, to be treated like others. And now, too, we are asked to confront the daily sexual assault of women.
The conversations must continue until the laws and culture that have sanctioned and tolerated these inequities change.
Calling all HuffPost superfans!
Sign up for membership to become a founding member and help shape HuffPost's next chapter
BEFORE YOU GO
PHOTO GALLERY
16 Things Donald Trump Has Said About Women, Round 2