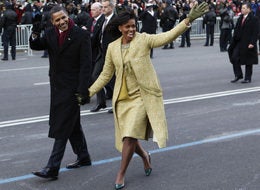 Could the new Mrs. President please the eagle-eyed fashion pros on the biggest day of her life? It's a near impossible task - just ask any female Oscar nominee. Nevertheless, the reviews are in and they're mostly good. Personally, I liked that she flouted tradition and didn't wear any all-American Barbara Bush-ish colors, nor a somber suit befitting the sober times. Her choice telegraphed both that she's a girl who is going to have fun with fashion and that will take the world by surprise in more ways than one.
Now, here's what the pros had to say:
I think every woman is going to want to wear something yellow for spring now. And it's clear that Michelle Obama is going to be a memorable first lady in many ways, but definitely will when it comes to fashion. Can you even remember an outfit that Laura Bush wore ? Michelle will be memorable!
Glenda Bailey, editor-in-chief, Harper's Bazaar
The Isabel Toledo suit that Michelle Obama wore was the color of a ray of sunshine -- an apt metaphor for the brand-new day we have been waiting for. And I love the fact that Isabel lined it in pashmina to keep her warm. It just goes to show that style can go hand-in-hand with intelligence and innovation.
I think she is a very independent woman who can carry off wearing something new as long as it's colorful. She may start a trend bringing color to the forefront! Color itself is adventurous, and she IS supporting American Design!!!
Jenna Lyons, creative director for J.Crew
[Michelle wore J. Crew gloves and shoes to the swearing-in, while the girls wore J. Crew coats]
I think her choice is stunning, elegant and incredibly modern...she looks feminine and powerful at the same time. The girls are head to toe in crewcuts for J.Crew! We are so incredibly proud and honored. This is a very special day for the country and we feel so lucky to have the opportunity to play even a small part. Go Obama!
Stacy London, co-host of TLC's What Not To Wear
I think she can pull yellow off, but it's hard for American women to emulate.

I think Michelle is separating herself from the pack with this outfit. It is a bold color choice few women can pull off. The wool lace is intricate and much busier than the sea of cashmere coats surrounding her. Instead of the traditional bold primary colors: red or blue, she chose a color specifically for her. The matching coat and dress is reminiscent of Jackie O's classic 60s style. I can't wait to see what she wears to the balls.

I think the matching coat and dress look will be copied. I think the color palette will be a hard sell going forward. Also, the texture of the lace work is very busy for the average American woman.

Patricia Fields, wardrobe creator for Sex & The City and Confessions of a Shop Girl
I liked it-they looked like normal people getting dressed up. Michelle never looks like a Stepford Wife. I liked the daytime sparkle - it was a sparkly occasion. Everyone was laughing and happy. She was uplifting in a good mood celebratory way.
Kristi Brooks, celebrity stylist -- dresses Sharon Stone
I absolutely loved Mrs. Obama's dress today. I think the fact that she chose such a bold and unusual choice is right on par with her wardrobe choices throughout the campaign. She does classic and conservative with a modern edge, which I think is a reflection of many women in this country today.

I thought the color choice was lovely for her complexion, it really popped on her. I love that she chose to wear lace which is such a huge trend this fall; but interpreted it her own way. I think we are watching another Jackie O. in the making!

I think Mrs. Obama is trying to say that we are entering a new era, in every aspect. An era that combines our history with the promise of our future. Her silhouette was a classic one, but the color and fabric were quite modern. She isn't afraid to take risks and express her own personal style, while still respecting the conservative tradition of her position as first lady.

John Barrett, celebrity hairstylist
I think that Michelle has probably taken some stellar advice from the stylists at Vogue where she just had a sitting with photographer Annie Leibovitz, the choice of color couldn't have been more perfect to show off her complexion as well as reflect the bright giddy mood of the crowd and the country, the choice of an open coat over dress is so chic and something we're going to be seeing a lot of. I think that after a bumpy style start, Michelle has found her look and I love it!

[I think the Vogue editors might have advised her to] definitely dress as young as she is, also avoid jackets and anything that cuts the body in two makes your butt look huge (see Laura). She is elongating her body rather than getting that boxy look with her looks over the weekend and today!
Kelli Delaney, designer Members Only
As much as I appreciate taking fashion risks, I did not like Michelle Obama's outfit. It looked like heavy curtain fabric and reminded me of the Sound of Music when Julie Andrews cut down the brocade drapes and made them into dresses. I think she looks best in bright stretch knits and cashmeres, and I love how she adds personal touches of jewelry to her clothes...those sparkly pins and broaches will definitely become the trend, not her inaugural outfit.
Ramy, celebrity makeup artist
I didn't love Michelle Obama's look at the swearing-in ceremony. It wasn't terrible, but what statement is she trying to make? It looks as though she didn't even think about it. It has the vibe that she chose to wear something that she personally likes without thinking about the fact that she is now the First Lady and her clothes will be making a statement.

The shoes were dreadful and the color of her outfit didn't translate well in pictures. It may look wonderful in person, but again, now that her husband is in office and she is on the world stage, she needs to consider how her look will translate. The color she wore did not flatter her beautiful complexion. If she is trying to appear to be a normal average person and "one of us," she succeeded.
Robert Verdi, style expert and TV personality
The color was optimistic with the whole idea of the sun rising. But it was a little paler, safer and more conservative than I had hoped. And yes it was more 5pm than 11 am, but I could forgive that.

The fact that she chose a designer -- Isabel Toledo -- who is loved and respected in the fashion community but not necessarily known outside of it, was a bold and sassy choice. Isabel will now become a household name.

However, I would have preferred that she chose a clearer, bolder color rather than an "ish" color -- goldish, yellowish. Bold colors feel more authentically her.

I loved the camel and black Narciso Rodriguez outfit which was decidedly American and totally chic.
Philip Bloch, celebrity stylist and designer
I was blown away by how elegant and chic Michelle Obama looked. Her dress was exquisite. I am going to be presumptuous and presume that the choice of the pale yellow was in reference to the soldiers in Iraq coming home. Somewhat reminiscent of the "Tie A Yellow Ribbon Round An Old Oak Tree" or Tony Orlando and Dawn days. Wow, I guess I'm showing my age with that one! It was interesting that she chose to not go for red, blue, or white which would have been an obvious choice. I thought right down to the avocado toned gloves, ribbon, and scarf, she often chooses the slightest embellishment and touch of femininity to complete her outfits. I was also slightly intrigued by her choice, in such austere times, of a daytime outfit with a little bit of sparkle. I loved that she chose to go with the new/old Vogue standard of mixing evening fabrics with daytime looks. The little sparkle embroidered into her outfit and the three dimensional textures of the fabrics were rich and opulent. Not the usual choice for Michelle who tends to be a little more J. Crew and understated. This was clearly a history-making moment and an outfit that will be a part of First Ladies Fashion History.

On Laura Bush, I was incredibly impressed with her pale gray outfit. The casual looseness of the fit was very age- appropriate. I thought the tailoring was impeccable. She looked elegant and classy but obviously much more toned down than Michelle. She stood for more of the tradition that we have come to expect from the First Ladies.