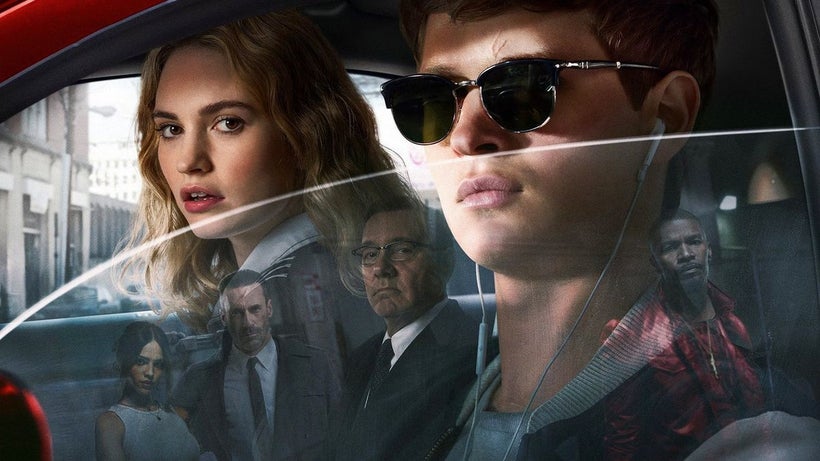 Warning: some mild spoilers for Baby Driver follow.
There are many critiques circling the web, and so few of them are valid. Some people want more "character development." Why? What wasn't explained to you? How much backstory do you need on a dude who orchestrates bank robberies?...So much of the Baby Driver ire is coming from viewers that want to seem "different" or "smart" in some capacity, fighting back to the masses that wholly enjoyed it.
If that seems tame, here's her conclusion, wherein she pulls absolutely zero punches:
It might not be your cup of tea, and that is more than ok. But Baby Driver doesn't suck and you know that. That's just simply a false opinion to have. It's not cute, and it's certainly not a hot take at this point. If you want to argue about something, I'm sure there's a position you can take on our current healthcare debate. But leave Baby alone.
Ouch. If I didn't know any better, I might think that someone had personally attacked a member of Palmieri's family. Her defense seems particularly aggressive for someone who claims to have an issue with such...aggressiveness.
For the record, I agree with her on several points. There's no need to be cruel just for the sake of it in one's critique of any piece of art. And of course, I too believe that Baby Driver doesn't suck. But I can see why some people might have that opinion, and I might even be inclined to say they have a valid argument. It's far, far from a perfect film. And because Wright has hit it out of the park so many times before, Baby Driver's flaws are particularly noticeable.
Palmieri argues that the main reason Baby Driver is receiving vitriol is because of its advanced hype. That may be true, but I hadn't heard about it at all until the first trailer landed on YouTube. As a die-hard Wrighthead (Wrightian?), I didn't need hype to get hooked from the first frame. Baby Driver looked insanely fun.
And it is. It is a lot of fun. The pacing is great, the editing is above par, and the soundtrack is stocked with great tunes. I look forward to seeing it again.
However...I couldn't stop thinking about how much more interesting it would be if Ansel Elgort and Lily James' roles were reversed. Elgort was fine, but James lit up every scene she was in. Further, I was bothered that the movie descended into the tried-and-true "damsel in distress" scenario in the third act. Baby pledges to whisk the fair lady away from her humdrum life as a waitress, and when the two run into some trouble fleeing town, he doesn't allow her to be his getaway driver, insisting that she's not cut out for that life. Think about how much more interesting the movie would be if we found out Debora has a lead foot to rival Baby's.
Palmieri addresses this, too:
And for those concerned about "female roles": trust me, I love a juicy lady part just as much as the next gal. There's already talk that Sony wants a Baby Driver sequel, do you think making that an all-female cast would be met with nothing but praise?
Well, no, obviously, but...so what? That's not a reason to say we shouldn't try. For every male naysayer that dies every time an all-female reboot is announced, a hundred more female heroes are born when young girls see themselves represented onscreen.
On the same day the Decider article came out, NPR's Pop Culture Happy Hour podcast released their discussion of the movie. Co-hosts Sam Sanders and Gene Demby made an equally valid argument that Baby could have just as easily been black. They point out that the film is set in Atlanta, that Baby has a black foster father, and he's really into old-school R&B. "So many parts of his story just feel...black," Sanders says. I'm also glad I wasn't the only one that felt Jamie Foxx's Bats, as the main black character, was a tad problematic.
None of this is Wright's fault, necessarily. Or maybe it is. Baby Driver has the misfortune of having been released in a post-Wonder Woman world, and only a few months before Black Panther. Diversity is even more on everyone's minds, as well it should be. Because of that, all movies that follow will, and should, be held up to an extra layer of scrutiny. These are not bad discussions to have, nor should they be dismissively shrugged off. Because somewhere along the line, the more such observations are made, the more likely they'll start get acted upon.
So, it's okay if you didn't like Baby Driver. You can say it sucked, and you can say you didn't like it. It's also fine to say you liked it, but it has its problems. But you should at least defend why. Perhaps Palmieri is just trying to fight fire with fire, and I get being frustrated by contrarians and trolls. But starting out with "It's official: we can no longer enjoy summer movies," just because not everyone went wild over Baby Driver seems to ring an awfully unnecessary death knell for the importance of thoughtful criticism.
REAL LIFE. REAL NEWS. REAL VOICES.
Help us tell more of the stories that matter from voices that too often remain unheard.
This post was published on the now-closed HuffPost Contributor platform. Contributors control their own work and posted freely to our site. If you need to flag this entry as abusive,
send us an email
.