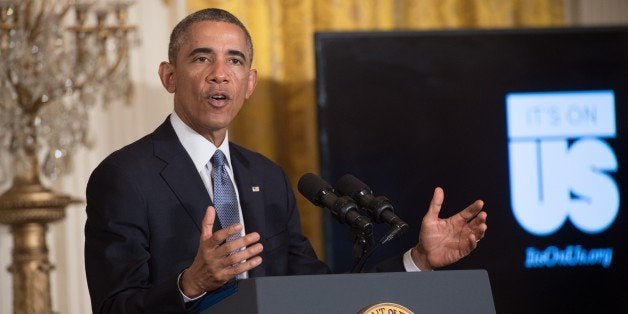 President Obama has launched a public service campaign called "It's on Us," which is designed to combat campus sexual assaults by motivating students to do more to address this extremely serious issue. "It's on Us" asks students to take a pledge to do what they can to keep others safe from campus sexual assault by promising not to "be a bystander to the problem, but be a part of the solution." The campaign outlines its four main points as follows: (1) to recognize that non-consensual sex is sexual assault; (2) to identify situations in which sexual assault may occur; (3) to intervene in situations where consent has not or cannot be given; and (4) to create an environment in which sexual assault is unacceptable and survivors are supported.
This high-profile campaign utilizes celebrities who hopefully have the power to influence our young people and build their awareness about preventing sexual assault. "It's on Us" sends a potent message to college students and asks that they take its four-point pledge. However, in order to truly combat this enormous problem, colleges and universities need to take this campaign pledge as well. By bringing campus sexual assault out in the open, by developing stronger policies and procedures, we will set an example of zero-tolerance across our communities. By so doing, we are protecting our students who are here to learn and to grow. When our students head to class or to meet friends on a Saturday night, they must feel secure that the principles underpinning the pledge are genuinely reflected in their environment and are fully subscribed to by their classmates, faculty, staff and administrators. It is on us as university leaders to make this happen.
The statistics on campus sexual assault of females are alarming. It is estimated that in one year, 300,000 women in colleges and universities are raped; nearly twenty percent of college women will be sexually assaulted during their college years. In addition, 95 percent of campus sexual assaults go unreported and one in four college women report surviving rape or attempted rape at some point in their life. The statistics on campus sexual assault of males are hard to come by, but some reports put the percentage at around 2-3 percent. Many researchers believe such assaults are also grossly underreported. Yet, we as university communities must support all victims of sexual assault because it is wholly unacceptable.
The severity of this issue is irrefutable and as a result, legislators are getting involved. The U.S. Senate introduced the Campus Accountability and Safety Act, which would heavily fine institutions for the failure to report or investigate sexual assaults. Clearly, ending campus sexual assaults is a complex and challenging goal for schools and this is why collaboration is key. Alliances need to be formed and education needs to occur at the community level, the institution level, the faculty level and the student level.
In response to the Campus Accountability and Safety Act, Saint Peter's University has partnered with CarePoint Health Foundation, a local non-profit organization, to hold a conference on October 7 entitled, "The Campus Accountability and Safety Act: Navigating Compliance Issues and the Challenges of Campus Sexual Assaults." The aim of this conference at Saint Peter's is to bring together community leaders, higher education administrators, sexual assault experts and victim's rights advocates to begin to identify and implement strategies for reducing and ultimately eliminating sexual assaults on their campuses.
Conferences such as the one at Saint Peter's are a first step in fostering a campus culture that refuses to tolerate campus sexual assaults. Changing an organization's culture starts at the top. Collaboration is empowering and that is a key to combating sexual assault. Through such gatherings, administrators will gain the knowledge and the tools to share best practices on combating campus sexual assaults at their respective institutions and implement campus-specific strategies that will work best at their schools. Administrators must then work with faculty and staff to change the institution's culture through the curriculum, programming, and policies. They must strengthen training on how to identify and address sexual assault on their campuses. Only then will the university community be better able to support our students with the resources they need to make and keep the pledge, handle difficult situations and support each other. It will take an entire university community's commitment and effort to eradicate campus sexual assault. It's on all of us.
Calling all HuffPost superfans!
Sign up for membership to become a founding member and help shape HuffPost's next chapter