 We couldn't help but wonder if the adventurers broke even. The Gagosian galleries are spread all across the world, from LA to Hong Kong to Geneva and beyond. Just how much love did these Hirst groupies invest in the spot-securing mission? Are we talking quadruple digits of love, or more?
We decided to plan ourselves a faux Hirst vacation to find out how much a contestant might have spent. Using Expedia, we shopped for tickets scheduled in January 2013, with New York City as the starting point.
By our math, a New York-London-Paris-Rome-Athens-Geneva-Hong Kong-New York bender costs a cool $3,799. (You could swing it for $3,035 if you take on a bunch of layovers but we figured if you're wealthy enough to embark on the mission in the first place you're not going to want to be waiting around at a Chili's all night.) That number only gets higher when you factor in food, lodging, time off work and possibly some mind-altering substances to keep the spot paintings from boring you to death. We patched in two nights at every destination at a $150 a night hotel. Including three meals a day at $12 each, a $10 a night drink, and $50 for transport and odds and ends, the non-flight expenses come to $2,898. That's a total of $6,697 at base.
According to GalleristNY, the limited edition spot paintings are worth approximately $10,000. Challenge completer Cristina Ruiz somehow managed to spend half our estimate, according to an interview in the Art Newspaper. She worked the math out in her own way: "This will be a whopping 61 x 55 inches or 3,355 square inches, which works out to just over one square-inch of spot print per dollar I spent completing the tour." What do you say readers: $3355 and the distinct possibility of burning out on spots, for a $10,000 print of yet more spots. Worth it?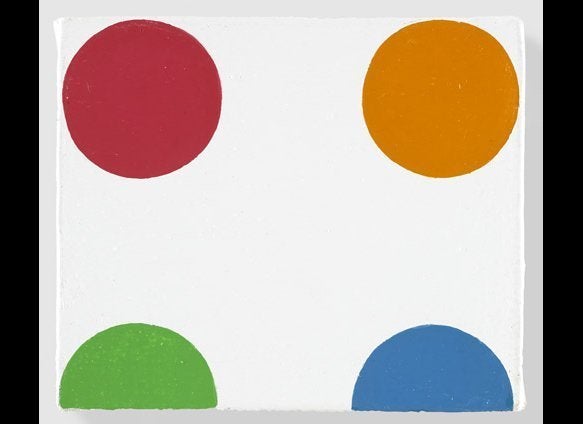 Related
Popular in the Community