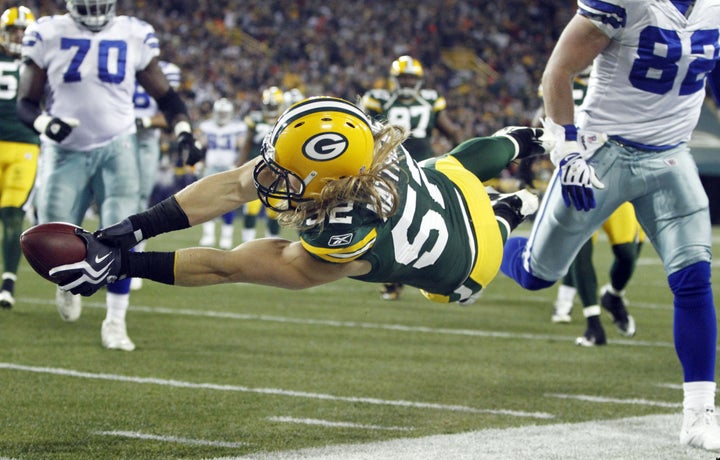 The weather is getting colder and Thanksgiving is just around the corner. The NFL is now entering the home stretch in the race for the playoffs. For Tony Romo and the Dallas Cowboys, it's time to put up or shut up.
The Cowboys are presently in first place, just one game ahead of both the Eagles and Giants. The Giants have beaten the Cowboys in their only meeting so far this season while Dallas defeated the Eagles. They face both teams once more in critical games late in the season.
Dallas is led by 29-year-old quarterback Tony Romo. Romo has been the starter in "Big D" since 2006 and his career statistics are impressive. He has thrown 95 touchdowns against only 52 interceptions and has a career quarterback rating of 94.5 which puts him ahead of greats like Tom Brady, Dan Marino and Joe Montana.
But there's one problem that has haunted Romo throughout his career: his play falls off significantly when it matters most: in December and January. When the weather cools off and the games mean more, Romo has failed to deliver.
The numbers don't lie. The Cowboys' have an overall record of 29-10 in games started by Romo and played in September, October and November. He has thrown 81 touchdowns and just 33 interceptions in those contests. In games played in December and January, Romo has a record of 5-10 as a starter, including 0-2 in the playoffs. He has also thrown 20 interceptions while tossing only 16 touchdowns.
Romo has had a good career thus far statistically. He has appeared in multiple Pro Bowls and put up great numbers. But the NFL is the ultimate team game and quarterbacks are judged more by championships won than by raw statistics. Yards and touchdowns are nice, but wins, especially wins in big games, matter most.
Romo has had his moments. He led the Cowboys to a dramatic overtime win over the Chiefs earlier this season but clutch regular season overtime performances (especially those in October against terrible teams) fade from memory. Big performances in playoff games or the Super Bowl, however, are forever etched into the public's consciousness.
Here's a fact few football fans may be aware of: Danny White, who quarterbacked the Cowboys in the early-to-mid-'80s, has a higher career quarterback rating than Troy Aikman. Aikman is in the Hall of Fame. Taking nothing away from a good NFL career, very few experts would say White belongs there. The reason: Aikman led the Cowboys to three Super Bowl titles. White never even got to the big game.
The NFL's QB efficiency rating is an overrated statistic. It shows just that: who is more efficient. But efficiency does not always result in championships. More efficient is not necessarily better. Want proof? Chad Pennington entered the 2009 NFL season as the 6th highest rated quarterback of all time among passers who had 1,500 career attempts or more. Anybody think Pennington is a better quarterback than Brett Favre, Roger Staubach, John Elway or Len Dawson? All four of those quarterbacks have won Super Bowls and were consistently excellent over the course of their careers. Pennington has been good, very good at times, but is he the 6th best quarterback of all time? Not even close.
It is possible for quarterbacks to make the Hall of Fame without winning a championship but it usually takes unsurpassed career numbers like Fran Tarkenton put up, or a period of dominance like Dan Fouts had with the Chargers in the early '80s or Dan Marino in the late '80s and '90s.
While both of those players are in the Hall of Fame, anytime fans discuss the greatest quarterbacks of all time, the fact that they never won a championship is always held against them. It was also held against greats like Elway, Peyton Manning and Steve Young until they finally broke through and won championships later in their careers. Football is the ultimate team sport and quarterbacks are judged more by the success of their teams than by simple statistics.
So now Romo enters the home stretch in 2009 with another chance to prove he can get the job done when it counts. The two indelible images of Romo in the playoffs are throwing an interception to end the Cowboys' chances of beating the Giants in 2007 and bobbling the hold of a potentially game-winning 19-yard field goal against the Seahawks in 2006. To change that, he needs to first lead Dallas to the playoffs this year and then win some games once he gets there.
Ex-Cowboys' Coach Jimmy Johnson has watched Romo extensively as an analyst for Fox's NFL pre-game show and he remains confident in Romo. "Yes, I think Romo can." Johnson said. "I like his flair, his intelligence, the type of football player he is. Just at times he needs to pull back the reins. He needs to protect the ball in the clutch part of the game."
If he manages to come through in the playoffs, Romo can join the ranks of the NFL's elite quarterbacks if he continues to put up numbers like he has thus far in his career. If he fails, he may go down as another tease -- a good quarterback who couldn't get the job done when it mattered most. Who he dated will be remembered more than how well he played on the field.
The clock is ticking ... How will Tony Romo be remembered?

REAL LIFE. REAL NEWS. REAL VOICES.
Help us tell more of the stories that matter from voices that too often remain unheard.