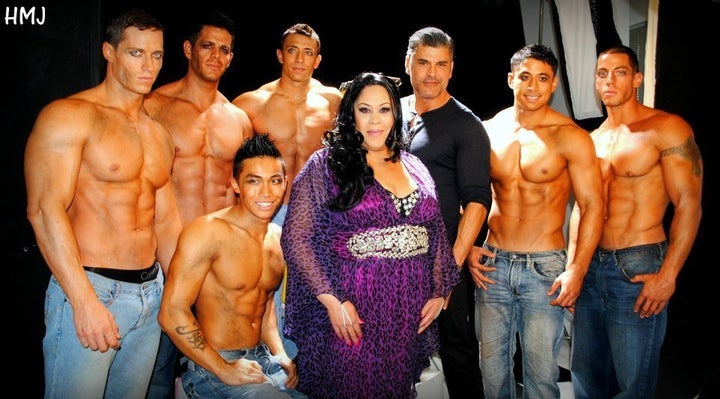 The chance to spend a Sunday morning amidst barechested hunks is just one of the many perks of being Martha Wash.
The 58-year-old Wash and her herd of oiled-up, sinewy stallions have touched down at Manhattan's Eagle Nest Studio, where they will be shot by celebrity photographer Mike Ruiz just in time for the 30th anniversary re-release of "It's Raining Men," the 1982 smash that the dance diva recorded as one half of pop duo The Weather Girls. Ruiz's slick images will feature Wash, clad in a deep purple gown and jewel-studded belt, making like a Greek goddess as she rises from a huddle of glistening muscle.
The shots will no doubt please Wash's legions of gay fans, some of whom probably weren't even alive when the song first had the clubs thumping from dusk until dawn. Yet the success of "It's Raining Men," which was written by Paul Jabara and Paul Shaffer, surprised no one more than Wash herself.
"I thought, 'Nobody is going to buy this song. Nobody is going to believe this,'" she recalls of recording the song -- which had previously been rejected by Barbra Streisand, Cher, Donna Summer and others -- with Izora Armstead, who died in 2004. Wash was quickly proven wrong, however, as the single nabbed the top spot on the Billboard dance charts and has since been covered by RuPaul and former Spice Girl Geri Halliwell, whose version was featured on the soundtrack of "Bridget Jones' Diary."
Though she acknowledges that the community "immediately took that song as their own," Wash laughs off the notion that "It's Raining Men" is an all-out gay anthem. "The song overall has become a classic for grandparents, parents, the kids and the grandkids," she explains. "Everybody can sing the hook. I think that's really what's made it so timeless. You can hear it at any wedding reception, any bar mitzvah...you're going to hear that song at least once, maybe twice."
No stranger to working with glamorous icons, Ruiz called the chance to photograph Wash for the 30th anniversary "an incredible thrill and an honor."
"It's so amazing to have come full circle," Ruiz, who has also shot the likes of RuPaul, Vanessa Williams and Kelly Rowland, declares. "To have been so incredibly inspired by Martha and the song itself, and then to actually be a participant in the anniversary...it's a pretty huge honor for me."
So what surprises does Wash have in store for the re-release, which is set to take place this summer? Could these images be just a tease for an equally steamy video? "You'll just have to wait and see," she says with a sly laugh.
PHOTO GALLERY
'It's Raining Men' Revisited
Calling all HuffPost superfans!
Sign up for membership to become a founding member and help shape HuffPost's next chapter