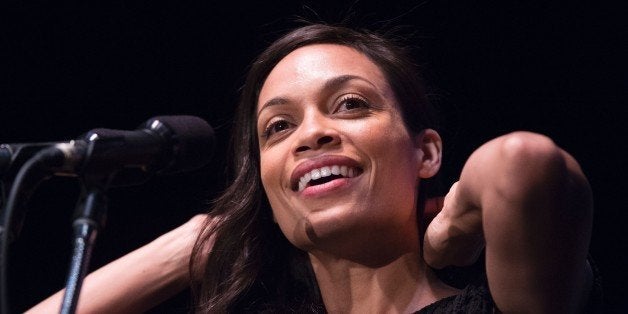 At a Bernie Sanders campaign rally this weekend, actress and progressive activist Rosario Dawson opened up for Sanders by highlighting that bullying is bad, and that she feels bullied by Clinton supporters.
"We are literally under attack for not just supporting the other candidate," she said.
It's true: there are such few concrete differences in policy between the candidates that Clinton supporters seem to rely on an attitude that pities Sanders supporters' optimism for a grand change. Hillary led this narrative herself when a Sanders supporter asked her in January why she seems untrustworthy, and her response was to tell him he'd understand when he grew up someday. It's a condescending and common tone that fails to recognize the power of Sanders' movement and it undermines the underdog. It's the subtle bullying that Dawson is talking about.
And Dawson is an advocate against bullying, she said, just like Monica Lewinsky.
After coming out with a sort of rebranding in January of last year, Monica Lewnisky is one of the more polished in a crew of notorious neo-feminist sex symbols that includes Amber Rose and Kim Kardashian. It's a crew that has chosen to own reputations that went far out of their control, and to fight back at a system that creates a hostility toward women's sexuality.
But Dawson's comment was a lose-lose-lose: for Dawson, Lewinsky and Sanders. Dawson is known for pushing the envelope on progressive politics: she has been arrested for Democratic organizing at the Republican National Convention in 2004 while protesting then-President Bush, and most recently at last weekend's mass protest of the Supreme Court ruling on Citizens United, Democracy Spring.
There are tons of valid reasons not to support Clinton, like her friendliness with egregious human rights abusers Saudi Arabia, or the $3 difference in her and Sanders' policies on a federal minimum wage, but Dawson chose to highlight her discomfort with people disagreeing with her. For someone so involved, and someone so outspoken about the need for transparency and fairness in politics, she has no appreciation for the core American principle of debate.
And if Dawson's point was to support the work of her friend Lewinsky, she's doing it passive aggressively, dragging Lewinsky awkwardly again through the mud that she's been an advocate fighting against.

And, she's pivoting a deep and reflective conversation about gender: how women might have a different impact in the presidency, or how women could exist without having shame in their bodies, back down to a fight over a man.
And of bullying, she didn't bring up low-hanging fruit on the topic like former Secretary of State Madeleine Albright's comments about how there is a 'special place in hell' for women who don't support other women, or Gloria Steinem's suggestion, later retracted, that young women want to support Sanders so they can meet boys at his rallies.
Bullying in the campaign exists, but it has nothing to do with Monica Lewinsky, and bringing her into it is awkward for all involved, and especially for Sanders.
Sanders hasn't disavowed or denounced the comments, creating a pressure about something he has repeatedly shown he is above.
Calling all HuffPost superfans!
Sign up for membership to become a founding member and help shape HuffPost's next chapter