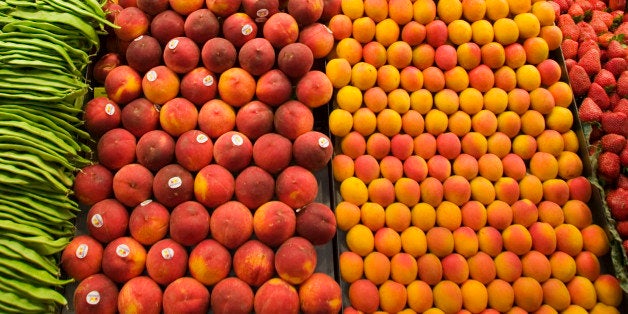 Ding! Round 2 in Washington's GMO labeling battle is underway.
Though many of those pushing for mandatory labeling of foods made with genetically engineered ingredients have been celebrating victory after last month's failure of a Senate bill that would block such labeling, the on-the-ground reality, say those on both sides of the policy debate, is that the fight is not over -- not even close.
The Senate's return from a spring break recess this week marked a resumption of efforts to find a final resolution to the food policy matter that consumer groups and food and agribusiness industries alike count as a top priority for resolution this year. A measure introduced by Sen. Pat Roberts, (R-Kan.) that would have blocked mandatory labeling failed to garner enough votes to advance on March 16.
On one side are the consumer groups who say people have the right to know if controversial genetically modified crops are used in their food and on the other are agribusiness and food industry players who produce and sell such foods and say they are harmless, and that labeling would assign such foods an unjustified stigma.
The groups feel emboldened by the fact that several food companies in the last few weeks have said they plan to go ahead and start labeling. But there are still efforts underway to bring another a federal standard forward.
"There is still enormous pressure on senators to get something done here. There is an understanding that the Roberts bill went too far. But everyone is still scratching their heads and trying to figure out what a real compromise could look like," said Gary Hirshberg, chairman of Stonyfield Farm organic yogurt company and head of the Just Label It campaign.
Vermont is the only state in the nation that has so far passed a mandatory labeling law for foods made with genetically engineered ingredients. That law is set to take effect July 1, but the food industry, led by the Grocery Manufacturers Association (GMA), has been working to block Vermont's law. Mandatory labeling will confuse consumers into falsely thinking GMO foods are harmful, according to GMA.
Consumers are likely to buy non-GMO products, which would reduce demand for GMO crops and would hurt the farmers that grow such crops as well as raise food prices because of a shortage of supply of non-GMO ingredients, according to GMA and other opponents of mandatory labeling.
The GMO would not comment Tuesday on maneuvering in Washington this week, other than to say that a federal solution remained necessary in light of the fact that Vermont is but the first of many states moving to require labeling. GMA contends that it will be far too costly and confusing for food companies to comply with labeling requirements that could differ from state to state and some sort of federal action is needed quickly.
"The Senate's delay on passage of food labeling legislation is driving other state legislatures to consider separate but dissimilar labeling mandates that will ultimately require a reasonable, science-based, bipartisan congressional compromise," said GMA spokesman Brian Kennedy.

As a compromise GMA has been offering a QR code on labels, which consumers could scan with smart phones to determine if GMO ingredients were present in a product. Other options offered up include providing consumers with a toll-free telephone number to call for information.
Neither of those options is acceptable, proponents of mandatory labeling said Tuesday. The QR code particularly is considered "absurd" and "a joke," according to mandatory labeling backers who say shoppers should be able to know at a glance whether or not a product contains GMO ingredients. Many people don't have smart phones so relying on a QR code to deliver information to the consumer would be discriminatory and potentially unconstitutional, according to the Center for Food Safety.
In the letter to senators unveiled Tuesday, those supporting mandatory labeling laid out their terms for support of a federal law as follows:
• Requires mandatory labeling
• Food products must be labeled as genetically engineered when .9% or more of the product's total weight are produced from genetic engineering.
• Requires labels to identify, via words visible on the package, the food or ingredients in the food as "genetically engineered", "produced with genetic engineering" or "partially produced with genetic engineering".
• Requires labels to be on all foods that are genetically engineered and the definition of "genetic engineering" should be identical to the definition of "modern biotechnology" as recognized by Codex Alimentarius: " "Modern Biotechnology" means the application of: i) In vitro nucleic acid techniques, including recombinant deoxyribonucleic acid (DNA) and direct injection of nucleic acid into cells or organelles, or ii) Fusion of cells beyond the taxonomic family, that overcome natural physiological reproductive or recombinant barriers and that are not techniques used in traditional breeding and selection."
It is not likely that Roberts will seek to re-introduce his measure, and there is little chance that a bill put together by Sen. Jeff Merkley (D-Oregon) will advance either due to strong opposition in the House of Representatives, said those close to the labeling debate. Merkley's measure calls for a "uniform national mandatory label" and would give food companies four options for disclosing GMO ingredients, including a symbol that would be developed by the Food & Drug Administration to "clearly and conspicuously" disclose the presence of GMO ingredients.
Some observers say a possible scenario has Majority Leader Mitch McConnell pushing for a version of the Roberts bill with an amendment to make provisions mandatory, rather than voluntary, but retaining provisions for QR codes and a phone number and/or a website address for consumers to seek out information, or some other option.
Amid it all, coalitions on both sides of this heavy-weight bout have been showing signs of fatigue and fracture.
Several food companies who have been fighting against GMO labeling announced in recent weeks that they will start nationwide GMO labeling. General Mills, Campbell Soup Co., Kellogg's, Mars Inc., and ConAgra Foods are among those who say they will label nationwide as part of complying with the mandatory labeling law that starts July 1 in Vermont. General Mills also said it was adding a search tool on its website to provide GMO ingredient information for its products.
"The consumer is the compass," said food and consumer activist Robyn O'Brien, who was in Washington Tuesday to help lobby for mandatory labeling. "Food companies and ultimately farmers lose if transparency isn't there."
And on the pro-labeling side, infighting is pitting stalwarts who want to hold the line and allow Vermont and other states to move forward with labeling efforts against some who say a federal standard is the best way forward. Hirshberg himself is under attack by some of his brethren in the labeling battle.
He brushed off any criticism on Tuesday. "You've got to be here and you've got to be talking," he said.
Calling all HuffPost superfans!
Sign up for membership to become a founding member and help shape HuffPost's next chapter