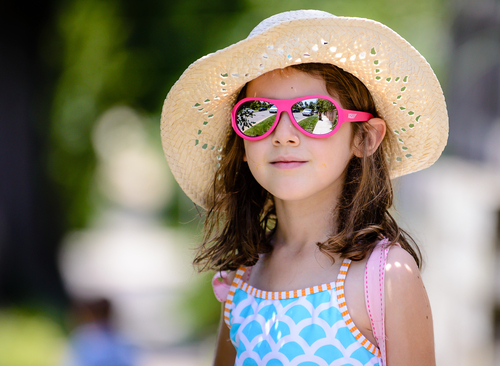 Have fun in the water but stay protected with a swimsuit and sunglasses that offer UV protection like Snapperock and Babiators
Waterplay: Hot days mean lots of time in the water. There is no shortage of activities for kids here. Try backyard sprinklers, wading pools, water balloons, and water guns with extra-long range like the Buzz Bee Toys Water Warriors Stingray. To keep kids safe while playing in the water, try a swimsuit with UV protection and a shirt for extra coverage, like the cute ones from Snapperrock. I also leaned the hard way that watershoes are a necessity and get a pair of Keens for my kids (and myself) every summer to make sure their feet stay protected even while getting wet. Sunglasses that kids will actually keep on (and that look cute) like Babiators are another great waterplay accessory to protect little eyes.
Wheelie Toys: Most kids have a bike, but lazy summer days mean lots of time to try more adventurous wheels. Try this twist on a traditional scooter, the YVolution Yvolution Y Fliker LIFT scooter that keeps kids' feet apart to allow them to lift and do tricks my son calls "sick." Need something more portable? Try the NEON Street Rollers that fit right over shoes to create instant roller skates. Little ones who need something a bit more stable love the unusual and super-fun Plasmacar. No pedaling or pushing is needed making these "cars" a huge hit with even very young toddlers - and as a bonus they last well through the elementary school years.

Strolling in a Bugaboo, Photo: Jamie Davis Smith
Strolling: Summer can be rough on families with wee ones. For many families keeping the kids entertained means exploring city streets, the beach, and small towns with tiny stores all in the span of a couple of months. Whether you are exploring sites close to home or locations that are far flung, what you need is that one perfect stroller that can do it all - and still fit in the trunk of your car. The iconic Bugaboo Chameleon has been around for over a decade for a reason. It goes over nearly any terrain without missing a beat, is super-comfy for baby, is agile enough to get through narrow spaces and tight corners, and looks great. Fantastic for travel over the summer (or around town) is that the large basket cinches to close and can be folded still loaded. Plus, it's the only stroller I've ever used that has a handlebar that pivots forward and backwards, meaning you can easily switch the baby from front to rear facing without taking him out of his seat.
Inside Toys: Everyone knows that summer means lots of outdoor time, but there is usually plenty of time spent indoors as well trying to escape the heat. Board games are a great way to pass the time. Try sparking interest in a game that will teach a lifelong skill like the Ideal Checkmate Glass Chess Set. Or, carry over interest in summer blockbusters with games like Finding Dory Operation or The Avengers Edition of the classic game Trouble. Need more ideas? Try a more active game like Bop It Jr. or quiet time activities like Simply Needlepoint by Alex toys that uses fun designs and simple tools suitable for little kids. Or, try a fun activity like Mad Libs or The Who Was activity book based on best-selling Who Was series.
Screetime: Summer means some longing around and some families loosen up screen time a bit when the days are hot and long. But, screentime doesn't have to be boring. Try an interactive program that sends kids on treasure hunts like Brain Chase, document your area's (or back yard's) biodiversity with the Project Noah app, or bake with Strawberry Shortcake in the Strawberry Shortcake Food Fair then get baking in real life. Or, share a blast from the past with your kids and relive your own childhood by checking out a remake of the Teletubbies on Nick Jr.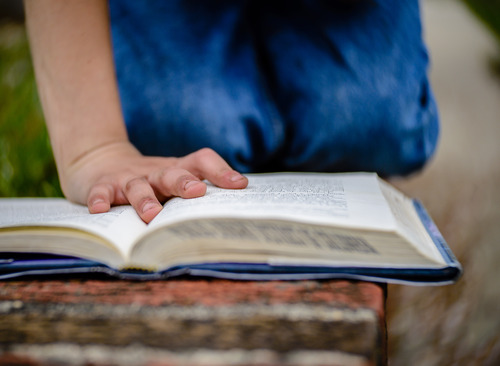 No summer is complete without summer reading!, Photo: Jamie Davis Smith

Books: Summer reading is a must for kids of all ages. Try tacking a serious topic in a book like The Thing About Leftovers by C.C. Payne that features a diverse cast and a large support system helping a young girl navigating being a part of two blended families. Or, laugh along with a mystery-solving Venus Flytrap in Inspector Flytrap by popular authors Tom Angleberger and CeCe Bell. Little ones will love Guess Who Haiku with its gorgeous illustrations by Bob Shea and haiku text by Deanna Caswell. Or, conduct experiments along with Ada Twist, Scientist by Andrea Beaty.
Photowalk: I love taking photos over the summer and my kids have caught the bug. My big camera is strictly off limits and giving them my iPhone to use just wares my battery down. I was thrilled to find the Kidzoom Action Cam that is completely kid-proof, simple to use, can take video, and even comes pre-loaded with fun filters and frames. As a bonus, it can be used like a mini-Go-Pro for action shots. Pair a kids' camera with the book Photo Adventures for Kids by Anne-Laure Jacquart and before you know it you can hand over your duties as family photographer to your kids and actually get in a few photos yourself.
However you pass the time with your kids this year, slow down, relax, and try something new!
Related