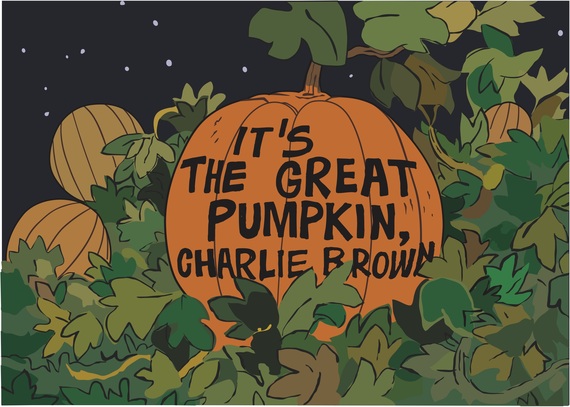 Used With Permission: Peanuts Worldwide © PNTS
Fifty years ago, on October 27, 1966, It's The Great Pumpkin, Charlie Brown debuted on CBS. A lot was riding on the success of this animated feature.
Because of the past success of A Charlie Brown Christmas, CBS Network ordered another animated special that could be aired more than once or twice and if it wasn't a "blockbuster," they probably wouldn't order any future specials.
So, there was the directive -- we'll take another show, but it better be a success or else.
Lee Mendelson, who was the executive producer of the Christmas special, was the only one in that meeting with the CBS executives. During the meeting, the network executives told him that the ratings were great for A Charlie Brown Christmas and their second show, Charlie Brown's All Stars.
"Two in a row," said one of them. He asked Mendelson that they had in mind for their third show and he informed them that they haven't talked about it yet. They informed Mendelson that although they liked the baseball show, they said, "The baseball show did just fine, but we'll probably run it only once more..." They told Mendelson they needed another show like the Christmas special. He was told by the executive, "We need you to come up with a blockbuster like Christmas."
Animator Bill Melendez flew up from Los Angeles and met Mendelson in San Francisco and then they both drove up to Charles Schulz's home. After Mendelson updated them on his meeting with the CBS executives, the three of them started discussing the next special. "I think the budgets for the animated specials were around $100,000 to $150,000," says Melendez. "Most of it went into the animation." It's The Great Pumpkin, Charlie Brown took Bill Melendez and his staff about six month to do the show.
The three of them started bouncing ideas off each other. "We were all kind of blankly starting at nothing in particular," says Mendelson. "Our minds were set on finding a theme." They discussed a number of story lines including the relationship of Sally and Linus, Lucy and Schroder, a few strips that Schulz created the portrayed Snoopy as a WWI Flying Ace and finally animating Lucy pulling the football out from Charlie Brown.


Used With Permission: Peanuts Worldwide © PNTS

"I think that the Great Pumpkin was one of the best of the 50 specials we did," said Mendelson. "The foundation for the story came right out of the comic strip, one of Schulz's most famous themes about Linus in the pumpkin patch."
Schulz said that he always was torn about Santa Claus because there were kids in this world who were lucky if they got any presents. Then there were those who did, but eventually learn there really isn't one.
"The comedic theme was Linus apparently getting his holidays mixed up and confusing the Great Pumpkin with Santa Claus," says Mendelson. "But the larger theme was that we don't always get what we want. He [Schulz] was thinking of poor children who might receive nothing or next to nothing and that it was something you had to endure and hope for better times. Trying to take something serious and make it less serious by making it funny."
"Every so often, the mail would crest to flood level when a particular strip touched a nerve ..." according to David Michaelis. "One, in 1965, had come from a woman who asserted that the Great Pumpkin was sacrilegious. Schulz wrote back saying that he was 'basically on [her] side, that the real sacrilege is Santa Claus, and that [he] had [been] trying to show this in the Great Pumpkin scripts.'"
Once they had all these ideas down they spent the rest of the time inter-grading them into the show. Charles Schulz, Lee Mendelson and Bill Melendez all contributed ideas that made It's A Great Pumpkin, Charlie Brown the classic that it is today. "We all respected each other's area," said Mendelson. "Schulz wrote the scripts, Bill animated the shows, Bill and I directed the kids and I handled the music. But, on occasion, yes, we would throw in some ideas into each other's area. It was a great 38 year partnership among close friends."
Mendelson suggested canned laughter for the animated special. "I suggested it," said Mendelson. "Because most of the animated prime time shows had done that. Schulz said, 'absolutely no canned laughter.' And that was the end of that."
"While we were tweaking the show, Schulz started to laugh," said Mendelson. "He said, 'Let's have Charlie Brown get a rock in his bag.' Melendez started to laugh out loud and said, 'Let's do it three times!' I mildly protested because I thought it was cruel, but of course I was outvoted."
After the show aired, Mendelson said that kids were so upset that Charlie Brown only got rocks in his trick-or-treat bag that they mailed candy to CBS Television addressed to Charlie Brown. In addition to him getting rocks, Charlie Brown gets another insult laid on him when he goes to Violet's Halloween party. Lucy and Violet are looking at a pumpkin as Charlie Brown walks by and they ask him to model for them. Flattered, Charlie Brown agrees only to find out they are using the back of his head to draw the template for the pumpkin's face.
"We never had a reaction to the drawing on his head," said Mendelson. "But, I am sure a lot of people thought it was cruel. Of course, one of the main themes of Peanuts is how kids can be cruel, but how one, like Charlie Brown, can eventually endure."
In the book, It's The Great Pumpkin, Charlie Brown, The Making of a Television Classic, Mendelson asked Peter Robbins, who voiced Charlie Brown, what he remembered most from making the special and Robbins replied, "I couldn't understand why I was the only one getting a rock in my trick or treat bag. I never heard of such a thing happening to anybody on Halloween."
Mendelson said, "Prior to the success of our network special -- I had been unable to sell a Peanuts special to the television honchos for one reason only." The reason was because they used child actors to voice the Peanuts gang. "How can you have kids speaking the kinds of thoughts and words we expect to hear from adults," said the TV executives. "It won't sound natural." In 1965, "Time Magazine" put the Peanuts characters on the cover of the magazine and all of a sudden the TV executives concerns about using kids' voices disappeared.
"The child actors were basically the same children who were the voices of the Christmas show," said Mendelson. "All future casts were based on choosing voices as close to these originals as possible. We used over 150 actors in half a century."
Naturally using children's voices did present some issues for Mendelson and Melendez. Sometimes it was re-casting for a particular character because the previous child actor's voice had changed. Sometimes it was because a child had difficulty pronouncing a particular word. In an interview with The Washington Post in 2011, Mendelson said, "My favorite moment is when [Sally] is yelling at Linus in the pumpkin patch -- 'I demand restitution.' I couldn't get her [Kathy Steinberg] to say restitution." So they spelled it out phonetically and had her say it that way.
Kathy Steinberg almost had to be replaced during the recording session because of a loose tooth. Her mother called Mendelson one night and said that Kathy's tooth was loose and if it fell out she'd have a lisp. "We rushed her to the recording studio where she did the screaming scene in the Pumpkin Patch," said Mendelson. "And a few minutes later the tooth fell out and she talked with a lisp."
After Linus finishes writing his letter to the Great Pumpkin, he walks by Lucy and heads outside to mail the letter. Some eagle-eyed viewers might have noticed that as he walks by, Lucy is reading the TV Guide and she's on the cover. "TV Guide has always been great to us," said Mendelson. "They had done a special color two-page before the Christmas show. We were on their cover at least three or four times. This was our way of thanking them."
The Peanuts animated specials were groundbreaking in a number of ways. In addition to using religious themes in their show, children to voice the characters, no canned laughter and giving the Peanuts gang a more mature way of talking, they used jazz music instead of music traditionally used in animated features.
"I was doing a documentary on Charles Schulz in 1963," said Mendelson. "I heard 'Cast Your Fate to the Wind' by Vince Guaraldi as I drove across the Golden Gate Bridge. Apart from being a jazz fan, I felt it was just the kind of music that would fit the documentary -- adult-like and child-like at the same time. Vince lived in San Francisco and we met and he agreed to do the show. A week later he called to play a song he had just written for the show. He called it 'Linus and Lucy' and it blew me away. It was perfect. It became our theme song for the next 50 years!"
Although Schulz hated jazz, he left the music decisions up to Mendelson. "Although his song, 'Linus and Lucy' was a big hit in the Christmas special," said Mendelson. "It was hardly known outside of the show." Guaraldi told Mendelson that "Linus and Lucy" should be a major theme of the Halloween special and so the opening first two minutes of the show -- where Linus and Lucy are picking out a pumpkin -- are underscored with that song -- without any dialogue.
Mendelson said that Guaraldi knew when and when not to include music in a scene. "The first time we animated Snoopy was during the Flying Ace sequence," said Mendelson. "Vince said the scene did not require any music, and he was right." There are other scenes where Guaraldi and Mendelson didn't include music including when Lucy pulls the football out from under Charlie Brown and the scene where Sally is yelling at Linus in the pumpkin patch after the Great Pumpkin fails to show up.
Was the show a blockbuster? Yes! The show tied for first place with Bonanza. According to the Nielsen Ratings for November 6, 1966, it had a 49 percent share. In 1967, It's The Great Pumpkin, Charlie Brown was also nominated for three Emmy® awards: Outstanding Children's Program (Mendelson / Melendez), Special Classifications of Individual Achievements (Melendez) and Special Classifications of Individual Achievements (Schulz).
References:
Interview with Lee Mendelson
1. Mendelson, L. (2006) It's The Great Pumpkin, Charlie Brown: The Making of a Television Classic. New York, NY: First Day Street. p. 3
2. Ibid, p. 9-10
4. Ibid, p. 29
5. Ibid, p. 25
6. Ibid, p. 26
7, 8. Ibid, p. 40
3. Michaelis, D. (2007) Schulz and Peanuts: A Biography, New York, NY: HarperCollins. p. 371
Cavna, M. "7 things you don't know about tonight's classic 'It's the Great Pumpkin, Charlie Brown'" The Washington Post, October 20, 2015, Comic Riffs.
Popular in the Community