Are you depressed after the results of this week's election? Fear not. The early days of November are often fraught with tension.
As people slowly adjust to the end of Daylight Savings Time they must also cope with the onslaught of holiday advertising. Then there are just a few moments of peace and quiet before the angst starts to churn as people prepare to visit their families during the Thanksgiving and Christmas holidays.
Instead of offering a list of Thanksgiving movies about turkey dinners where everything goes horribly wrong, let's look at the simplest way to deal with the morbid anticipation of another unpleasant family reunion. What could possibly be worse than spending time with your own screwed up family? Meeting another whose level of dysfunctionality makes your relatives seem like rank amateurs.
* * * * * * * * * * * *
A powerful family drama written and directed by Keren Yedaya, Jaffa tries to put the racial tensions between Israelis and Palestinian Arabs in human terms.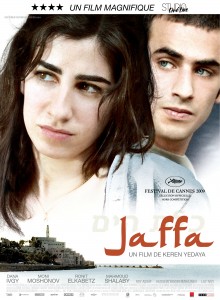 Reuven Wolf is an Israeli who owns an auto repair shop. His 21-year-old daughter, Mali, helps run the business while his son, Meir (a lazy spoiled brat), does everything he can to ruin it. The other men who work in the shop are two Palestinian Arabs: Hassan and his son, Toufik.
Family life in the Wolf household is far from peaceful. Reuven's younger wife, Ossi, wants their son out of the house. Their daughter, Mali, has a secret. A very big secret. Mali and Toufik are planning to elope.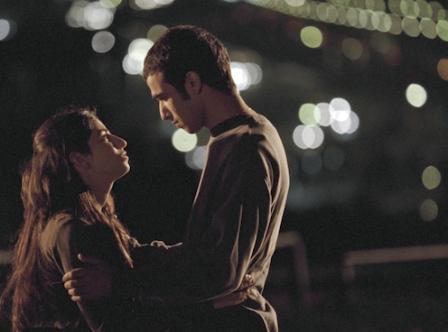 Mali (Dana Igvy) and Toufik (Mahmoud Shalaby)

If Meir didn't do such a thorough job of making everybody's life miserable, the young lovers might not have to hide their passion. But Meir hates Arabs and feels it is his duty to humiliate and emasculate Toufik. After a night of heavy drinking, Meir starts acting out in the auto repair shop. When he begins to get physical with Hassan, the young Arab steps in and warns Meir not to touch Toufik's father.
A fight soon escalates between the two young men in which Meir takes a fall that causes irreversible brain damage. After Meir dies, Toufik is sentenced to nine years in prison. Meanwhile, Mali must figure out what to do about the fact that she is pregnant with Toufik's child.
On the day that she is scheduled to have an abortion, Mali decides to keep the child. Although she has told her parents that she is pregnant, she has never informed them that the child's father is the man who killed their son (even though Toufik was acting in self defense).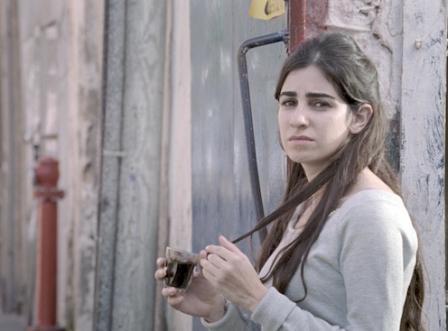 Nine years pass. The Wolf family has moved to a different neighborhood to start their lives over. Mali now has a beautiful young daughter named Shiran, whose grandparents dote on her.
One day, their lawyer calls to inform them that Toufik has been released from prison. When he calls Mali, she tries to avoid seeing him. Eventually she weakens, meets with him, and informs Toufik that they have a daughter.
Unable to conceal her secret any longer, Mali leaves a note for her parents explaining the bitter truth. She then takes Shiran to a relative's apartment. When Reuven and Ossi arrive, determined to take Shiran home with them, they realize that Mali has already decided to reunite with Toufik. They leave in disgust after Reuven informs Mali that she is no longer a part of their family.
Like many Jewish parents, Reuven and Ossi demand to know "How could you do this to us?" As Keren Yedaya explains in her director's notes:
"I felt the need to do a political film about Israel and Palestine. But I was searching for a much wider audience than the one usually attracted to these 'political films.' This desire came out of a genuine belief that you can create a piece of subversive art that doesn't give up on that wide audience. This search naturally led me to the popular Egyptian cinema on which I was raised. When I was a child, Israeli television aired Egyptian films every Friday. This point of reference became a fascinating basis to work from, both politically and aesthetically."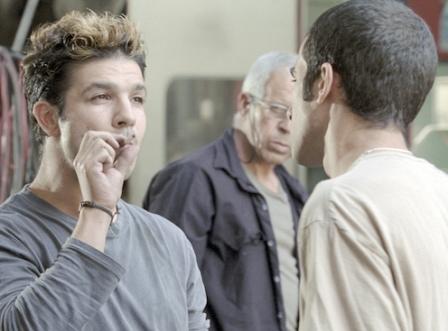 Meir (Ro'i Asaf) confronts Toufik (Mahmoud Shalaby)

"In my mind, Meir's parents are as responsible for his death as Toufik is. And my belief is that Meir's death is like a suicide. I regard him as a terrorist of sorts: he's violent and he's about to explode all the time. He's the only one who shouts, the only one who reveals that the family has serious problems. He's like the black sheep of the family but he is, in fact, only their mirror. That is the reason for the relief they feel when he dies. Now, nobody will force them to face the truth. They can continue to live in their lies."

Jaffa is a taut drama that benefits from an extremely strong cast. Dana Igvy gives a poignant portrayal of Mali while Ro'i Asaf's characterization of her brother, Meir, is so obnoxious that few will mourn his death. The film also benefits from the evocative original score by Shushan. Here's the trailer:
You won't have any problems caring about the totally dysfunctional family featured in Fanny, Annie & Danny. This family nightmare is an indie masterpiece filled with tension, loathing, hysteria, and laughter.
Written, directed, edited, and with cinematography by Chris Brown, Fanny, Annie & Danny was shot in the San Francisco Bay area and features a cast of memorable characters:
Ronnie is the sweet but severely emasculated father of Fanny, Annie and Danny who often hangs out in the shed to avoid his ball-busting wife. A veteran of the war in Vietnam, he still cherishes some items he has kept in a metal box.
Edie is Ronnie's verbally abusive wife. The kind of rabid control freak who could make Joan Crawford seem sloppy and inattentive to detail, Edie has had a longstanding toxic effect on everyone in her family. Not only does she look shrewish, Edie may be one of the most hateful mothers to hit the screen in years.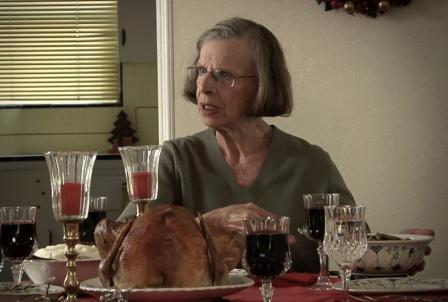 Danny is the apple of his mother's eye. Unfortunately, he's just blown his chance at signing a young garage band to a contract and must now start all over again. He's also desperate for money.
Fanny is Danny's oldest sister. Developmentally disabled and prone to frequent episodes of obsessive/compulsive behavior, Fanny has been living in a group home whose residents don't enjoy her attempts to practice on her recorder. When the candy factory that has employed her for several years is forced to close, the owner's wife generously gives Fanny a check for $9,000 (Fanny's first thought is to buy herself a puppy).
Annie is Fanny's younger, egomaniacal sister. A borderline hysteric who epitomizes the "ME" generation, all she can think about is planning her wedding in Tuscany. Unfortunately, Annie and her boyfriend can barely afford their rent.
Dr. Bob is Annie's employer. A mild-mannered dentist who is seeking to expand his practice, he is visibly uncomfortable with Annie's attempts to show some affection during the holiday season.
Todd is Annie's unemployed stoner boyfriend. Not being a blood relative, he is the sanest person in the Keller family.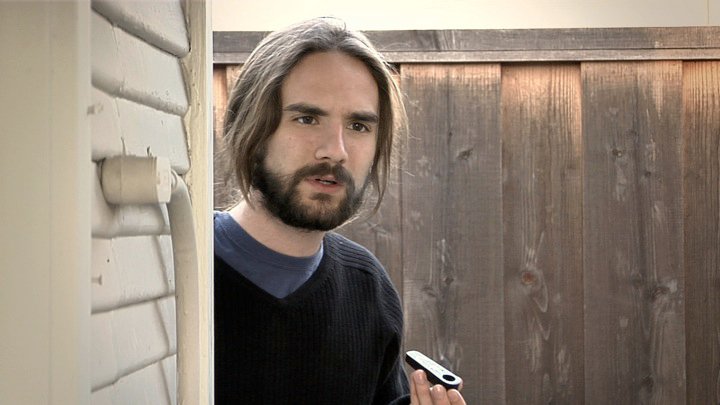 Nick Frangione as Todd

In his director's note, Chris Brown writes that:
"Fanny, Annie & Danny was a story that more or less grabbed me by the throat and demanded to be told. A couple of years ago, I was working, laboring, on another screenplay, fully intending to shoot it. But a strange thing happened. The very moment I actually finished that script, these other, new characters began talking to me, nagging at me in that weird, semi-schizoid way that characters will speak to a writer.

These characters, these people, were raw and beautiful and funny and mean and difficult, like the people I know and love, people who are hemmed in by circumstances, people who have to fight and claw and scratch every day for survival, for love, for stature, for money, for acceptance, for recognition. I know it sounds totally ridiculous, but these characters literally forced me to tell their story, forced me to shove aside this other script and give them life on the page and ultimately on the screen. A few months later we began shooting."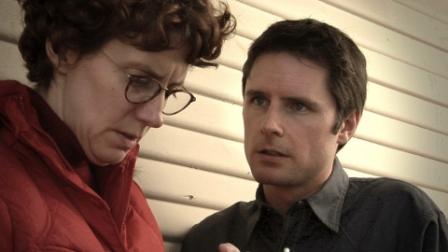 Fanny (Jill Pixley) and Danny (Jonathan Leveck)

"Someone recently remarked that he thought the film was about 'invisible people.' I think that this is a perfect phrase. So many movies are about other movies, known genres, wish-fulfillment, dead forms. Characters in movies are much too often two-dimensional ideas and cliches, props for the plot or excuses for fancy camera work. The characters in Fanny, Annie & Danny are messy and wonderful and devastating and mean and kind and petty and vulnerable -- just like us."

Fanny, Annie & Danny is not the kind of film you watch for its CGI scripting, special effects, or car chases up and down the hills of San Francisco. This film is very much a vehicle for actors who can take a solid script and run with it -- often taking the audience with them to some scary and emotionally dangerous places. I can't recommend it highly enough. Here's the trailer:
Marilyn Pittman is not the kind of lesbian you'd ever want to antagonize. Prone to violent outbursts, occasionally too smart for her own good, and not exactly a role model for anger management, Pittman has issues. Oh, boy, does she have issues!
Pittman's strong comedic instincts come in handy as she describes a mother with no backbone, a father who was never famous for his communication skills, and the smug, self-absorbed residents of Noe Valley.
Directed and developed in collaboration with David Ford, It's All the Rage: (Not Just Another Family Tragedy -- This One Kills) goes to a very dark and uncomfortable place that more timid performers -- even those who have spent years in therapy -- would not dare to make public. Marilyn's parents lived together (and claimed to love each other) for nearly a half a century. Until, that is, the day her father pumped a handful of bullets into his wife and and used his last bullet to take his own life.
Pittman's material is so intensely personal -- and radically dysfunctional -- that it can really rattle an audience. In addition to reading from her mothers' diary, her father's post-war love letters, and the transcript of his last interview with his therapist in Durango, Colorado, Pittman uses her audience to test several theories of precisely how her father committed the murder/suicide that shattered her family back in May of 1997.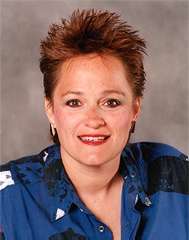 Frequently reaching for a glass of water or trying to calm herself so she can move on to the next segment of her monologue, Pittman's journey takes the audience on a white-knuckle journey through the depths of dysfunctionality with almost laser-like precision as she tries to examine how she and her sister missed the signs that something was so desperately wrong.
This monologue is the kind of theatrical event that uncompromisingly delivers some heart-stopping moments. Pittman will be performing her defiantly brave and singular piece of performance art on weekends from November 6 to December 5 at The Marsh in San Francisco.
Calling all HuffPost superfans!
Sign up for membership to become a founding member and help shape HuffPost's next chapter