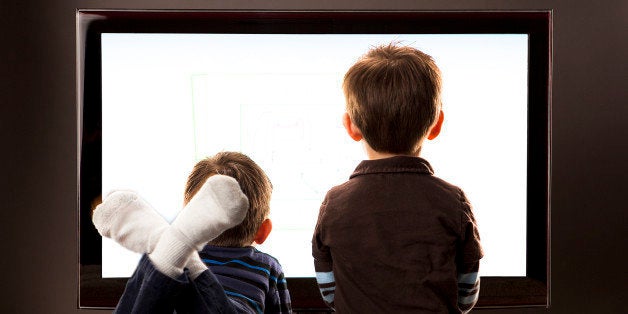 It's still a month until Christmas and yet the radio stations have begun their non-stop deluge of Jose Feliciano's "Feliz Navidad" and Andy Williams' version of "It's the Most Wonderful Time of the Year." This most wonderful time seems to start earlier every year. Indeed, this year, many retailers announced Black Friday sales that started the day after Halloween, and Christmas-themed ads began to fill the airwaves and cyberspace well before Thanksgiving. What might this mean for children who will see more holiday ads than ever, earlier than ever?
There's quite a lot of research showing that one of the most important issues governing how much attention kids pay to ads, whether or not they can discriminate between advertising and programming and the extent to which they understand that advertising's true intent is to sell, is their developmental level. Kids younger than 5 or 6 are both more attentive to ads and also less aware that an ad's purpose is to sell. One recent study even showed that 2-year-olds pay just as much attention to ads as to programs.
Once a child reaches kindergarten, she or he starts to understand that an ad is an ad, but mostly based on what are called "perceptual features." For example, a child can recognize that something is an ad because of its length rather than because of its content or explicit message. But kids still might not get that the purpose of an ad is to sell them something, nor will they necessarily be savvy to the sometimes sneaky techniques advertisers employ to get their messages out.
By the time children are in about third grade, the persuasive intent of advertising has become clear to them. Some can recognize the techniques advertisers use in crafting ads; some kids can even articulate some of advertising's implicit messages, like what they say about gender or race. This is certainly true of children who have received some media literacy training at home or in schools or after-school programs.
Researchers have found all of these things with regard to advertising in the traditional media platforms, mostly television. What we don't know is what happens when ads don't seem to be ads. There just isn't a lot of research published yet about whether and how all the new and evolving techniques advertisers are using affect young children. Product placement, internet "games" that end in product logos, celebrity endorsements through tweets, social media outreach, interactive displays and cool YouTube videos that adults and older kids would recognize are really just an extended ad, among other things, might change or confuse how children perceive and receive advertising.
So what happens during the extended holiday season?
For one thing, there's certainly an ad blitz that begins well before you can say "ho ho ho." In a published report, analysts at Kanter Media found that in 2013, retailers spent $4.8 billion on ads for the holiday season, and this translated into retail sales of over $600 billion. That's almost a four percent increase from the previous year. So expect even more money spent on advertising this year.
Kanter also found that 45 percent of advertisers' budgets were spent on television ads. So you can look to the media mix being similar this year, as retailers invest ever greater percentages of their resources in social media. If we wonder and worry about young children being less likely to identify ads on the "non-traditional" media platforms, this is reason to be concerned.
Somewhat surprisingly, at least one recent poll reported in the atlantic.com found that in households with children, higher percentages of adults "love or like" the so-called "Christmas creep" of holiday ads that begin after Labor Day than people in households without kids. Whether or not this means that kids are exposed to more ads than ever, or that parents try to screen children from ads is not at all clear.
Josh Golin, associate director of the Campaign for a Commercial Free Childhood, suggests "The barrage of marketing is designed to supplant the cultural, spiritual, and communal meaning of the holidays with materialistic values -- celebrating acquisition instead of altruism, spending instead of spirituality, and getting instead of giving. Extending the holiday marketing season means more time children are obsessing about what they might get and lobbying for "must-have" toys and that can be incredibly stressful for parents, particularly those with limited resources."
But fear not, there are things we as parents and teachers and caregivers can do to make children more aware and less vulnerable to the pull of holiday ads.
Caroline Knorr, at Common Sense Media, offers some good common sense tips. These include helping your child to identify ads when they appear in other guises, teaching kids that products often appear shinier and bigger in ads than they really are and demonstrating that a brand name doesn't always mean a better -- or cooler - product.
The folks at pbskids.org also offer some good tips. Among other things, they suggest talking with children about being a "savvy consumer," identifying advertiser's techniques and suggesting the value of comparative shopping. "The holidays offer a perfect opportunity to get your child thinking about advertising and the money and techniques companies use to influence how we think about ourselves and the products they are selling."
So as you prepare your turkey for Thursday's over-indulgence of food, know that your children will be exposed to an over-indulgence of holiday advertising along with their cranberry sauce and stuffing. But know, too, that while researchers aren't wholly clear yet on what this extended holiday smorgasbord of advertising in all of its forms on all of its platforms means for young children, we're on it. Or will be, between the end of the holidays in January and the start of the new holiday advertising blitz next summer.
Calling all HuffPost superfans!
Sign up for membership to become a founding member and help shape HuffPost's next chapter