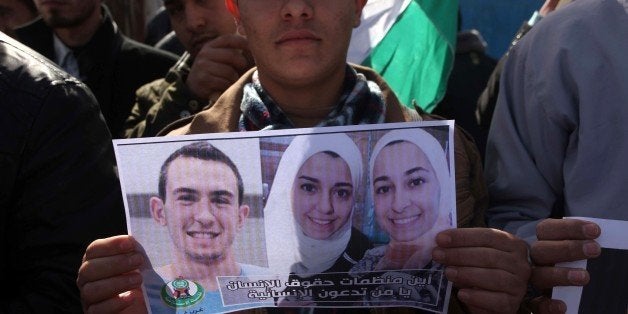 The world has witnessed several tragic events in recent months: ongoing violence by the extremist group ISIS in the Middle East and Boko Haram in Nigeria, the Charlie Hebdo shooting and hostage-taking at a kosher grocery store in suburban Paris on January 7th, and the desecration of the Sarre-Union Jewish cemetery in France on February 14th, among others. The vast majority of the American people have condemned these horrific acts and lamented the conditions in other countries that led to them.
Tragically, America is not immune from such violence. There have been a series of disturbing attacks against religious minorities lately: the beating of Sureshbhai Patel in Alabama on February 6th; the tragic murders of Yusor Mohammad Abu-Sal, Razan Mohammad Abu-Salha, and Deah Barakat in Chapel Hill on February 10th; the arson of the Quba Islamic Institute in Houston on February 13th; the Islamophobic defacement of the Islamic School of Rhode Island on February 14th; the anti-Hindu vandalism of the Hindu Temple Cultural Center in Bothell, Washington. When a hateful crime is committed against someone who practices Islam, Sikhism, Judaism, Hinduism, or Christianity, we must remember that the faiths themselves are not the victims--the religions do not become less important or lose their practitioners. The real victims of these crimes are just regular, everyday people. The victims are American.
As the representative of one of the most diverse districts in the country, I am keenly aware of how hate-motivated acts of violence affect whole communities, regardless of location. Religious bigotry remains a crisis in our nation, and we must stem the rising tide of hate and violence with increased focus on peace.
Our nation was founded on the principles of religious diversity, tolerance, and inclusion. These acts of violence, though not representative of the values of any faith, signal the critical need for a dialogue. We need to thoroughly address the causes, and solutions, to these acts. All Americans deserve this. This is why I wrote to the president, along with 37 of my Congressional colleagues, urging his administration to convene a summit on religious tolerance and diversity. As several faith leaders throughout the nation acknowledged, the summit would open the door for constructive conversations throughout the country, resulting in a definitive plan of action through peaceful methods.
During WW II, my family and I -- along with thousands of other Japanese American families -- were placed in internment camps because our names and faces were not considered "American." We were subjected to discrimination, intolerance, and dehumanization, with no regard to our individual patriotism and character. Although many of us suffered indignities that no American should ever experience, I am comforted by the fact that our sacrifice was a teaching moment for our great nation.

However, it hurts me to see signs that we have not fully learned from our past mistakes. For example, anti-Muslim hate crimes are still five times more common today than before 9/11; the federal government created a program based on racial-profiling that required thousands of Arab and Muslim men to register with the authorities following 9/11; and we still have the Patriot Act that limits our democracy, interferes with due process, and enables the government to bully Americans. As Americans, we have to ensure that our nation remembers not only the great aspects of our history, but also our mistakes, so as not to repeat them. Our country must always strive to oppose the profiling and targeting of minorities. The fact that we still allow bullying, racism, fear, and prejudice is unacceptable.

We cannot allow the deaths of Yusor, Razan, and Deah, and others, to be in vain. I hope that these tragedies, even years down the road, will unite all Americans, and remind us to respect the value of all lives, regardless of appearance, orientation, or belief. That is the America our founders sought; the America our veterans fought for; the America Yusor, Razan, and Deah loved; and the America I believe in. The words of Yusor not long before her murder keep me optimistic that the desire for unity is alive: "Growing up in America has been such a blessing. We're all one -- one culture."

We are, and must remain, one culture. The best way to ensure that is to fully engage everyone in a dialogue that will lead to specific steps to prevent deaths like Yusor's. We owe her, and all the other victims of ethnic-based violence, that much. I hope that the Administration will convene a summit to lead this dialogue.
Related
Popular in the Community