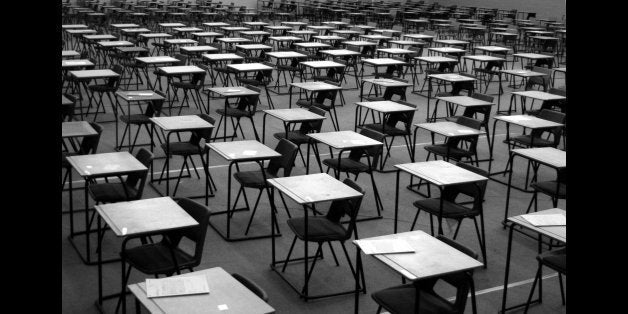 Voices across the country are raising concerns about the new Common Core State Standards. But if you listen carefully to the conversations, the main concern is not about the standards, themselves, but about the consequences of high-stakes tests attached to the standards. And those concerns are well-founded: Trying to implement ambitious goals for deeper learning through an outmoded testing model tied to a long list of punishments for children, educators, and schools is like pouring new wine into old bottles. It will certainly turn sour. The promise of these new standards -- and excellent education for all of America's children -- cannot succeed under the old accountability system because:
An end-of-year sit-down test cannot capture the broader aspirations embedded in the new standards for problem solving, inquiry, team building, communication, collaboration, persistence, and other challenging skills. The No Child Left Behind (NCLB) approach -- which focuses only on English language arts and mathematics scores on primarily multiple-choice tests -- has been shown to narrow curriculum to what is tested and to reduce opportunities for higher-order thinking.
Implementing the standards well will not be accomplished by targets and sanctions. It will require more adequate and equitable resources and greater investments in professional capacity, especially for currently underfunded schools that serve the highest-need students.
Raising standards in ways that punish children and educators for not meeting them produces the wrong responses from schools. Evidence shows that, rather than improve learning, sanctions tend to tamp down innovation, incentivize schools to boost scores by keeping or driving out struggling students, hasten the flight of thoughtful educators from the profession, and disrupt learning for students whose local schools are shut down.
If we assume that the goal of accountability should be better education, the test-and-punish approach must be replaced by a support-and-improve model. A new approach should ensure that students get what they really need: 1) curriculum, teaching, and assessment focused on meaningful learning, 2) adequate resources that are spent wisely, and 3) professional capacity, so that teachers and school leaders develop the knowledge and skills they need to teach much more challenging content in much more effective ways.
The way in which policymakers treat accountability determines how standards are implemented and how they are received by parents and educators. That is why the Common Core is embraced in California and feared in New York -- two states we know well that have taken very different approaches.
New York, like some other states, is stuck in a narrow test-based accountability system adopted under NCLB and reinforced by federal Race to the Top rules. This approach has driven the use of high-stakes tests to hold students back, deny diplomas, fire teachers, and close schools in an education system that has, 60 years after Brown v. Board of Education, become increasingly unequal in what it offers rich and poor students and their families. This strategy has not worked: National assessments show that, whereas New York outperformed the national average in fourth- and eighth-grade mathematics a decade ago, now it lags behind. In reading, as well, gains in the rest of the nation have outpaced those in New York.
There, the public has come to equate the standards -- and the good teaching they could encourage -- with the chaos created by an out-of-control testing system. (There are now well over 100 tests in use in New York City, for example, as part of the teacher evaluation requirements). Testing and test preparation steal valuable time away from instruction and have even begun to invade early childhood education where standardized tests are now foisted on our youngest students. Meanwhile, educators and the public are confused by unreliable teacher and school evaluations, and children are shortchanged by the lack of investment in building the professional capacity to support better learning.
This flood of testing and sanctions promises to drown the Common Core State Standards in its wake. In the past year, protests against the Common Core have swept New York as parents and educators have begun to distrust whether policymakers have children's best interests at heart. Meanwhile, thousands of parents have opted out of testing, and one third of the state's principals have lodged formal objections to the test-based teacher evaluation system. The public does not believe that schools will improve with the test-and-punish strategy as a foundation for new standards.
California, on the other hand, has begun to develop a new approach to accountability -- one that directly addresses what parents and students want from their schools: Good teaching focused on productive learning that is supported with the right resources.
Having passed one of the most progressive school funding plans in the nation -- which provides resources to schools based directly on their students' needs -- Governor Jerry Brown and State Superintendent Tom Torlakson allocated $1.25 billion to professional development for teachers to support their ability to teach the Common Core. State leaders eliminated all of the old state tests while bringing in new and better Common Core assessments. These will be used, along with other measures, to inform instruction and professional development, not to punish children, schools, or teachers. State funds have meanwhile been invested in modernizing schools, improving instruction, adding technology, and expanding successful career academies.
A new Local Control Accountability Program will guide and evaluate school spending using multiple assessments of learning (such as Common Core assessments, English-language proficiency, and AP scores), as well as other indicators, like students' access to strong college and career-going curriculum, parent involvement, graduation rates, attendance, and school climate. Communities are directly involved in decisions about how to use resources and how to measure success.
When these measures identify struggling schools, intervention will come in the form of help from experts who are part of the California Collaborative -- a new entity that will provide teams of educators to diagnose what's working and what's not -- and will support ongoing improvement. Thus, the Common Core standards in California are an engine to drive better educational practice, not a hammer to threaten children, educators, and schools with failure.
This new path has been succeeding. In addition to registering the highest graduation rates in its history last year, at more than 80 percent, California had, between 2011 and 2013, the greatest growth it has ever had in student achievement on the National Assessment of Educational Progress, with gains three times larger than national averages in eighth-grade reading and math, far surpassing the improvements in most other states.
At the end of the day, the path on which California has embarked is more likely to produce a truly accountable educational system -- one that ensures all students experience engaging learning in supportive schools that help them pave a path to a productive future, not just another test.
Linda Darling-Hammond is Charles E. Ducommun Professor of Education at Stanford University and Faculty Director of the Stanford Center for Opportunity Policy in Education. She began her career as a public high school English teacher and currently serves as chair of the California Commission on Teacher Credentialing.
Randi Weingarten is President of the 1.5 million member American Federation of Teachers and former President of the United Federation of Teachers in New York City. She was a social studies teacher at Clara Barton High School in Brooklyn, NY.
Related
Popular in the Community