Even though none of those things are true, President Trump's claims have carried a certain weight with his supporters. While we're still reeling with this idea, it's worth looking at Trump's inventive vocabulary just to have a laugh and perhaps consider that this is the 45th (and most unpopular) President of the United States. Let's not weep, let's laugh and resist.
So in an effort to create some joy, we've got a hold of Trump's personal definitions for some of his favorite expressions. Here they are unedited:
Things that make noises of any kind.
News from undeniably credible publications renowned for their journalistic acumen.
Anything other than FOX News.
To rudely interrupt while pretending to be polite.
The country that invented the global warming hoax.
A distraction from Russia.
WIRETAPPING Or TAPP - Verb / Noun
A way to blame President Obama for something he didn't do.
A setting on Kellyanne Conway's Microwave.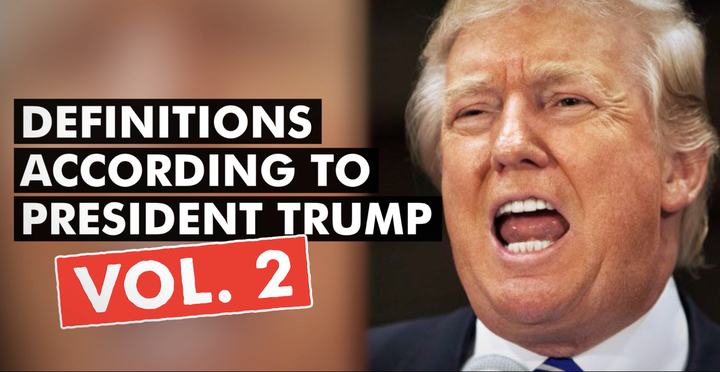 REAL LIFE. REAL NEWS. REAL VOICES.
Help us tell more of the stories that matter from voices that too often remain unheard.