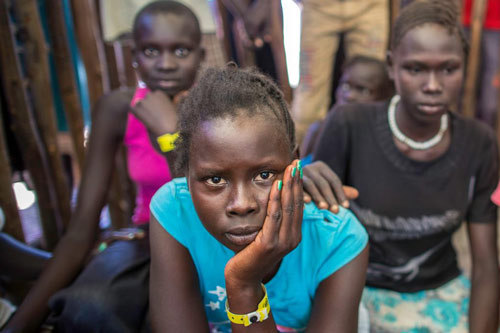 For the last 18 months South Sudan has been devastated by a brutal civil war that has puts it at risk of widespread famine and the threat of genocide. On Friday, that can begin to change. On July 24 President Obama heads to Africa and will be visiting South Sudan's neighbors who are leading peace negotiations. So far, peace negotiations have failed. No fewer than nine agreements have been broken, many just days after they were signed. The results are disastrous. Quarrelling political leaders have led South Sudan down a dreadful path. Tens of thousands of people have been killed, pitting neighbor against neighbor. Over two million have fled their homes, fearing for their lives. Half of the country is in desperate need of humanitarian aid. Stopping the humanitarian crisis requires solving the political crisis. This trip puts President Obama in a critical position to help break the current deadlock. The regional group that has been leading negotiations plans to present a new draft peace agreement to the warring parties during President Obama's visit and has set a new deadline for agreement by August 10th. Past deadlines have come and gone without South Sudan's neighbors following through on threats of consequences.
What is different this time is that the United States and other key global partners are now a part of the core mediation effort and President Obama will have the opportunity to bolster the commitment of regional leaders to peace or consequences when he meets them face to face. Now it's time for the President to take the next step and use his time face-to-face with regional leaders to demand a peace agreement and to back that demand with concrete consequences. Forging peace must include an arms embargo to stop the deadly flow of weapons into South Sudan. Arms have been allowed to flow in to both sides of the conflict. It is imperative that an arms embargo be implemented by the UN Security Council to slow the deadly killing and pressure all sides to the negotiating table. Peace also requires accountability. Targeted sanctions on those who are standing in the way of peace have been put into place by the United States and international community but they have not reached high enough to make a significant difference. Sudan's neighbors, who have the most leverage with South Sudanese leaders, have yet to follow through with their own threatened sanctions. The President should push for the broadening of sanctions against those responsible for atrocities so that they reach those at the highest levels of power. Finally, the truth of what has happened and who is responsible must be allowed to see the light of day. The African Union conducted an investigation into human rights violations last year but has yet to release the findings. The report should be released immediately and those responsible for atrocities and human rights abuses must be brought to trial. Our country has a special relationship with the people of South Sudan. The U.S. was instrumental in helping South Sudan forge its independence and we've been a strong voice for peace in South Sudan since the fighting broke out in December 2013. Now, we can make a difference once again. Ultimately, peace is up to the people of South Sudan. But the President's personal involvement coupled with these steps to enforce a peace agreement present the people of South Sudan with something they've been missing since the war began - hope. The moment is right, it is time to make another deal. This time to save the lives of the millions of people who are at risk in South Sudan.
Calling all HuffPost superfans!
Sign up for membership to become a founding member and help shape HuffPost's next chapter